Vietnam's middle class - the foundation of consumers - is rising fast: in 2030, 49% of households will have annual disposable income of US$5,000 to US$15,000, an increase of 33.8% from that in 2018.
Viet Dragon Securities Company (VDSC) listed three major trends in the Vietnam consumer market until 2030, adding the country's rapid economic growth is expected to create huge opportunities for companies adaptable to market changes.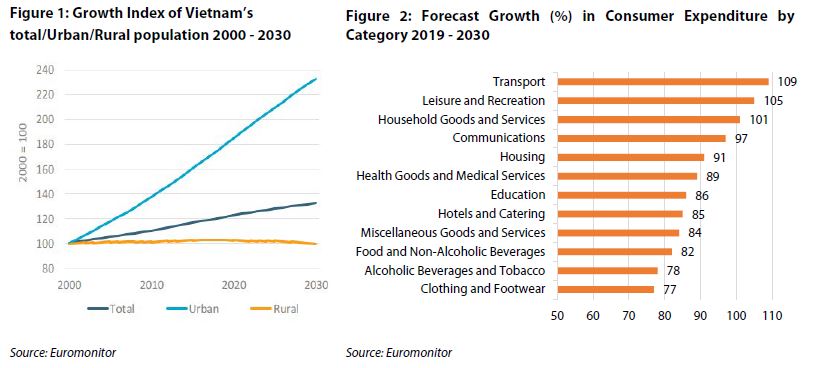 Vietnam's consumer market has always been attractive due to supportive demographics, economic growth and high urbanization rate, stated VDSC's report. 

As Vietnam's real GDP will likely grow by 91.4% during 2019 – 2030, consumer expenditure is predicted to boom. By 2030, 46 million urban consumers will spend some US$169 billion while that figure for 61 million of consumers in rural areas will be US$173 billion. 

More importantly, middle class - the foundation of consumer - is rising fast: in 2030, 49% of households will have annual disposable income of US$5,000 to US$15,000, an increase of 33.8% against that in 2018.

Below are some major trends in the Vietnam consumer market:

1/ Experience more: People nowadays do not want to go to the stores just to buy stuffs as they can do it online. Instead, customers chose offline over online for the experience that online shopping cannot offer. For example: products/services enhancement, creative in-store experiences with arts, in-dept consulting from staff, among others. Even though price-sensitive, Vietnamese are still willing to pay more on experience.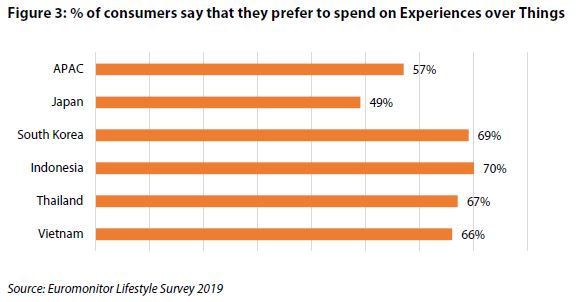 2/ Connected consumers: Consumers, especially the youth, are attached to mobile devices, social media and adapting to online purchases. With over 50% of population having access to mobile internet, social media plays an important role in promoting products in Vietnam.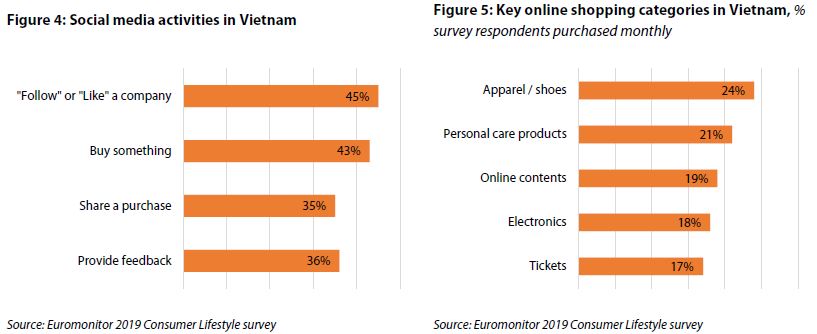 Moreover, search and reserve platforms such as "food delivery" and "house-keeping services" can help companies acquire potential clients and enhance customers' conveniences. 

On the other hand, Vietnamese still prefer shopping online for low-priced items since the e-commerce platforms are not yet developed. As such, omni-channel retailing which combines flexibly between channels is an optimal way for companies to maximize sales.

3/ Premiumization: The rising affluent class (estimated to reach 10 million in 2020, compared to 2.6 million in 2012) also boosted the huge demand for "Premiumization".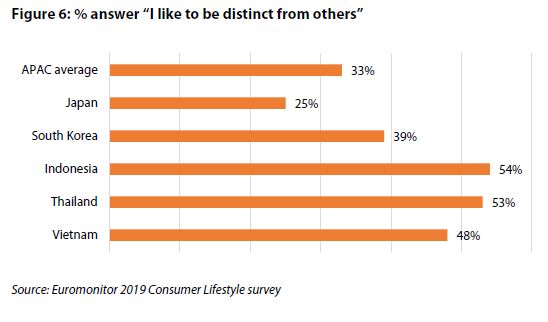 Consumers increasingly need to express themselves and want to be distinct from others through "personalized" products. This demand is not only limited to luxury segment with high-income consumers, companies can provide "premium" or unique products/services with affordable prices will also benefit from this trend. 

For example, Xiaomi creates a Mi ecosystem for Mi fans, including high quality products at low prices and The Coffee House chain offers a "premium-feel" coffee space at reasonable prices. Hanoitimes
Nguyen Tung

Vietnam currently has 17 consumer finance companies, whose total outstanding loans reached more than US$5 billion by the end of last year.

Vietnamese and international financial institutions alike are ramping up their presence by establishing or acquiring consumer credit companies amid Vietnam's burgeoning personal finance market.

Up to 61% of consumers now make payments on their mobiles, compared to just 37% in 2018.