The Hanoi Police have prosecuted and detained Nguyen Thi Loan, Chairwoman of Vimedimex Medi-Pharma JSC, for alleged violations of land auction regulations.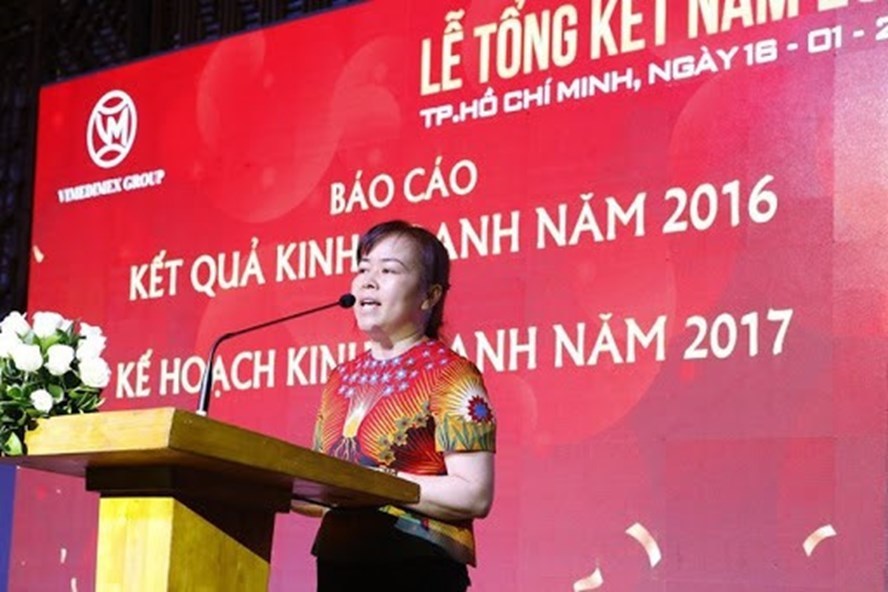 Nguyen Thi Loan
Loan was born in 1970 in Hoa Binh province. When she was 21 years old, she worked as an accountant for Thinh Phat Company (1991-1992) and then later as chief accountant of the company (1993-1994).
But she left the company to work for a bank, where she had different positions during her 12 years there.
At the age of 38, she started Hoa Binh Securities JSC (February 2008) and has been the Chair of the board of directors since then. Just several months after establishment, the company became a strategic shareholder of Vimedimex (VMD), in August 2008.
VMD, established in 1984, was an SOE (state owned enterprise). It was equitized in 2006. Its big shareholder is Vimedimex 2, with 45.34 percent of shares. Tran Dinh Huynh has 7 million shares, or 45.34 percent, and Le Xuan Tung, or Loan's son, holds 7.39 percent.
Since April 2009, Loan has been Deputy Chair and then Chair of VMD Board of Directors. She is the current Chair of Board of Directors of VMD for the 2017-2022 tenure.
Loan is also Chairwoman of Vimedimex 2, the shareholder that holds 45 percent of VMD. Vimedimex 2 has charter capital of VND1.5 trillion.
She is also the legal representative of many other businesses, including Vimedimex Drug Distribution Center Co Ltd, International Fund Management JSC, Vimedimex Hoa Binh Real Estate Co Ltd, and Vime Sain Paul Pharmaceuticals Medical JSC.
Prior to that, she was Deputy Chair of the Board of Directors of a joint stock bank.
Real estate tycoon
After becoming a strategic shareholder of VMD, Loan was keen to use VMD as a leverage to develop Vimedimex Group with an ecosystem of finance, drug and real estate subsidiaries.
Vimedimex Group has charter capital of VND3 trillion, 20 times higher than the 'original' VMD which lists its shares on the bourse.
The reticent businesswoman has recently emerged in the pharmaceutical industry after obtaining a license for 30 million Covid-19 vaccine doses. Prior to that, VMD officially became the strategic shareholder of Group 42 and Royal Strategics Partners from UAE. Under a cooperation, Group 42 authorized VMD to import and distribute Hayat-Vax vaccines in the Vietnamese market.
In the last three weeks of August and early September, VMD shares hit the ceiling level, increasing by 3.3 times, from VND24,700 per share to VND82,400 per share.
On November 9, VMD saw the price soar to VND46,250 per share and its capitalization value exceed VND700 billion.
Through the Vimefulland brand, the business holds a series of large projects, such as The Jade Orchid, The Lotus Center, Eden Rose, Iris Garden, Athena Fulland, The Emeralda and Belleville Hanoi.
The projects all have the scale of 1,000 apartments, located in inner districts of Cau Giay, Nam Tu Liem, Thanh Tri and Hoang Mai.
Regarding the prosecution case, according to agencies, in August 2020, the Dong Anh District Project Management Board organized the auction of a 5-hectare land plot in Co Duong commune.
The land plot was estimated to have value of VND500 billion. However, Loan colluded with officers of the board and the defendants of the valuation company to adjust the land value down to VND300 billion.
After that, the land appraisal council approved the floor price of the land plot at VND18 million per square meters and put the land up for auction.
Loan then set up legal entities which registered to attend the auction. Finally, a company where Loan holds a controlling stake won the auction at the price of VND20 million per square meter.
Just one month later, Loan sold the land plot at the price of VND80-100 million per square meter.
The police also detained seven other people, including Vuong Thi Thu Thuy, an officer of the district's Project Management Board, and Nguyen Thi Dieu Linh, general director of the Hanoi Valuation and Investment JSC. 
Bao Anh

While many officials have been honored for their excellent fulfillment of official duties, many others have been prosecuted for their involvement in trade fraud.