Encouraged by the success of Ben Tre's coconuts, Long An, Dong Thap and An Giang provinces are considering plans to put their specialties on online for sale.
Ben Tre was the first province invited to the 'Lang nghe dac san online' (online village of specialties) program and the participation brought success beyond expectations.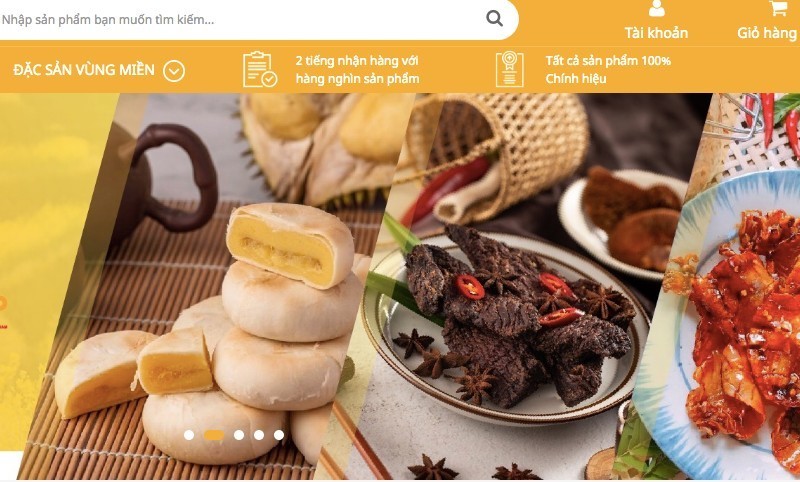 According to the Ben Tre Industry and Trade Department, the 'Day of online Ben Tre Coconut Village' attracted Vietnamese consumers throughout the country and foreign ones. The event helped to advertise Ben Tre's coconuts and its specialties.
Ben Tre coconut is a well known brand in Vietnam, but the understanding about coconuts, coconut product' uses, coconut-made high-tech products and coconut-made handicrafts remains low, according to Vecom.
Vecom believes that Ben Tre's coconut and other local specialties need to be advertised more widely, while the sales method needs to be changed to access more customers.
Following Ben Tre, other provinces including Long An, Dong Thap and An Giang are also planning to put their specialties into marketplaces, opening a new consumption channel for their farm produce and helping farmers sell produce at good prices.
Lao Cai province in early 2019 chose Postmart marketplace as a package trade promotion solution with reasonable costs to provide to businesses, co-operatives and processing workshops.
By posting the images and detailed information of farm produce on the e-commerce website, Lao Cai Post is providing a closed solution, from product advertisement and sale promotion to delivery and payment.
Consumers from all over the country now can easily buy Lao Cai's specialties. To date, 38 typical products of Lao Cai have been available on the trading floor.
$43 billion playing field
The initial successes of Lao Cai and Ben Tre provinces show that e-commerce can offer great opportunities to small and medium enterprises, which helps narrow the gap with large enterprises thanks to fair competition and the flexibility of the digital business environment.

A report from Google, Temasek and Bain&Company predicted that with the current high growth rate, Vietnam's e-commerce scale may reach $43 billion by 2025, the third highest level in ASEAN.
According to the Vietnam E-commerce and Digital Economy Agency, Vietnam is listed among the the fastest e-commerce growing economies.
The Vietnam E-commerce Association (Vecom) reported that Vietnam's e-commerce grew by 32 percent in 2019, while the growth rate of the 2016-2019 period was 30 percent.
The scale of retail e-commerce of goods and services in 2019 reached $11.5 billion. The figure is expected to exceed $15 billion, which means a growth rate of 30 percent.
A report from Google, Temasek and Bain&Company predicted that with the current high growth rate, Vietnam's e-commerce scale may reach $43 billion by 2025, the third highest level in ASEAN.
WTO, in its recent report, stated that Covid-19 has proved that e-commerce is not only a tool or useful solution for consumers in a crisis, but also a driving force for domestic and international trade.
Tran Thi Phuong Lan, deputy director of the Hanoi Industry and Trade Department, said that Covid-19 has hit business activities hard, but it has also brought opportunity to businesses to apply e-commerce to overcome difficulties.
Lan went on to say that e-commerce will develop more and more strongly to be considered the most active field in Vietnam's digital economy.
In the first 10 months of 2020, the transactions of good via e-commerce channels increased by 10-30 percent, while the retail turnover of the city now accounts for 8 percent of total retail turnover of goods and services. Hanoi, together with HCM City, is leading the country in e-commerce development index.
Support from Vietnamese enterprises
Vietnam's farm produce now has more opportunities to access customers when more marketplaces come out, including Voso of Viettelpost and Postmart of VnPost.
Instead of directly confronting the big four (Tiki, Lazada, Shopee and Sendo), Voso and Postmart focus on local specialties and target rural markets thanks to the large networks of deliverymen.
Voso said it will equip farmers with the knowledge about e-commerce in the 4.0 era, and help introduce and advertise local specialties on the digital platform.
Viettel Post has committed to provide the best technological products and services in Viettel's ecosystem to ensure efficiency and farmers' benefits.
Specializing in Vietnam's farm produce, Postmart is selling tens of thousand of farm, forestry and seafood products, nutritional herbal food, processed food, drinks, handicrafts and others.
However, the problem of the majority of farmers and small enterprises is that they are not ready to invest to use e-commerce because of limited financial capability, and the lack of equipment and labor force. 
Duy Anh

Flexible warehousing models that can help businesses optimise their storage are required amid the development of e-commerce, experts have suggested.

Despite Covid-19, online shopping in Vietnam has been growing steadily. Analysts believe that online sales will soar in the last months of the year.