Many apartment buildings in Hanoi have been left idle for many years, even while many people seek accommodations.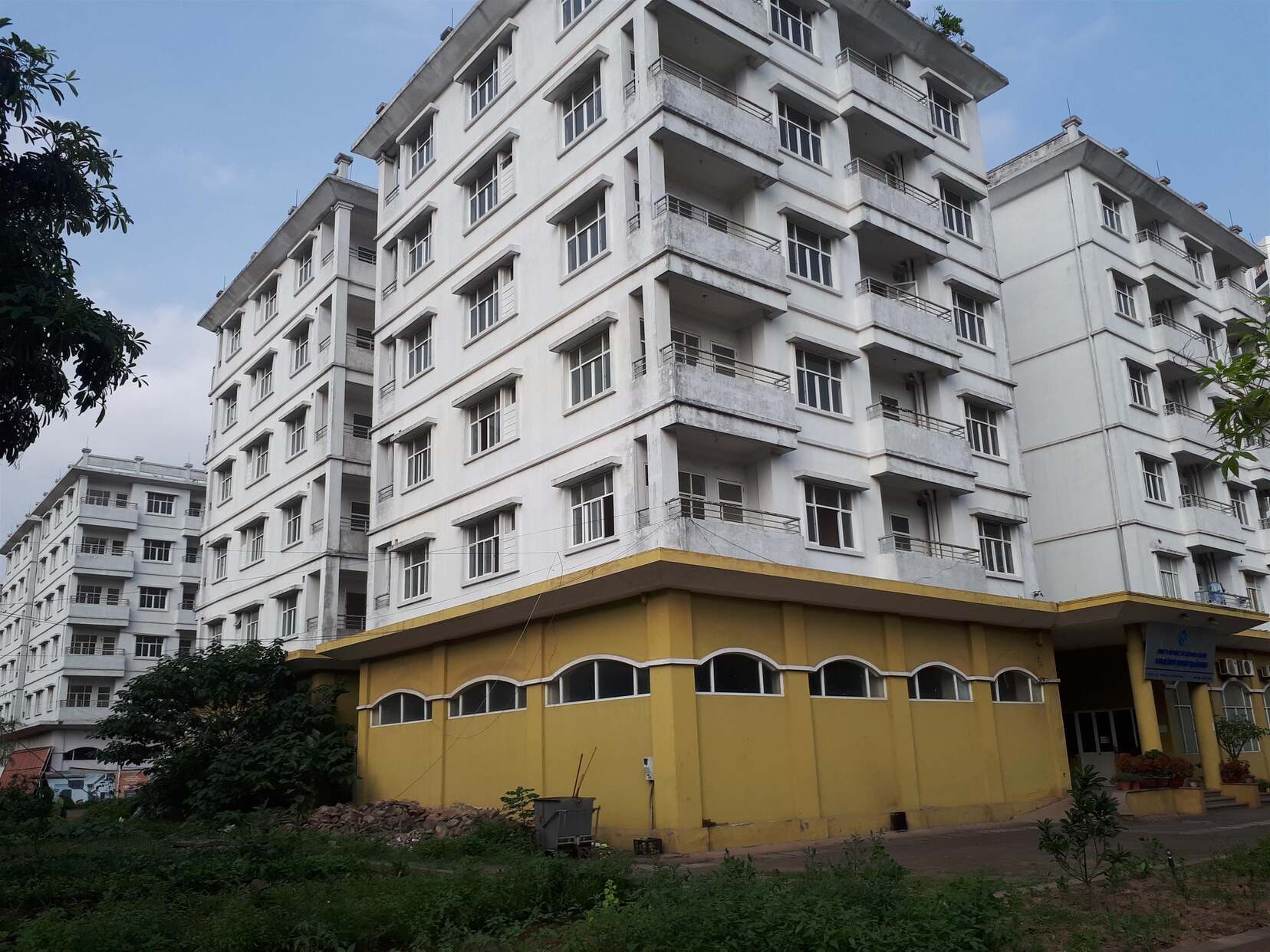 Nguyen Thi Ngoc Anh, who lives in Hoang Mai district in Hanoi, passes some beautiful multi-story buildings on Tan Mai Street on her way to her office every day. But there are no residents inside, she said.
These are apartments built and reserved for families that have to leave their homes to make room for the state's public investment projects. But no one has moved in the buildings for many years.
In fact, empty buildings can be seen in many districts, including Hoang Mai, Long Bien and Cau Giay.
These include three six-story buildings, with 150 apartments, in the Sai Dong New Urban Area in Long Bien district. They were built in 2001-2006 by Hanco 3, designed as the resettlement area for families that had to move to expand Sai Dong street in Sai Dong Urban Area.
Some items of the buildings have degraded. Grass is overgrown in the flower garden area and playgrounds, while the entrance doors to the buildings are locked. The first floor of one of the buildings is being used as the office of the Sai Dong Urban Area Board of Management.
There are many other unfinished resettlement apartment buildings, including the N01-D17 housing project on Duy Tan street in Dich Vong Hau ward, and two Tran Phu buildings on Khuyen Luong street in Tran Phu ward of Hoang Mai district.
Most of the construction works are mossy, cracked and tarnished because of rain and sun. And all of them have been left idle.
Explaining the abandonment of the expensive apartment buildings, Pham Huu Tien from the Hanoi Construction Department said the buildings have not been officially accepted as required by the Construction Law, so they still cannot be put into use.

Many apartment buildings in Hanoi have been left idle for many years, even while many people seek accommodations.
He said many resettlement buildings have been built with low quality. The construction companies did not consult with the residential communities. As the construction works cannot satisfy basic needs, people refuse to settle down there.
Many households don't want to receive apartments as compensation for leaving their homes. They want to get land instead to optimize their benefits.
Tien said that some resettlement areas are located far from the central area of the city, which cannot satisfy requirements to ensure normal life for people.
Because of these problems, many resettlement buildings have been left unused in Hanoi.
According to the Housing and Real Estate Market Management Division, there are 186 resettlement buildings, with 17,535 apartments in Hanoi.
A report released in 2018 showed that the Hanoi Housing Development and Management Company took over the management of 166 resettlement buildings with 14,221 apartments. Of these, 13.111 apartments have been paid or have been allocated as a part of the resettlement programs.
The other 724 apartments were allocated to families to serve site clearance for public investment projects, but the families have not turned up to follow procedures to get the apartments. The remaining 376 apartments have not been allocated by the city to anyone.
It is estimated that there are 10 buildings with 1,000 apartments left idle, with no residents.
Three agencies are authorized to manage and regulate the housing fund of the city.
The Hanoi Housing Development and Management is in charge of managing 148 buildings. It manages the operation of 90 buildings, and has handed over 20 buildings to the buildings' management boards. Families manage 26 low-rise buildings with staircases. Meanwhile, the owners of the 30 percent housing fund manage 12 buildings.
Of the 20 buildings allocated to the Hanoi Housing Investment and Development Corporation, it manages and operates one building. It has handed over the management work to seven buildings' boards of management.
Solutions
An analyst said that the majority of people want to receive land in compensation for their homes lost in site clearance for public projects. But the city's land bank is limited.
To deal with the problem of having buildings in disadvantageous positions, Hanoi has tried to build commercial (rather than social) housing for resettlement.
If apartment buildings still cannot attract people, the local authorities have been advised to sell them through auctions, because they will degrade over time.
In 2019, at a working session with the Hanoi Construction Department, Hanoi leaders said it was necessary to develop software to manage all commercial, resettlement and social housing projects in Hanoi.
Experts have suggested applying BIM (building information model) to improve building quality. The model, used in the US, UK, Singapore and some other countries, is seen as an important solution for the construction sector. 
Nguyen Le

The country's apartment inventory was estimated at some 3,300 units by the end of the first quarter of the year, falling 5,700 units compared to the same period last year, according to the Ministry of Construction (MoC).  

The rapid rise of new apartment blocks in HCM City has exerted intense pressure on infrastructure while local communities gain little benefit from new homes.