In 2016, Vietnam was the 8th destination but in 2019 the country ranked 4th out of 40 destinations for short-term courses and internships for Australian students in the Indo-Pacific, including regions in Asia, following China, India and Indonesia.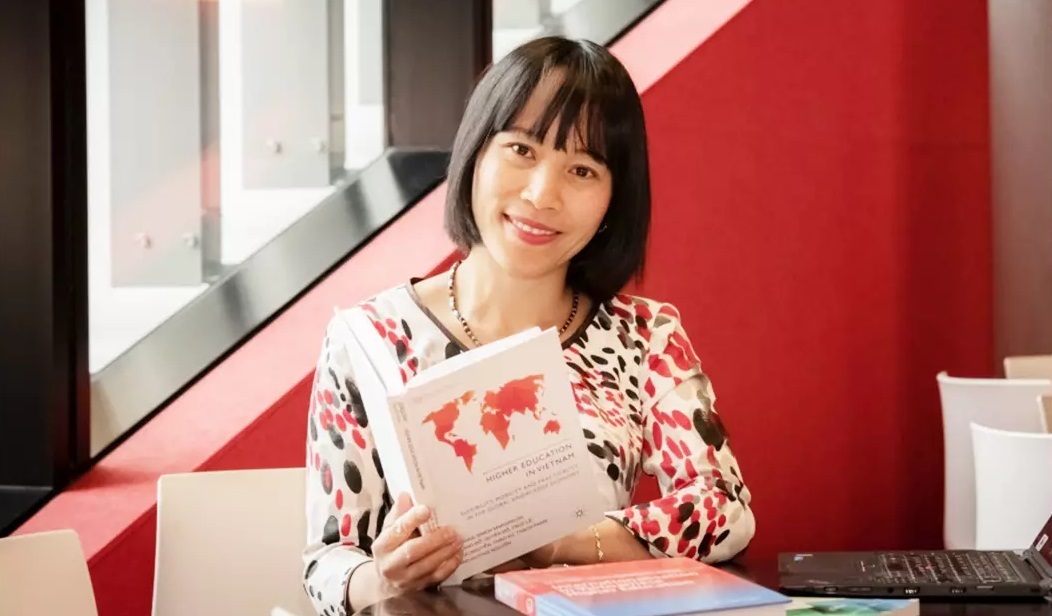 Prof. Dr. Tran Thi Ly, Vietnamese lecturer at Deakin University (Australia).
This information is the result of a study funded by the Australian government, conducted by Prof. Dr. Tran Thi Ly, Vietnamese lecturer at Deakin University (Australia) and her colleagues. According to Professor Ly, Vietnam can export education, especially in the field of short-term internship, and can "export" long-term courses for bachelor's and master's degrees in Vietnam in the next 5-10 years.
Prof. Dr. Tran Thi Ly, 46, is a female Vietnamese scientist with the highest number of international publications in the field of social sciences, based on Scopus data, who has been honored by Forbes Magazine as one of the 50 most influential women in Vietnam. In late 2020, she received the Noam Chomsky Award for achievements in research and profound influence on promoting cross-national research collaboration.
Her research interests focus on internationalization of education, international students, student mobility (especially Indo-Pacific students), and employment of international students after graduation and higher education in Vietnam.
VietNamNet talks with Prof. Ly about these topics.
Vietnam became the 4th destination for Australian students for short courses and internships. Does this represent a migration trend of international students or does it demonstrate the potential of Vietnam's "educational export"?
Prof. Dr. Tran Thi Ly: Being a favorite destination for Australian students shows both the mobility trend of international students and the potential of Vietnam.
If in the past, Australian students often went to developed countries such as the UK, Canada, the US, etc., in the past 5 years, with the support of the host country as well as the development of diplomatic, economic and political relations with Asian countries, they began to realize the importance of sending students to Asian countries to study.
The fact that the Australian government provides scholarships or financial support for its students to study short-term courses in Asian countries also plays an important role in promoting this trend.
As a result, Asia is gradually becoming a preferred destination for short-term courses and internships for Australian students, more than traditional destinations such as Europe and America.
For Australian students, coming to study and practice short-term courses in Asia will help them learn more than English-speaking destinations because they have the opportunity to be in a completely different environment from Europe and America - which is very familiar. The challenge in the new environment will be a condition for them to develop their cultural and language ability as well as specialized knowledge.
In that favorable trend, Vietnamese universities are also quite agile and know how to seize opportunities when they begin to expand and develop international cooperation with foreign universities, thereby creating student exchange programs, encouraging and attracting foreign students to study and do short-term internships in Vietnam.
Is Vietnam attracting Australian students due to its low cost?
Prof. Dr. Tran Thi Ly: Australian students come to Vietnam not entirely because of the low cost. Through surveys, we found that what they often mention is that Vietnam has a very dynamic developed economy and society and a stable and safe living environment. They want the opportunity to learn and experience in such an environment.
They also want to have the opportunity to immerse themselves in and learn about the culture of Vietnam. They also see Vietnam as an important partner of Australia. If they have the opportunity to study and learn experience in Vietnam and especially know about Vietnamese culture, it will be more favorable for their future work and life in Australia.
Another group said that they came to Vietnam in the hope that their learning and working experiences there would give them the opportunity to work in Vietnam.
In your opinion, what is the key to making it easier for Vietnamese universities to integrate and attract international students?
Prof. Dr. Tran Thi Ly: I think the facilities, quality of education, experience and initiative in developing partnerships with foreign universities to open short-term courses and internships are important, especially in the context of the Covid-19 pandemic.
Currently, a number of universities, especially non-public ones in Vietnam, have set up quite stable and flexible relationships with businesses, which allows them not only to open short courses for international students, but also to organize internships in association with the businesses with which they cooperate.
On the other hand, in the context of the pandemic, any university with a developed online teaching system will have a lot of conditions to cooperate with international schools. Schools with a good online learning platform can create courses through online collaborative learning between Vietnamese and foreign universities or in the form of online internship or online cultural exchange.
You have talked a lot about the potential for short-term courses, but what about long-term courses?
Prof. Dr. Tran Thi Ly: While the potential to attract students to long-term courses isn't as appealing as short-term courses, there's still a lot of promise, especially in the context of Covid-19.
Previously, the popular destinations of Asian students were countries such as the UK, USA, Australia, and Canada. With the current epidemic situation, many families in Asia are gradually changing their views on studying abroad.
Traveling away from home or to another continent becomes more difficult for students. Therefore, countries such as China, Singapore, Malaysia, etc. see this as an opportunity to attract Asian students to study in their countries.
In addition, there are often very few Government scholarships for long-term courses. At that time, the tuition and living costs become their concerns. In fact, Vietnam has the advantage that the cost is quite cheap compared to other countries in the region.
The quality of courses is also a factor that international students have to consider when choosing study destinations in Asian countries. The quality of the course, the reputation of universities will be the important factors they have to see when they make decision to choose Vietnam as the destination.
How can we build Vietnam into a popular and sustainable destination for Australian students in particular and international students in general?
Prof. Dr. Tran Thi Ly: In countries that have succeeded in making themselves destinations for international students, one of the policies introduced is to combine the education sector with other sectors such as trade, diplomacy, tourism and communication.
Therefore, I think it is necessary to consider promoting Vietnam as a promising destination for international students. This is the mission of many sectors, not only the education sector.
Universities need to cooperate with each other in a more unified and synchronous manner, to jointly build a "brand" for Vietnam's education.
For example, it would be very beneficial for universities if instead of competing with each other in recruiting international students, they would work together to promote Vietnamese universities and the country of Vietnam as a promising destination.
In order to have better cooperation between schools, it is necessary to establish an association, for example, the Association for Internationalization of Education of Vietnam. That association will act as an agency to support Vietnamese universities and share experiences and strategies to promote Vietnamese universities in a synchronous manner.
However, all the diplomatic and media support is not sustainable if Vietnam does not have the capacity to provide study abroad services, including housing services and integration support for international students, and quality courses as well.
Therefore, it is important for universities to consider internationalizing teaching and learning methods as well as internationalizing student experiences to improve the quality of their courses.
It is necessary to mobilize funds from domestic and foreign organizations as well as universities' revenue sources to support projects and initiatives promoting quality and internationally recognized training programs.
Thuy Nga

At an interview for the post of lecturer at Flinders University, Ngo Tuyet Mai, when asked why the university should choose her, said in addition to her knowledge and experience, she also has empathy and understands international students.

Phung Thuy Linh (Linh Phung) has lived in America for 15 years, the last 10 of which she has spent at Chatham University supervising and teaching English to international students.