Bui Ngoc Huyen dreamed of making Vietnamese automobiles, 'boss Duc' transferred shares, and 'boss Kien' made big money while he was in prison. These were the most outstanding business stories of the last week.
The dashed hopes of Vinaxuki owner
When Bui Ngoc Huyen was 50 years old and a department director at the Ministry of Transport, he decided to retire to set up the private automobile manufacturing enterprise Vinaxuki.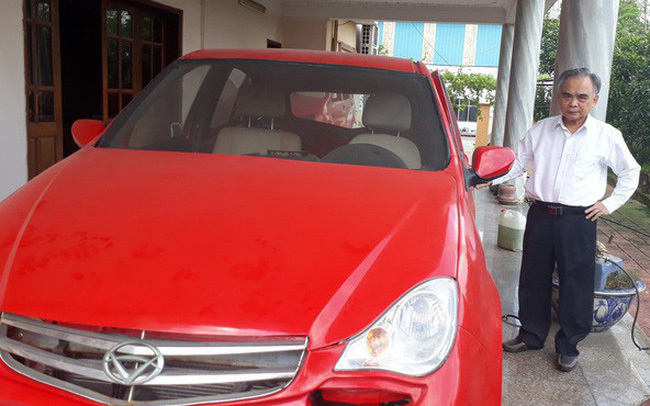 Bui Ngoc Huyen, who dreams of making Vietnamese automobiles
In 2009, some large automobile manufacturers in the world came to see him and suggested cooperation with Vinaxuki. Hyundai from South Korea wanted to spend VND1.4 trillion to acquire 49 percent of Vinaxuki's shares.
However, the investment deal could not be made. At that time, automobile manufacturing was a conditional business field and Huyen could not sell capital to foreign investors.
VInaxuki then owed VND600 billion to banks, and if it had sold shares to the foreign partner, it would have paid off all the debt and had enough money to make Vietnamese cars.
In his golden days, Huyen made a profit of VND100 million for each car sold. However, VInaxuki later went downhill because of many reasons.
Vinaxuki has incurred a debt of VND2.8 trillion. Huyen's current major income is from a fixed monthly salary and an unstable income from fowls he is raising.
Tan Hiep Phat's debt trading company
Since its establishment, VNAMC, the asset management company owned by Tan Hiep Phat, still has no turnover, but it has reported a loss of several million dong a year, according to VietTimes.

With the ACB share price increase, Nguyen Duc Kien, or boss Kien, has VND400 billion in his pocket with 32 million ACB shares he is holding. Meanwhile, Kien's wife, Dang Thi Ngoc Lan, has VND500 billion more, with 39 million shares.
Tan Hiep Phat, the 'empire of drinks', not only has the ambition to expand its business to real estate, media and technology fields, but has also decided to join the finance market.
The establishment of VNAMC in March 2018 showed the sensitivity to policies of the leadership of Tan Hiep Phat. The company was set up after the National Assembly issued Resolution 42 on piloting the settlement of bad debts of credit institutions.
Headquartered at No 194 No Trang Long Street in Binh Thanh district, VNAMC has initial charter capital of VND100 billion contributed by two female founding shareholders, the two daughters of Tan Hiep Phat's President – Tran Ngoc Bich and Tran Uyen Phuong.
Boss Duc transfers shares
President of Hoang Anh Gia Lai Group (HAG) Doan Nguyen Duc, or 'boss Duc', has registered to transfer 35 million units of shares under put-through mode from November 13 to December 12 as collateral for loan restructuring.
The decision was made two weeks after Duc spent VND240 billion to buy 50 million HAG shares to increase his ownership ratio.
If Duc successfully sells 35 million HAG shares, his ownership ratio in HAG would decrease from 377 million (40.62 percent) to 342 million (36.85 percent).
HAG shares have seen prices decreasing for the last five sessions, from VND4,620 per share to VND4,470 per share.
Despite strong restructuring by selling real estate, hydropower and sugar projects, Hoang Anh Gia Lai is still in serious difficulties.
Its revenue has increased recently, but it has taken losses for many quarters. HAG reported a pre-tax loss of VND701 billion in the first nine months of the year.
Boss Kien earns big money during imprisonment
After nine years in crisis, the operation of Asia Commercial Bank (ACB) has become stable again with the bad debt reduced to the safety level. The ACB share price increased by 50 percent over the last four years.
On November 11, ACB shares were traded at VND25,500 per share, much higher than the VND17,000 per share seen in late July.
With the ACB share price increase, Nguyen Duc Kien, or boss Kien, has VND400 billion in his pocket with 32 million ACB shares he is holding. Meanwhile, Kien's wife, Dang Thi Ngoc Lan, has VND500 billion more, with 39 million shares.
The union between big business mens families by marriage
Vo Quoc Loi, the son of Vo Quoc Thang, known as boss Thang and chair of Dong Tam JSC, has married Dao Thuy Phuong Thao, the daughter of Dao Hong Tuyen, who is known as the 'Lord of Tuan Chau Island'.
In 2014, Loi was the top individual shareholder at Kien Long Bank where his father, boss Thang, was chair of the board of directors in 2013-2018.
Loi is now a member of the board of directors of Truong Thanh Furniture Corporation.
Thao is the legal representative of Jen Tuan Chau Co Ltd, Thien Phat Advertisement Co Ltd, Dao Phan Co Ltd and Saign Marina City Co Ltd. 
Bao Anh

Commercial banks are facing challenges, including an increase in bad debts because of Covid-19 and pressure that has forced them to increase charter capital. But bank shares remain attractive to investors.

The long battle inside the biggest construction company in Vietnam has come to an end with the departure of a successful businessman.