Students in Hanoi may be able to return to school as the city has been listed as a green zone. However, no final decision has been released.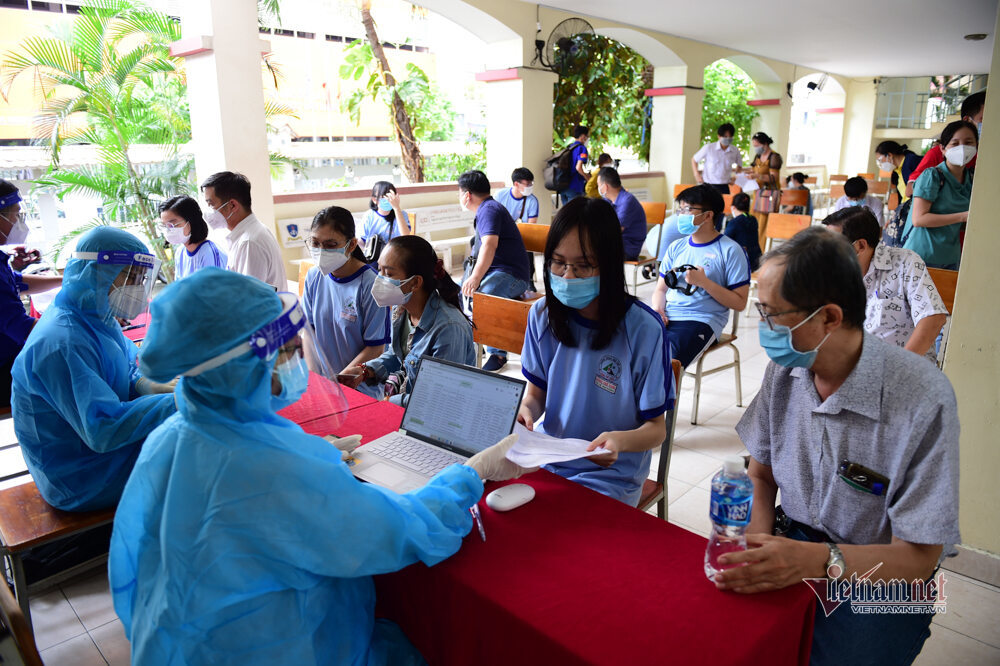 HCM City starts vaccinating school children against Covid-19.
Saying that she won't let her children go back to school until they are fully vaccinated, Tran Thi Ha in Ha Dong district stressed that safety of students must be the top priority.
"As a parent, I want my children to be always healthy and not get infected with coronavirus because they have to go to school," she said.
"I know they feel bored at home. But what will happen if Covid Cases are found at school?" she said. "Everyone knows that the Delta variant is highly contagious. If my children unfortunately get infected, they will spread to family members and neighbors."
Agreeing with Ha, Duong The Nam and his wife also decided to keep their children at home until the city completes the vaccination campaign for children aged 12-17.
"We have one child in seventh grade and another just two years old. We live with my wife's mother, over 70 years old, who has underlying health conditions. She has been vaccinated, but we still have worries about her and the small child," Nam said.
"So, it'd be better to keep the elder child at home. He won't miss lessons because he can learn online," he said.
Wavering between sending her son to school or keeping him at home, Pham Thanh Hang in Hoan Kiem district said perhaps she is more inclined towards the latter.
Hang complained that the long stay at home has caused a lot of problems. Her son's personality seems to have changed, while his shortsightedness has become more serious.
However, she still doesn't think that he needs to go back to school at this moment, when tens of infections are found every day.
"If just one Covid case is discovered at school, so many people will suffer," she said, adding that students in some localities were told to stop going to school after just several days of school reopening, after some positive cases were found.
Meanwhile, Le Hong Phuong in Ba Dinh district, who is a mother of a seventh and ninth graders, supports the idea of sending children back to school as soon as possible, though they still have not got vaccinations.
"We sometimes go out with children, stop in supermarkets, bookstores and flower gardens. We also allow my children to play with others in the same residential quarter and everything is still okay," she said.
She cited official reports as saying that the percentage of children infected with coronavirus is low, so there's no need to be worried too much.
"Some of my friends in HCM City were infected with coronavirus and they spread it to family members. But their children only had mild symptoms," Phuong said.

Students in Hanoi may be able to return to school as the city has been listed as a green zone. However, no final decision has been released.
"I want to go out and meet friends at cafes when the lockdown is lifted and I believe that my children also have the same demands," she said, adding that children have had to stay at home for a longer time than adults.

According to Phuong, the Ministry of Education and Training (MOET) has proposed reopening schools in green and yellow zones. It would be better to reopen schools in these zones first and organize both in-person and online classes in rotation.
"It's necessary to allow children to go to school, especially ninth graders and high school students," she said.
Nguyen Ngoc Anh in Hai Ba Trung district said he wants his children to go back to school as soon as possible.
"I wish my elder child, an 11th grader, to go back to school immediately, and the other child, a sixth grader, as well," he said.
He realized that his children could not concentrate during online lessons, which he thinks is a serious problem.
"My son is busy chatting with friends all day, but lazy to talk with parents. He needs to go to school and communicate with teachers and classmates," he said.
According to Anh, the mortality rate is very low, just 0.00161 percent, among children, while there are now more drugs to treat Covid-19. It would be preferable to reopen schools while running the vaccination campaign rather than wait until the vaccinations are completed.
Experts also have different viewpoints about whether to let students go back to school.
Nguyen Lan Hieu, Director of the Hanoi Medical University Hospital, when talking to the press on the sidelines of the ongoing NA session, said online teaching should continue as the vaccination plan for children is still unclear.
"For high school students, schools should reopen only after the vaccinations finish. As for secondary school students, the reopening should be implemented when 60-70 percent of students are vaccinated," Hieu said.
Dr Tran Dac Phu disagrees with this view, saying that it'd be better to reopen schools while strictly following anti-pandemic measures. If schools reopen only after the vaccinations finish, the academic year will have to be prolonged. 
Phong Chi

Ho Chi Minh City began its Covid-19 vaccination program for students aged 16-17 years old on October 27, becoming the first locality in the country to officially vaccinate children.
The Pfizer vaccine (Comirnaty) will be used to inoculate children aged 12 to 17 nationwide, starting in November, Minister of Health Nguyen Thanh Long announced in Hanoi on October 26.