In hermetic protective clothing, Tran Anh Tu, a physician from Hanoi, spent memorable days at pandemic-hit areas with fast meals and late meals at night.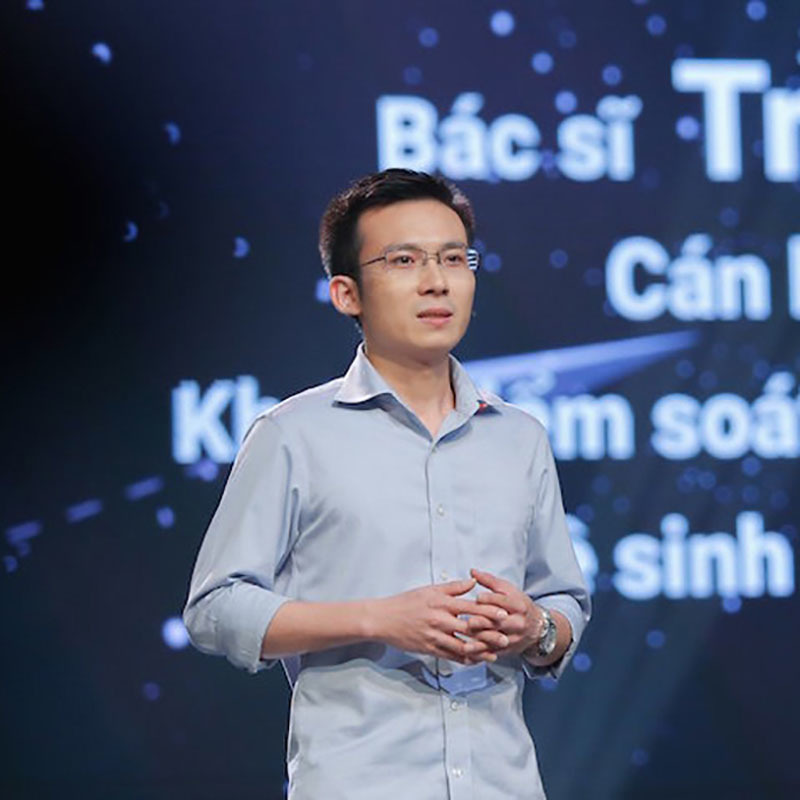 Tran Anh Tu
On quarantine after returning from the working trip to Hai Duong province, the pandemic hotspot, Tu, born in 1989, a physician of the National Institute of Hygiene and Epidemiology, is still busy working online.
"We work online to assist Hai Duong province. If they have problems, we will give technical support," he explained.
2020 was a memorable year for Tu, who joined the fight against the Covid-19 pandemic.
On the first days of the pandemic, he and his colleagues had to attend many meetings and working sessions from early in the morning to late at night. During the daytime, they worked. In the evening, they sat together to review the work and discussed what they would need to do in the following days.
When Tu was a member of the special taskforce on Covid-19 in Son Loi commune in Vinh Phuc. The task for him and his colleagues was zoning off and isolating 10,000 people for 21 days.
"This was not simple work, because this had not happened before in Vietnam," he said.
Since the information about the pandemic was limited, they had to be very cautious in the first Covid-19 hotbed.
"We had to update the information regularly and we would change strategies if figures fluctuated just a little," he said.
As the doctor at the 'forefront', he faced a risk of getting Covid-19.
However, Tu thinks that risks exist in all careers. However, doctors are equipped with protective clothing and take necessary preventive measures, while field hospitals are built quickly and meet standards.
The doctor said that if one man has passion for something and loves his career, risks will not be a big matter. If he unluckily catches the disease, he won't be too worried, because Vietnam has a very good treatment system.
Gifts from people
Tu stayed in Son Loi hotspot for 21 days, Me Linh 22 days, Da Nang 25 days and Hai Duong 31 days. He remembers the trip to Da Nang the most.
"On one day on July 2020, at noon, I received a request for booking an air ticket for departure at 5 pm so as to be present in Da Nang by 7 pm. It was difficult to book tickets at that moment because there was a high number of travelers to the city," he recalled.
But as he fortunately knew someone at a booking agent, he managed to book a ticket for the flight.
Meanwhile, other trips were quite usual for him. He just needed to pack several sets of clothes, a toothbrush and towel to get ready for departure.
Asked about his impressions about the trips, he said it was the sympathy and support from local people.
"We need people's support to fight the pandemic. When I came to pandemic-hit areas to ask about people's difficulties during social distancing, people all said they supported the state's policy," he said.
"They always encouraged us to fulfill the work of fighting the pandemic so that we can leave for home soon," he said. "We also received gifts from people. Doctors were given a lot of flowers when we were in Ha Loi flower growing area."

During the 2021 Tet holiday, he was away from his family. The first thing he plans to do after leaving the quarantine area is to meet family members and friends
Tu has a wife and 4-year old son. "I missed my son and I usually called to talk to him via Facetime. I told him I was on business and I would buy presents for him," Tu said.
During the 2021 Tet holiday, he was away from his family. The first thing he plans to do after leaving the quarantine area is to meet family members and friends.
In January 2020, Tu participated in the compilation of the Ministry of Health's documents guiding the supervision, isolation and tracing of Covid-19 infection cases and close contacts.
In February 2020, Tu participated in the investigation for fighting against Covid-19 in Son Loi, Vinh Phuc. He was a member of the special working group belonging to the National Steering Committee for Covid-19 Prevention and Control.
In March 2020, he took part in the campaign of tracing passengers with close contact with Covid-19 patients on international flights to Vietnam.
In April 2020, he participated in the investigation to support the fight against Covid-19 in Ha Loi hamlet of Me Linh commune in Hanoi.
In July 2020, he took part in the fight against Covid-19 in Da Nang City.
Tu received a certificate of merit from Minister of Science and Technology for excellent achievements in processing epidemiological information to help control Covid-19.
He also has received a certificate of merit for outstanding young doctors. He is one of 20 nominated faces for the 2020 Vietnam Outstanding Young Faces Award.
Ngoc Trang

Vietnam got through 2020 as one of only a few to fulfil the dual goals of containing the COVID-19 pandemic and developing its economy. 

The early, proactive, and responsible management of the COVID-19 pandemic, led by the government and involving the entire political system, has secured the trust of the Vietnamese people.