Times have changed, and many elderly people choose to live in luxury nursing homes to enjoy comprehensive care. The middle-aged generation has been saving for their old age.
Mr. Luu Van Ky, 80, from Binh Chanh district, Ho Chi Minh City, discussed with his son about moving to a nursing home in the near future. He said: "I'm old, I can't do anything at home anymore. I'm sick and have to go to the hospital very often. Each time I am hospitalized, my family suffers. It's better for me to live in a nursing home to not bother my children. It works for both me and my children."

Ky's son - Luu Van Quyet - supported his father's decision. He researched and gave information about quality nursing homes for his father to choose a suitable one.

"It is different now. We should have a different view about nursing homes. You don't have to live with your parents to be seen as being respectful to your parents. My father does not lack anything materially but he feels alone because we have to work all day and come home very late. We also have the gap of generations. There are many good private nursing homes. My family is seeking a good nursing home for my father," said Quyet.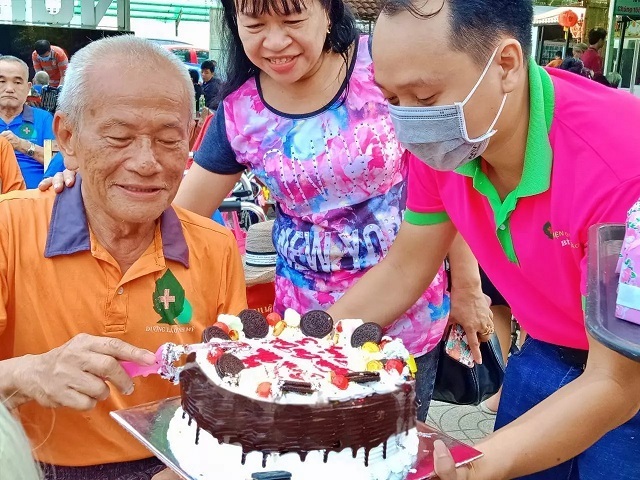 According to the latest statistics, out of 425 facilities that care for the elderly, disabled and children, there are about a dozen state-owned establishments for the elderly. These facilities provide minimal care for the elderly. To meet the needs of modern life, some high-class private nursing homes have been established, but this number is still very small.

In Hanoi, there are nearly 20 private nursing homes and the figure is under 10 in Vietnam's largest city - Ho Chi Minh City. The monthly charge is from VND7-8 million ($330-$380) to VND15 million (nearly $700)/person/month.

At upscale nursing homes, the life of the elderly meets "5 star" standards: living in a private room, enjoying comprehensive daily care and special care when they are sick. Some luxury nursing homes in Hanoi collect higher charges – over VND20 million per month ($800). These nursing homes even provide funeral services.

Mr. Tran Canh Tung, head of the Department of Social Affairs of the Authority for Social Protection of Vietnam, said that elderly people living in nursing homes will help social development because Vietnam's aging population is considered the highest percentage in Asia. Vietnam's population is aging at a rapid rate. In 2014, the proportion of elderly people aged 60 and over accounted for 10.5% of the population. The rate was 11.86% in 2019.

Mr. Bui Anh Trung, director of a private nursing home in Ho Chi Minh City, said that if you want a "5-star standard" life in a nursing home, you need to prepare financially early.

"Elderly people need to understand that nowadays, their children are very busy with a lot of things and they have to take care of their children too. Living in a nursing home, they can help themselves, help their children and the next generation," Trung said.

Many Vietnamese people at the age of 50 have thought about and planned to live in nursing homes when they get old. Mrs. Doan Ngoc Mai, 52, in Hanoi told VietNamNet: "My husband and I have decided not to live with our children. Later when one of us passes away, the other will go to a luxury nursing home to not bother anyone. To live in a nursing home for 10 years, I need to prepare VND1.5 to VND2 billion."

In a modern society, the view that sending parents to a nursing home is unfilial is outdated. Nursing homes are an inevitable trend in the future.

More nursing homes are needed

Bui Anh Trung said: Vietnam's population is aging rapidly and nursing homes will be a solution for this. In addition to developing and improving the quality of nursing homes, the State needs to have policies to help people prepare for their life in nursing homes right now.

"The government needs to consult developed countries like Japan, the US, New Zealand in the implementation of aged care insurance," he said.

Dr. Khuat Thu Hong, Director of the Institute for Social Development Studies (ISDS), confirmed that in the future, elderly people will be self-aware and volunteer to live in nursing homes.

She said that the State should facilitate the development of private nursing homes. In particular, these facilities must meet certain standards of services such as: health care, nutrition, living space, living space, infrastructure, etc.

To be accepted by society, nursing homes need to ensure comprehensive care for the elderly, she said.

Mr. Tran Canh Tung said that to meet the needs of nursing homes in the future, the State should have policies to encourage construction of private nursing homes and upgrading state-owned facilities.

Nguyen Son

Many elderly people said that by choosing a quality nursing home, they feel completely assured and are happy to spend the rest of their life there.