Realtors with strong financial capability are collecting land for large projects in the future.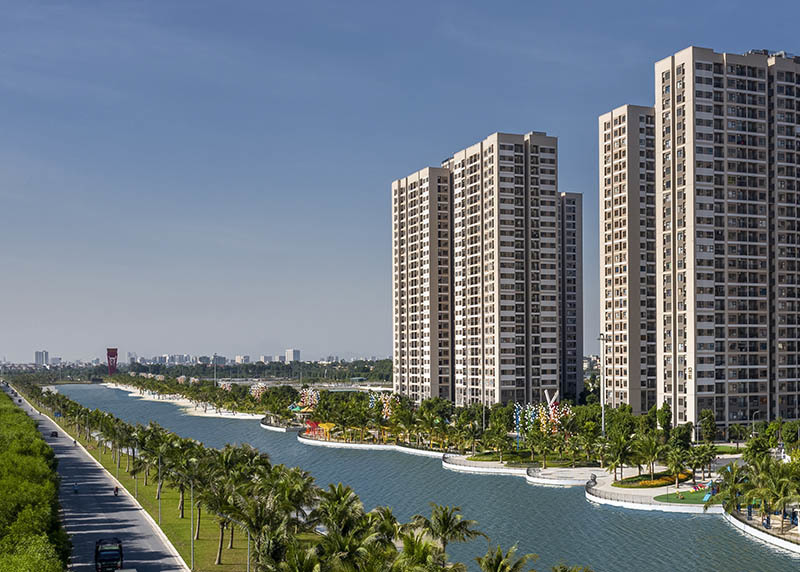 While production activities became stagnant during the pandemic, the real estate market remains warm with many merger and acquisition (M&A) deals.
The best known M&A deals in Q2 included ones in which Phat Dat Real Estate Development acquired 99.5 percent of shares of Binh Duong Building Real Estate Investment and Development for the Binh Duong Tower project; Thaco took over E-Mart Vietnam; and a deal between Becamex IDC and Central Retail Vietnam to develop GO! shopping center in Binh Duong.
Masterise Homes, a subsidiary of Masterise Group, has bought two land plots with the total area of 7.1 hectares at Vinhomes Grand Park project (district 9) from a subsidiary of Vinhomes.
In the northern market, the business acquired six apartment buildings at Vinhomes Ocean Park Gia Lam and developed into Masteri Waterfront project. Also, Masterise Homes is developing Masteri West Heights project in the Vinhomes Smart City Tay Mo Urban Agglomeration project.
Novaland, well known for a series of M&A deals, is continuing to take over hundreds of hectares of land in many localities. It is seeking land in Dong Nai, Long An, Ba Ria –Vung Tau, Lam Dong and Phan Thiet for its urban area and tourism real estate projects.
An Gia Group has announced an M&A strategy as a solution to develop its land bank. At the 2021 shareholders' meeting, An Gia stated it would wrap up negotiations to buy 30-50 hectares of land more to develop projects.
Most of the successful M&A deals were between domestic investors and foreign investors who are present in the Vietnamese market.
Meanwhile, there were few deals with the participation of investors from overseas, because projects could not satisfy their requirements. However, the deals made by international investors had the highest value.
Analysts say that M&A activities have been slowing over the last year. The real estate prices in H2 2020 and H1 2021 did not decrease as predicted, despite the pandemic. This, plus the monetary policy loosening, caused land owners to think that the pandemic would end soon and the market would see a strong recovery. They tended to retain properties or sell at high prices.
But buyers are not so optimistic. They are cautious in disbursing money now and many of them are waiting before taking action. Because of many reasons, the process of legalizing projects' status has also gone more slowly than planned.
Another reason is that many investors who want to transfer projects lack opportunities to approach buyers, especially foreign ones.
In some cases, buyers and sellers cannot find a common voice.
Analysts say that Vietnam needs to have professional institutions that provide M&A consultancy services. The institutions need to understand the local market, have connections with global investors, and provide package consultancy services to help make transactions successful at the lowest possible cost.
Analysts also note that, previously, the projects in M&A deals were mostly located in the central districts of large cities of Hanoi and HCM City. However, as the land there is getting scarce, investors are seeking opportunities in neighboring areas.
Opportunities
According to Hung Vuong Holdings CEO Pham Viet Anh, the time to buy projects is when the market cools and realtors turn cautious.
Anh believes that current difficulties are just temporary and the real estate prices will increase after the pandemic ends.
According to Savills HongKong, Vietnam remains an attractive destination for foreign investors. The Ministry of Planning and Investment (MPI) reported that total FDI capital in H1 reached $15.27 billion.
Vietnam is the only country which has received an upgrading in credit rating by all three prestigious rating firms - Moody's, S&P and Fitch.
Le Phuong Lan from Savills Hanoi said investors are most interested in urban housing projects. The demand for Industrial Zone development and logistics land has also been increasing rapidly in the last 1.5 years. 
Duy Anh

The reopening of the economy has begun with the principle 'reopening the doors anywhere it's safe'.

The country's real estate market has seen positive signs for recovery following the economic reopening, experts said.