Over the past 25 years, American investors have increased their involvement in Vietnam's financial sector, a trend expected to continue as the country deepens its capital market and young startups look for funding and guidance.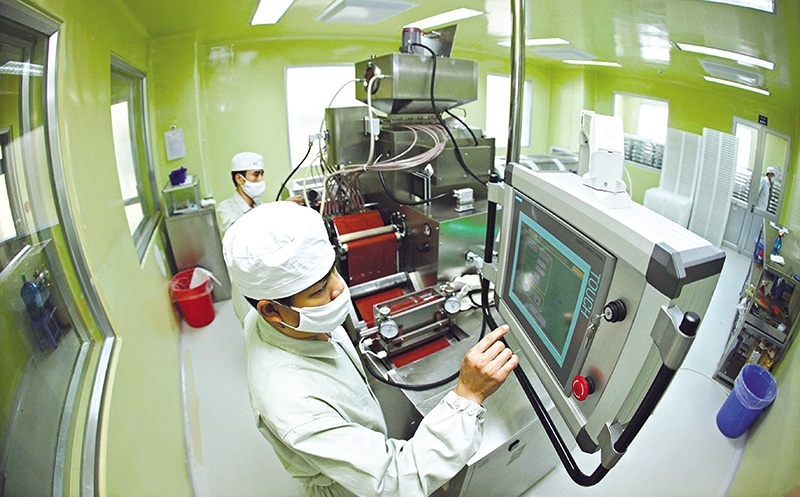 Traphaco JSC has grown far stronger through the investment and transfer of expertise from Mekong Captial
Since the United States lifted trade embargo on Vietnam in 1994 and normalised bilateral relations in 1995, an American presence has always been felt in Vietnam's financial market.
The most notable sector is indirect investment, where many high profile American investors, analysts, and advisors bring their expertise and entrepreneurial drive to the emerging markets in Vietnam.
Early investors included real estate group Indochina Capital and private equity investor Mekong Capital, both of which were founded by Americans.
Other well-established names in the market, such as VinaCapital, have senior executives that hail from the world's richest country.
A more recent player in the Vietnamese market is Warburg Pincus, the private equity firm that invested in Vincom Retail in 2013.
Following its gradual withdrawals from the department store chain, Warburg Pincus has embarked on a shopping spree for other Vietnamese assets – from $310 million in the fast-growing Techcombank, to $200 million in a joint-venture with logistics and industrial park developer Becamex IDC, all in the past year alone.
This year, Warburg Pincus joined its compatriot Goldman Sachs as investors in Momo, the leading e-wallet provider.
The firm is now rumoured to be in the running for The Grand Ho Tram Strip, a multi-billion-dollar hospitality complex in the southern province of Ba Ria-Vung Tau.
Regional stand-out
KKR, another private equity firm from the US, has been a long-time investor in one of Vietnam's leading private group Masan.
Despite its partial divestment in 2018, KKR has made efforts to reaffirm its commitment to Masan. At a recent conference in Ho Chi Minh City, Neal Kok, principal at KKR, pointed out that Masan's operations in multiple sectors have given KKR broad exposure to Vietnam's emerging consumer market.
"Vietnam stands out because it has strong GDP growth, golden demographics and a more stable currency than its regional peers. The country is at the right developmental stage for foreign investments," said Kok.
According to the investor, private equity firms like KKR do not just pump capital into Vietnam, but they also act as a trustworthy partner who can offer global expertise to domestic businesses.
This is a common theme for the majority of American funds in Vietnam, who have a long-term investment horizon and want to be actively involved in any business they invest in.
Nguyen Duc Tai, CEO of Mobile World Corporation, and Vu Thi Thuan, CEO of Traphaco JSC, told VIR that they were grateful for Mekong Capital's guidance in corporate governance.
In the last decade, Mekong Capital helped these two young businesses manage their governance standards, build a strong corporate culture, and become leaders in their respective industries.
"They helped us a lot, because there were a lot of things about corporate governance that we did not know. When it was time to divest, they also chose a suitable investor for us, who can help us further," said Thuan.
Many American investment banks have acted as advisors, valuators and underwriters for high-profile deals in Vietnam. Examples include Morgan Stanley for Vinamilk's 9 per cent share sale in 2016. In these transactions, American investment banks often worked closely with their Vietnamese counterparts to find the right buyer, at the right price, for Vietnamese clients.
Andy Ho, chief investment officer at VinaCapital, said that he expected to see more investments from major institutions in the US, and around the globe, when Vietnam receives an emerging market status upgrade by the Morgan Stanley Capital International, the first global market index created in 1968.
According to Ho, many funds in the US are more willing to pour cash into companies in emerging markets than frontier ones, as the latter are deemed too risky.
With a stable economy, development potential and membership in the fast-growing ASEAN bloc, Vietnam is likely to receive more attention from major US players in the years to come.
Returnees potential
In recent years, an exciting trend has emerged in Vietnam's financial markets: The rising popularity of the startup sector, thanks to the government's promotion of private entrepreneurship and tech innovation.
American venture capitalists, especially those of Vietnamese ethnicity and a Silicon Valley background, have chosen to fund promising domestic startups. Not unlike the big investment funds, venture capitalists are also active in nurturing aspiring entrepreneurs.
Eddie Thai, partner at 500 Startups, said that the return of Vietnamese entrepreneurs has played a major role in the rise of startups.
This goes beyond remittances, capital, international networks, and innovations. In 26 startups that Thai's fund has financed so far, about half were set up by overseas Vietnamese.
Although returnees come from different parts of the world, this wave is the most pronounced with Vietnamese-Americans. According to these repatriates, their journey back to Vietnam was facilitated by the country's dynamic ­economy, strong sense of ­entrepreneurship, and ­openness to foreign investment.
As a developing ­country, Vietnam also offers more opportunities for the ­returnees to make an impact – compared to the saturated scene in the US.
Linh Thai, CEO at Vingroup Ventures, is one well-known example. The judge in the Vietnamese version of Shark Tank used to work at leading investment banks in New York before desiring a career change. She decided to return to Vietnam, and Linh has since made a name for herself as a part of VinaCapital's startup fund.
Cases like Thai were plentiful in Vietnam's startup scene. Justin Nguyen, partner at Monk's Hill, relocated to Vietnam in 2015 from Silicon Valley, after being enticed by the country's growth potential. In a recent essay, Nguyen described Vietnam as the next technology hub, and the return of Vietnamese expatriates has been a powerful catalyst.
"Vietnam has the necessary ingredients for an explosion in innovation. I believe that the startup market in Vietnam started getting interesting around the 2013 and 2014 period, driven by strong GDP growth, widespread smartphone usage, supportive regulations, a young population, and the rising middle class," said Nguyen at the recent Vietnam Venture Summit in June.
Whether it is listed securities, private equities or startup financing, American investors are now making their presence known in Vietnam. In the past 25 years, besides the cash, these growth-seeking funds also offer Vietnamese companies the much-needed help in corporate governance, business expansion, and international contacts.
With Vietnam making strides to become the world's manufacturing and technology hub, this trend will likely continue. VIR
Nam Phuong

Vietnam's ratification of the CPTPP and the EVFTA compels the country to liberalize the state sector.

The number of fintech companies have increased rapidly in Vietnam in recent years as the industry has high growth potential while the government encourages cashless transactions.  

With its engagement in many free trade agreements, Vietnam is becoming an enticing destination for foreign investors who want to engage with the country to improve their supply chains.