Tan Binh Covid-19 Field Hospital currently has only 10 doctors for every working shift in charge of 200 severe cases being treated at the third level, the highest of the three-level hospital model.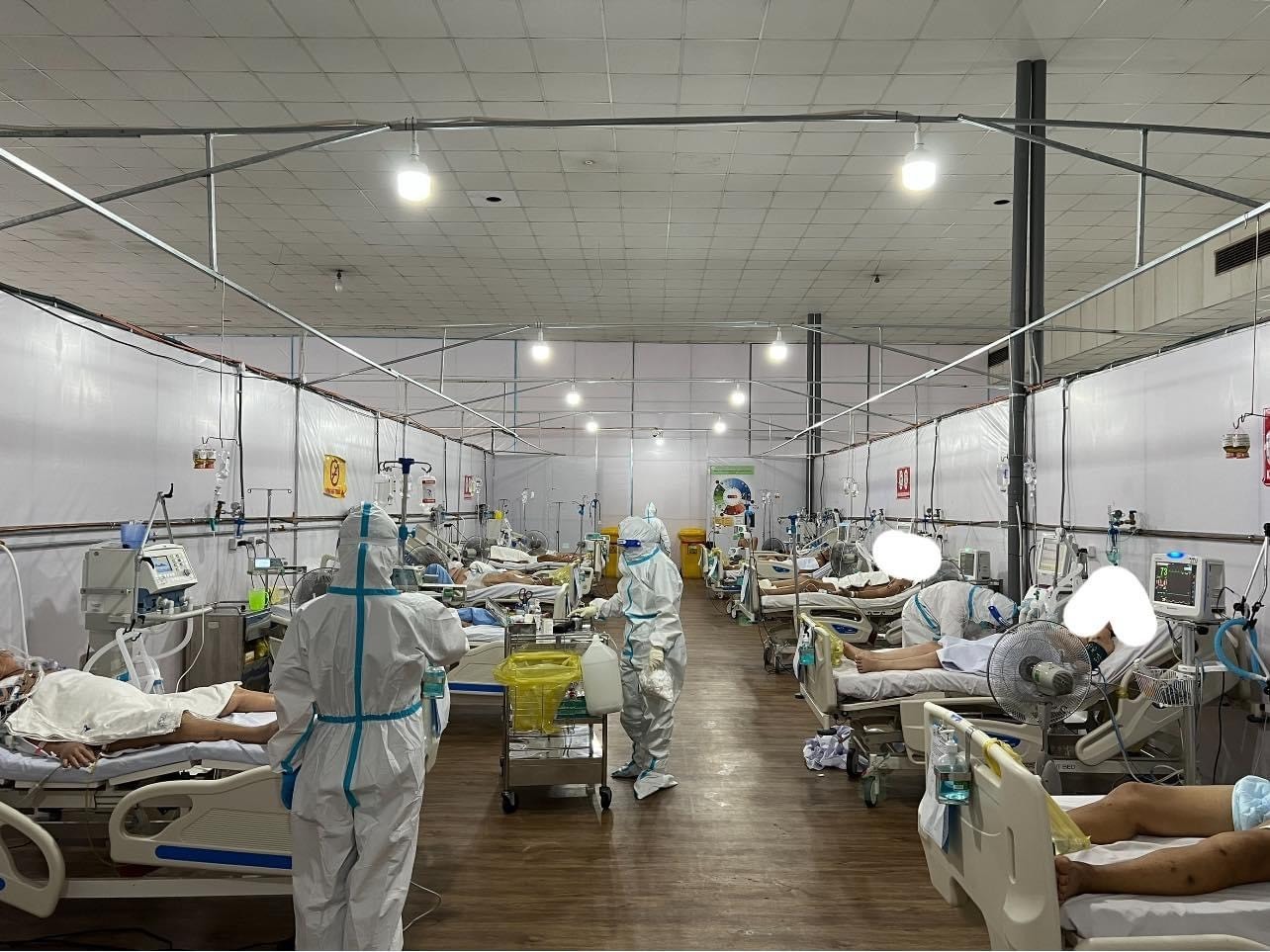 Dr Ho Huu Duc, Deputy Director of the hospital, said the number of Covid patients brought to the hospital has been increasing since mid-October, especially in the last two weeks.
The hospital receives 70-100 cases daily for all three levels – mild, medium and severe cases. There are 10-20 severe cases a day. Meanwhile, there were fewer than 10 severe cases a day in early October.
In the area for severe cases (level 3), there is one ECMO machine, and two dialysis and 10 periodic hemodialysis machines for Covid-19 with kidney failure.
"There hasn't been a single day when the machines have had a break. They have been running continuously," Duc said.
According to the doctor, in off-peak days, the hospital had 350 patients, including 100 severe cases. The current number of severe cases is double out of total 850 patients being treated.
Explaining the overloading, Duc said medical workers sent by central hospitals in the north, including Bach Mai and Vietnam - Germany Friendship Hospital, have returned to their routine works after fulfilling their tasks in HCM City, while other hospitals in the city have returned to the new normal. As such, there are only seven hospitals treating severe Covid-19 cases in the city.
Tan Binh Field Hospital is assigned by the HCM City Healthcare Department to receive Covid-19 patients from Phu Nhuan and Tan Binh Districts. However, the hospital also receives patients from other hospitals if they are overloaded, or if patients are brought by Emergency Service 115 so as to be sure that patients can get treatment as soon as possible.
The patients from districts Go Vap, 12, Cu Chi, Hoc Mon and Binh Tan are also being treated there.
"The number of patients is high and so is the number of severe cases," Duc said.
On November 24, the hospital reported seven deaths, including six patients over 70 years old with underlying health conditions, and one patient, 42, with cirrhosis, HIV infection, and gastrointestinal bleeding. Four out of the seven people were unvaccinated.
Some relatives of the four patients said the patients were contraindicated for vaccination because of underlying diseases, while others said they feared immunizations. Some thought that older people who do not go out regularly would not contract Covid-19.
"Most of the deaths were older, unvaccinated, with underlying health conditions."
Field Hospital No 3 in HCM City is also overloaded because of the increased number of patients, including severe cases.
According to Vo Duc Hung, Deputy Director of the hospital, 50-60 mild cases are discharged while 10 severe cases are hospitalized each day.
The hospital was designed during the pandemic peak days, with 2,500 beds. There are only 400 cases now, but there are over 50 severe cases.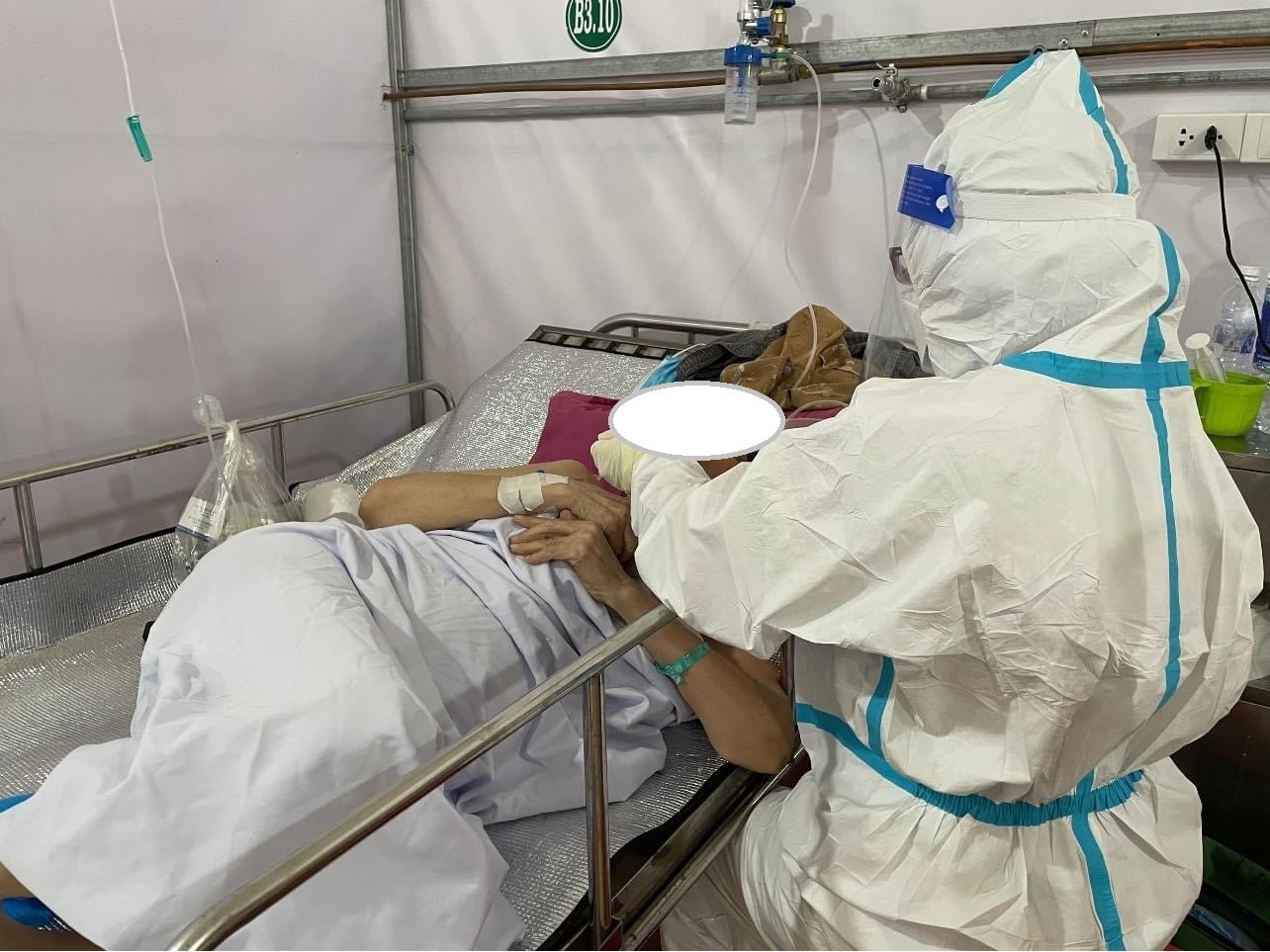 Hospitals need doctors
"We are overloaded. There are 200 severe cases, including the ones who need ECMO and dialysis, but there are only 12 doctors for every working shift," Duc said.
At Field Hospital No 3, there are only four doctors and five nurses for each shift.
Duc said the most worrying problem is the increase in number of severe cases. Lacking workers, the intensive care unit is having difficulties. The hospital can only receive patients transferred from Le Van Thinh Hospital or from Thu Duc City.
Field Hospital No 3 once had 180 medical workers, but now has 40 doctors. Hung has been working there since the establishment of the hospital.
"I have not returned home since I began work here," he said.
As the number of severe cases have increased sharply, the hospital has asked the city's healthcare department for more workers. The volunteers working can only help take samples for testing and enter data into computers, so they cannot help ease the pressure on doctors.
Tan Binh Field Hospital has 220 beds for third-level treatment, and there are 200 patients. However, there are only 54 doctors and 90 nurses.
The third-level treatment at the field hospital is under the management of Thong Nhat Hospital. Some doctors have left the field hospital and returned to Thong Nhat to receive non-Covid-19 patients. Others are still working at Field Hospitals No 8 and 6.
Previously, the workload was shared with doctors from private hospitals. However, these doctors left the city after HCM City lifted lockdowns.
At the Covid-19 Resuscitation Center under the management of Hue Central Hospital, the number of patients has increased rapidly at all three treatment levels, according to Dr Nguyen Dinh Khoa, Deputy Director of the center. The city healthcare department has sent more workers from Nhan Dan115 Hospital, Tu Du Hospital and Children's Hospital No 1.
Doctors are also looking forward to getting booster shots to feel more secure because their second shot was given six months ago.
As many as 1,663 new cases and 77 deaths were reported on November 24.
Linh Giao

The HCM City Department of Health has begun to close COVID-19 field hospitals located at dormitories and schools as the number of COVID-19 cases has dropped in recent weeks.

The B Medicine Bag, with anti-inflammatory and antibiotic drugs, prescribed for Covid-19 patients with severe symptoms, is being abused by patients with mild symptoms, which may cause serious consequences.