With robust economic growth in Vietnam for the past several years, foreign buyers are diving into the real estate market as is evident by the pent-up demand from those looking to buy.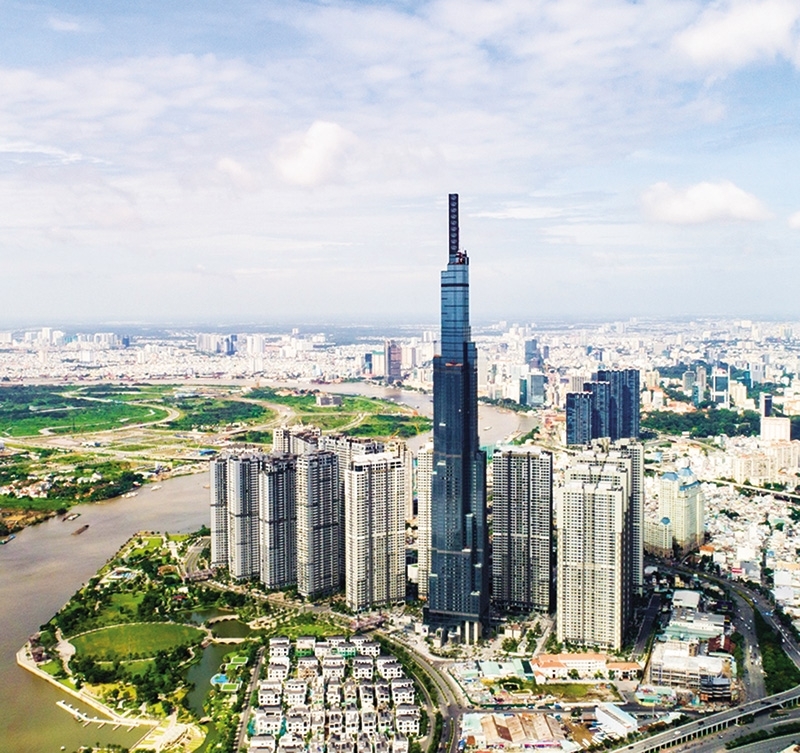 Vietnam is particularly ­appealing to Asian ­investors and homebuyers
Since 2015 when Vietnam legalised foreign property ownership, the market has been receiving increasing interest from foreign buyers, specifically Asian investors taking advantage of the bargain price compared to the rest of the continent.
Henri Limyuen, a 36-year-old from the Philippines, told VIR that he is looking for a suitable apartment to buy in Ho Chi Minh City. Limyuen was visiting a launching ceremony of the Rome Residential project which is located in District 2.
He said he has worked and lived across different Asian countries, and Vietnam is a top destination of his in terms of purchasing a home.
"I think the regulations to permit foreigners to buy a house in Vietnam are open, and I see an opportunity for a good house here at a much cheaper price compared to other neighbouring countries," he said.
Limyuen added that the price of homes in Vietnam still remains lower than those in other neighbouring countries such as Singapore or Thailand.
Buying an apartment in Vietnam, he can live in or lease it to have rental yield which is also higher at around 7 per cent per year, compared with only 2 per cent in other countries.
With robust economic growth enjoyed over the past several years, foreigners, especially from Hong Kong, Taiwan, South Korea, and mainland China are finally diving into the real estate market.
The trend is evident by a pent-up demand from overseas nationals looking to buy.
Nguyen Hoang, director of research and development of real estate consultancy DKRA, said that since 2017 Chinese mainlanders have increased their interest in buildings in Ho Chi Minh City, especially luxury and premium apartment units.
Most come from Shanghai to buy homes in Vietnam for investment purposes.
At the end of last month, a group of more than 30 real estate agencies under Asia Bankers Club from Hong Kong came to Vietnam to visit River Panorama and Sky89 developed by An Gia Group and take a better look at the Vietnamese real estate market, as well as promote Vietnamese projects abroad.
Asia Bankers Club, which is one of the most active international real estate investors operating in Vietnam, has co-operated with many developers in the country such as Keppel Land, CapitaLand, Gamuda Land, and other domestic developers.
Asia Bankers Club had been looking into Vietnam for quite some time, but what really awakened its interest was when Vietnam loosened the rules on foreign real estate ownership.
Luxury and premium on the rise
The luxury and premier residential projects in Ho Chi Minh City has seen most attraction from foreign buyers coming from Asian countries.
Property trading centres and consultants noted that luxury and high-end apartment projects in downtown Hanoi and Ho Chi Minh City are attracting the greatest interest from foreigners who are eligible to buy property in Vietnam.
These are mostly individuals who buy property and then re-lease it for a rental fee or re-sell it for profit.
In Hanoi, major projects located in the city centre – the heart of culture in Hanoi – and around the West Lake, which offers the greenest living space of the whole city, are attracting strong foreign interest.
The Manor and Keangnam Landmark Tower in Hanoi are favoured by South Korean buyers, while Ecopark, Ciputra, Sunshine City, Eldorado, and Pacific Place are very popular among foreigners.
Meanwhile in Ho Chi Minh City, Phu My Hung New Urban Area remains a popular destination for its advantages of being very well planned and for having good infrastructure.
Some high-rise projects in Phu My Hung are now reserved especially for the South Korean and Japanese community. Phu My Hung has a population of 30,000 people, of whom 40 per cent are foreigners, including buyers and leasers.
Some other outstanding projects are Vinhomes Golden River and Vinhomes Central Park, both invested by Vingroup, The Nassim by Hongkong Land, and Keppel Land's Estella Heights.
In 2018, purchases by foreigners reached unprecedented levels with the vast majority of high-end projects hitting their 30 per cent foreign quota at launch.
One of the main reasons foreign buyers focus on high-end apartments is the buy-to-let method. High-end apartment projects in districts 2 and 9 of Ho Chi Minh City now receive a rental yield of 6-8 per cent, which is considered acceptable for investing.
Meanwhile, vacation and hospitality properties in the coastal areas are also garnering interest from foreign buyers. the southern cities of Vung Tau and Phan Thiet, the central cities of Danang and Nha Trang, the northern province of Vinh Phuc and the northern port city of Haiphong are all popular destinations for foreign buyers seeking a second home.
According to CBRE Vietnam, through only CBRE's successful transaction, only 2 per cent of the foreign buyers was Chinese in 2016 and 4 per cent in 2017. This rate however increased to 31 per cent in the third quarter of 2018.
"The reason for Vietnam's property market is more attractive to foreign investors, was because the Vietnamese government has opened up for foreign buyers since 2015," said Dung Duong, senior director at CBRE Vietnam.
"Moreover, Vietnamese developers have also actively bringing their projects abroad, to introduce to potential buyers."
Foreign ownership limit
According to many experts, since the home ownership ceiling for foreign buyers currently being reached in several estate projects, it should be considered to be loosened.
Bui Quang Tin, general director of BizLight Business School, said that as bank credit for the real estate sector is tightened while other capital sources, such as the stock market, are more difficult, it is necessary to lift the foreign ownership limit to lure more foreign investors.
"The rise should be made gradually, to 35 to 40 per cent in the immediate future, instead of 30 per cent currently," Tin said.
Meanwhile, Le Hoang Chau, chairman of the Ho Chi Minh City Real Estate Association, maintained that local authorities should issue as soon as possible the "certificates of homeownership/land-use rights" for foreigners.
At the same time, effective measures should be taken to prevent illegal foreign estate business or speculation in Vietnam.
According to Chau, foreign direct investment in the realty industry is an important capital source for developers in the context that commercial banks are tightening their control on credit for real estate.
Official figures on the number of foreigners and overseas Vietnamese owning homes in Vietnam remain undisclosed.
However, according to the Ministry of Construction, there are fewer than 200 foreigners and fewer than 700 overseas Vietnamese who have already received a red book or the ownership certificate in the country.
This is a very modest proportion of the 100,000 foreigners and five million overseas Vietnamese who live and work in the country. VIR

Kingston Lai - CEO, Asia Bankers Club
Hong Kong has many ­factory owners who understand the market and are very keen on the Vietnamese real estate market. Not only the business side, but we have many bankers and professionals who see the potential in capital gains in Vietnam.
The most interesting products will be condominiums with some starting as low as HKD1 million ($127,423). We have helped clients close in on landed villas, commercial buildings, and hotels.
Most of the investment goes into condominiums, and with the high cost of them in Hong Kong, our buyers are delighted by the cost of these in Vietnam. Most of the off-plan projects also offer good payment terms so our clients can allocate their funds accordingly.
The only difficulties we face now are the government's restrictions on new projects in Ho Chi Minh City. The good thing is that the market will not be over-saturated with new developments but will limit supply for our clients. It is both a good and a bad thing as investing in Vietnam should be a long-term plan.
Nguyen Khanh Duy - Director of residential sales, Savills Vietnam
We remain confident about the strong demand from foreign investors. New home prices in Ho Chi Minh City's central business district averages at about $5,500-6,500 per square metre, which is 25 per cent of the average price for Taiwan. Also, property owners are liable for additional taxes and fees, while buyers in Vietnam only need to pay 10 per cent for value-added tax and a one-time 2 per cent payment for maintenance fees.
Therefore, the demand for investment properties in Vietnam has increased significantly since 2015 when property ownership was opened to international investors. During a recent Vietnam property investment seminar in Taiwan, we received much interest and positive feedback from investors, with some even purchasing units directly at the event.
Prior to the event, many investors already had some background information about the property market here, as attractive yield and potential capital appreciation prompted them to look further into Vietnam.
As such, Vietnam has become the most attractive destination among emerging economies in the ASEAN for many Taiwanese investors.
With many countries also introducing cooling measures, resulting in higher taxation, the relatively low taxation in Vietnam appears increasingly attractive to buyers both at home and abroad.
Richard Peiser - Professor of real estate development, Harvard University
Current regulations set the ceiling of foreign ownership in a single apartment building at 30 per cent of the total number of apartments in Vietnam.
The limitations are not problematic for foreign investors as long as the buildings are professionally managed and have proper reporting and oversight by the government in order to avoid fraud.
While 30 per cent ownership in a building for foreigners seems low, it may be good if it means that the building is more occupied. Often foreign-owned apartments, whether in Miami or Shanghai, are left vacant most of the time. That can hurt the building's sense of community.
Bich Ngoc

High inventories were attributable to sluggish construction that was caused by legal loopholes.

Vietnam's industrial real estate is ­undergoing a turnaround to cash in on the rising wave of foreign capital ­influx and factories moving out of China.
Savills Hanoi director tells conference of how Vietnam's real estate sector is the equal of most others.