Vietnamese submarine sailors are especially admired by specialists and lecturers at the Russian Naval Academy for fulfilling their training course two years ahead of schedule.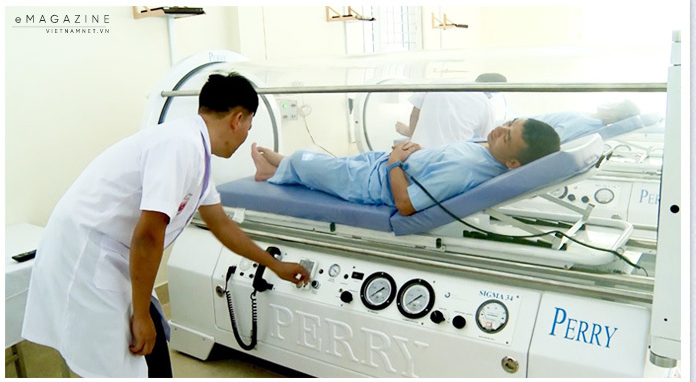 Under the initial plan, submarine soldier teams had to learn to master the 'ocean black holes' Kilo 636 during four years of training in Russia.
In late August 2011, the command-operation and the submarine teams left Vietnam for Russia for training. On September 1, 2011, at Center 650, the center for foreign naval training, in Saint Petersburg, the Russian Naval Academy held the opening ceremony of the training course to use Kilo 636 submarine.
Vietnamese soldiers studied hard. After official learning hours, they studied and practiced in the evening and the morning of weekends as well. At the same time, professional lessons were given to those who still did not have basic knowledge.
Recalling the time of 'studying at 200 percent of capacity', Lieutenant Pham Trong Nghiem of Submarine 187 in Ba Ria – Vung Tau, said the predecessors transferred experience and documents to successors and trainees learned from each other, so they could save time.
The trainees also studied hard to improve their Russian skills by speaking Russian every day.
"When the Russian skills improved, every time when we got documents, we translated them into Vietnamese. Every solider and cadre took pride in being chosen by the Party, the State and Army to study in Russia. We vowed to make every efforts to excellently fulfill the duties assigned to us," Nghiem said.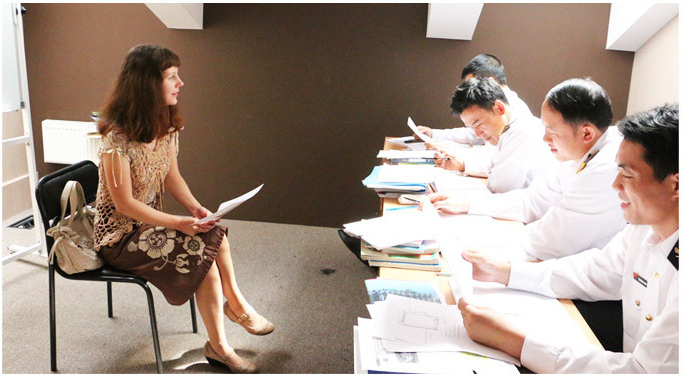 Vietnamese soldiers studied hard
The gift from Russian teacher
According to Senior Lieutenant Colonel Doan Anh Ky, Captain of Submarine 185 in Khanh Hoa, the first practical lesson for crew was getting familiar with submarine space - learning about the arrangement of compartments, and areas for living activities and combat positions on the ship with the length of 74 meters and displacement tonnage of 3,000 tons.
"It was thrilling when we first got into the ship which we would use later when we return to Vietnam. We were also bewildered by the modern equipment system with thousands of buttons," he recalled.
"However, as we were trained well, we could very quickly apply theoretical knowledge in practice," he said.
Lieutenant Colonel Le Trung Hieu, Vice-Captain of submarine 187 - Ba Ria - Vung Tau, still keeps the compass that his teacher Vladimir gave him in 2013. At that time, Major Hieu was the chief of the 4-7 division (information, radar, sonar) belonging to the submarine team No 2.
"The teacher gave me this gift when I was practicing on Submarine 183 – Ho Chi Minh City in Russia. I have been using the compass since I returned to Vietnam, though it got old and the paint has peeled off," Hieu said.
White snow and white-birch land
Major Nguyen Tien Doat, Captain of Submarine 187 - Ba Ria - Vung Tau, recalls the first days when they set foot on the land of white birch: "We adored the beauty of St Petersburg with its magnificent palaces and ancient streets. It seemed that all historical values of Russia are preserved, especially historical artifacts of the Russian Navy."
"Russian people are really hospitable. They respect true friendship, like communication and fun. They have special affection for women and have high sense of discipline," Doat said.
Lieutenant Do Van Nhan, a sailor on submarine 183 - Ho Chi Minh City, also liked the landscapes in Russia. He said before leaving for Russia, he watched television and enjoyed the snowy scene that covered the roofs, roads and frozen tree branches.
Lieutenant Ngo Ba Tinh from Submarine 184 – Hai Phong, said that during the days of staying far from home, he contacted family members via social networks, feeling happy when listening to children's stories. They celebrated Tet in Russia, but in a nice and warm atmosphere.
Russian language teachers, military specialists and trainers all praised Vietnamese soldiers and their intelligence, agility and spirit of solidarity. The two sides still communicate and exchange specialized knowledge. They also give each other small gifts typical of the two countries such as scarves, hats, golden star balm, Matryoshka dolls, and chocolates. 
Minh Thuy - Quang Thang

Many military officers with good health indicators have been rejected because of dental caries or an inability to walk on a straight line after vestibule exercises, among other reasons.