A teacher in Thanh Hoa was disciplined for drinking beer with students, and a teacher in Binh Thuan fell down the stairs after she was criticized for beating a student. These incidents were among others that caught the public's attention last week.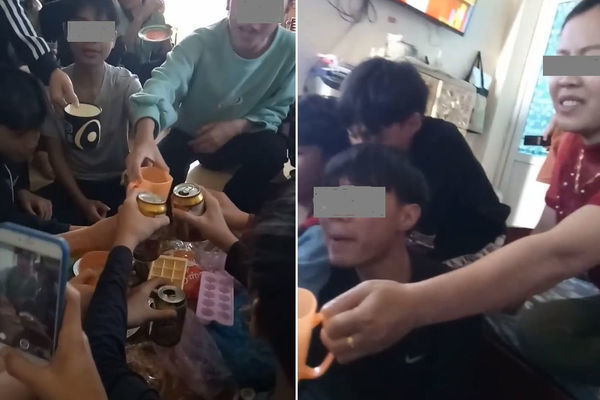 The teacher has been fined for drinking beer with students
Regulations on professional titles
The circulars released by MInistry of Education and Training (MOET) on teacher appointments and ranking continued to catch the attention of the public. Many people proposed removing the requirement on certificates for fulfilling refresher courses when ranking teachers.
Nguyen Tu Long from the Ministry of Home Affairs said the ministry cannot say whether it will remove the requirement. It is necessary to collect opinions from the people to be covered by the regulation, and MOET needs to show its official view on the issue.
Student scuffle
On March 12, a 6-minute clip was spread on social network, showing female 10th graders fighting each other in a classroom at Phan Dang Luu High School in HCMC.
In Hanoi, a fight occurred among five female students at the Sen Phuong Secondary School. The fight originated from messages on Facebook.
On March 11, the Tan Hoa Ward Police in Dong Nai province, announced it launched an investigation to find the subjects that appeared in a clip showing a male student beaten by a group of students. The victim was a student at Vo Truong Toan Secondary School.
On March 4, two groups of students in Dak Lak were seen fighting each other. Some of them have fled.
Teacher fined for drinking beer
After seeing a clip that showed a group of students drinking beer with their teacher, some parents reported the incident to the police.
The teacher was Nguyen Thi X, a teacher at Ngu Loc Secondary School in Thanh Hoa. The teacher was fined VND7.5 million for her behavior of letting children use alcohol, beer and stimulants.
On March 9, a primary school teacher in Binh Thuan fell from the first floor to the school yard, breaking her arm. Prior to that, she had been denounced for striking a student with a ruler.
In Hanoi, some parents have denounced a teacher of English at the Trung Hien Primary School for using iron ruler to beat students many times.
Young professor admits mistakes in published research work
An entry was posted on open Wikipedia denouncing Prof Phan Thanh Son Nam from the HCMC University of Technology for re-using the same magnetic resonance spectra for many different results in other unrelated articles.
Nam admitted the error, made in the SI (supplemental instruction) of the article, saying this had been a 'bloody experience' for him.
Hanoi announces 4 subjects for high-school entrance exams
Students will have to take four tests in math, literature, foreign languages and history to obtain seats at public high schools. The first three subjects are fixed, while the fourth subject is determined by the local education department every year.
Students are worried as they have only two months to prepare for the exams.
Two sets of textbooks disappear
The news that two sets of textbooks, namely 'Cung hoc de phat trien nang luc' (studying together to promote abilities) and 'Vi su binh dang va dan chu trong giao duc', won't be available for second graders has surprised parents and teachers.
They said that this could be a big problem for students who studied with these textbooks in first grade and cannot continue to use the textbook in the second grade. However, officials said that this won't matter.
Hue City decides to restore teaching of domestic science
The Thua Thien-Hue provincial authorities have decided that the teaching of household arts will begin at Hai Ba Trung High School before it is applied throughout the province.
High school students in the province will be taught life skills, cultural and historical tradition, and the beauty of Hue's culinary culture.
HCMC Education Department Director makes series of proposals
Le Hong Son, director of the department, proposed that the Ministry of Finance amend the circular guiding the estimation, management and use of expenses for training and retraining cadres, civil servants and public employees.
He also proposed releasing a document as a legal basis for teaching two sessions a day under private means, and made proposals related to preschool education. 
Phuong Chi

The HCM City Department of Education and Training has asked the People's Committee to help schools resolve problems associated with the requirements of the new education programme.

Like many other countries in the region, Vietnam is seen as an attractive market for online education startups.