Technology utilization and market development are the keys to development of Vietnam's agriculture.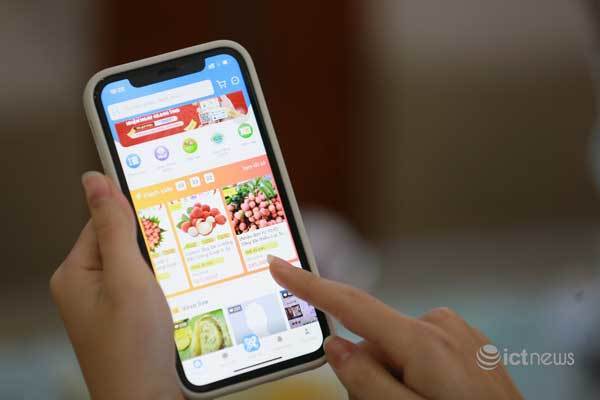 According to the Central Institute for Economic Management (CIEM), agriculture plays a very important role in the development of the economy. However, the problem is that agriculture is still primarily based on traditional input factors, outdated technology, low yield and low quality, which has made farm produce uncompetitive.
But if Vietnam uses the great achievements of the 4.0 industrial era in agricultural production, high technology will improve the efficiency of resource use, and reduce labor costs and losses due to natural disasters and epidemics. It will also save costs in each stage and in the whole process of production, processing, and consumption.
Many large corporations have jumped into agriculture, including Hoang Anh Gia Lai, Vingroup, Hoa Phat (steel manufacturer), Thaco (automobile manufacturer) and the Vietnam Post and Telecommunications Group (VNPT).
Truong Gia Binh, Chair of FPT Corporation, the Vietnamese largest information and technology (IT) group, and Chair of the Vietnam Digital Agriculture Association (VDAA), said that digital agriculture in the 4.0 era is the most sophisticated of all fields. Agriculture touches the most important secrets of life – biotechnology and genetic engineering.
According to Binh, thanks to digital technology, farmers can work via smartphones, production households can receive necessary information, and farmers can raise questions and get answers from robots.
To prevent insects, farmers often spray plant protection chemicals, which make produce 'unclean' and, therefore, cheap.
"We need to think of using drones flying over rice fields. Dedicated devices will take pictures of the fields, while AI (artificial intelligence) will read the images and discover the areas where there are insects. Computers will tell farmers which kind of plant protection chemicals to use and how much to use. The volume of plant protection chemicals needed will then fall by hundreds of times," Binh said.
"We will farm in ways which did not exist before. We will be a country with modern agriculture, not a country that goes behind others," he said, adding that Vietnam can become rich thanks to digital agriculture.

Technology utilization and market development are the keys to development of Vietnam's agriculture.
VNPT is following a model similar to that drawn up by FPT. Pham Duc Long, President of VNPT, said the corporation decided to cooperate with OPTiM, the leading Japanese manufacturer of IoT (internet of Things) and AI devices and provider of solutions in smart agriculture.
Drones fly over large fields, take pictures of the fields, and send images to servers for analysis. AI technology will help discover the insect hit areas. After that, the drones will spray pesticides on the specific areas.
The solution saves up to 99 percent of pesticide volume. When harvesting, the field areas sprayed with pesticide will be marked, so farmers can get 100 percent clean farm produce with no pesticides.
Drones can also take pictures that can help analyze soil and create a database about plants. The database allows farmers to assess their harvesting capability.
According to Long, the model is being applied to large-scale rice fields in Japan. With the model, Japanese farmers don't have to cultivate rice in glass houses, which is costly, and they can avoid insects. The model is suited to Vietnam's conditions.
Developing markets for farm produce
Technology firms have jumped into the smart agriculture sector. Many smart agriculture development orientations have been suggested, but the key to robust agriculture development still has not been found.
Analysts point out that developing markets for farm produce needs to be done first. If market development can be implemented well, this will accelerate the application of technology, because farmers will see the benefits clearly, not the 'pain' of seeing prices fall dramatically in bountiful crops.
Chair of Vecom (the Vietnam E-commerce Association) Nguyen Thanh Hung said when selling farm produce via e-commerce platforms, farmers not only have one more distribution channel, but also can better advertise their products.
In Japan, previously, farm produce after harvesting was gathered at cooperatives, and then sold to merchants and retailers before reaching consumers. With Tabe Choku, an e-commerce website, farmers now can sell produce directly to consumers, not via intermediaries.
Buyers choose farm produce from farms and communicate with farmers before buying. They can know the origin and the safety level of produce.
Tabe Choku has about 10,000 agricultural products on display. The development of the website received support from the Japan's Ministry of Agriculture, Forestry and Fisheries.
In Vietnam, the Ministry of Information and Communication (MIC) is helping farmers distribute their products nationwide on two e-commerce platforms – Postmart (https://postmart.vn/) and Voso (https://voso.vn/).
The ministry hopes that this method will help farmers have larger markets and sell produce at high prices, and help customers buy produce with clear origin and quality.
2021 has been defined as the year of stronger action towards national digital transformation. Under the national digital transformation program, agriculture is one of the eight priority fields for transformation. 
Thai Khang

The agricultural sector continues to see an influx of investment from domestic giants such as TH Group, Vinamilk, Masan, Vingroup, and Truong Hai Auto Corporation – but some are struggling to get profitable, with few enjoying significant development.

In the first five months of this year, the agro-forestry-fishery sector accounted for the lowest ratio of foreign direct investment inflows.