Instead of foremen, shops now can be controlled by monitoring cameras and face recognition technology. This allows factories to maintain stable operations in all situations.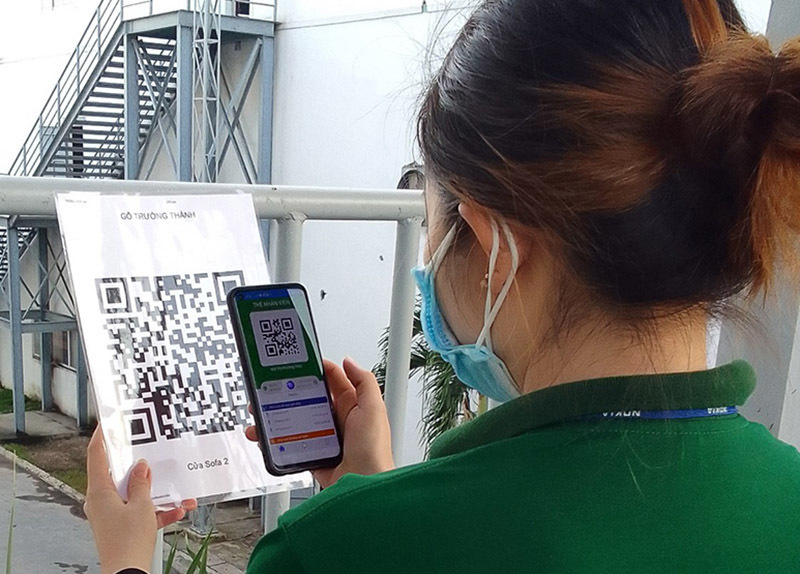 According to the HCM City Center for Human Resource Forecasting and Labor Market Information, a survey of 11,502 enterprises in Q3 2021 found that most enterprises (9,858, or 85.71 percent) have been affected by the pandemic. As many as 4,493 enterprises, or 39.06 percent, said they are planning to cut the workforce in the last months of 2021.
The pandemic has put pressure on enterprises in HCM City, forcing them to scale down production, resulting in an increase in the underemployment rate.
In an effort to quickly restore production and business, enterprises have plans to rearrange production and labor force, while recruiting new workers to replace ones who left during the pandemic. However, the wave of migrant workers leaving HCM City for hometowns have caused obstacles for them.
Tran Viet Anh, Deputy Chair of the HCM City Business Association and CEO of Nam Thai Son Import/Export, said that over 95 percent of businesses have resumed their operation over the last month since HCM City loosened social distancing.
"Enterprises are facing a lot of difficulties, including a requirement on one test every one week, discovering and tracing Covid cases inside companies and ensuring necessary distance among workers on the same production lines," he said.
They need to manage production with the support of technology which automates the basic control process quickly, in real time and without human intervention.
Pham Thi Ngoc Thuy from the Private Economic Sector Development Research Board commented that in order to develop, enterprises need to be one step ahead, and quickly respond to all risks and challenges.
Now is the time to test enterprises' resilience and flexibility, and to upgrade their administration skills amid the new normal. They need to have solutions and tools that serve management, operation and coordination to ensure the safety and stability of the working environment.
"The key of the green business model is the connection of important factors on the same data platform. The connection technology platform is indispensable," she said.
"There are more enterprises taking the initiative in using technologies, and the process needs the companionship of technology firms which can provide suitable digital solutions," Thuy said.
Technology bears fruit
Nguyen Trong Hieu, General Director of TruongThanh Corporation (TTF), said the woodwork producer has 13 subsidiaries, including three in Binh Duong with 2,600 workers. TTF was in the epicenter and experienced the most difficulties, but it did not have to suspend operation for a day.
TTF's use of technological solution helped in operating the enterprise, managing risks and epidemiology, and cutting costs.
"The deployment of the technological solution is very simple and not costly. Just after 48 hours, we completed the work for 2,000 workers," Hieu said.
"We can only suppress Covid-19 when we have prevention measures, when we have real-time data and when we can act more rapidly than Covid-19," said Truong Gia Binh, president of FPT.
FPT, the largest Vietnamese IT group, has launched FPT eCovax, a comprehensive technological solution for a green new normal which allows enterprises to operate even when new pandemic waves break out.
FPT CTO Vu Anh Tu said the technological solution will help enterprises control situations and maintain business activities in all circumstances.
It groups workers and divides working areas that fit the requirements, location and type of works in order to minimize risks for staff. It also detects positive Covid cases and high-risk cases within the smallest sphere of impact. If workers have clinical symptoms or have high risks, managers will be informed by the system so that a campaign of tracing contacts can be activated.
The contacts of Covid cases will receive notices about their risks, guidance for medical treatment and general rules. When workers have no more symptoms, the warnings will be lowered. The workers who meet requirements will receive notices via mobile phone apps that they can return to work.
Instead of closing the entire factory when Covid cases are found, the companies that use the solution can immediately find out where high-risk cases and their contacts are. They then will be able to localize risky areas in the smallest possible area, while other divisions will continue working.
It also optimizes testing by carrying out the lowest number of tests with the highest possible coverage. 
D. Anh

The fact that some countries were able to upgrade their national ranking because of technology application is an inspiration for developing countries like Vietnam.
The COVID-19 pandemic does not slow down technological transformation or digitisation, but in fact speeds them up, companies said.