Since August 2020, Vietnam has been actively negotiating with various partners to buy vaccines.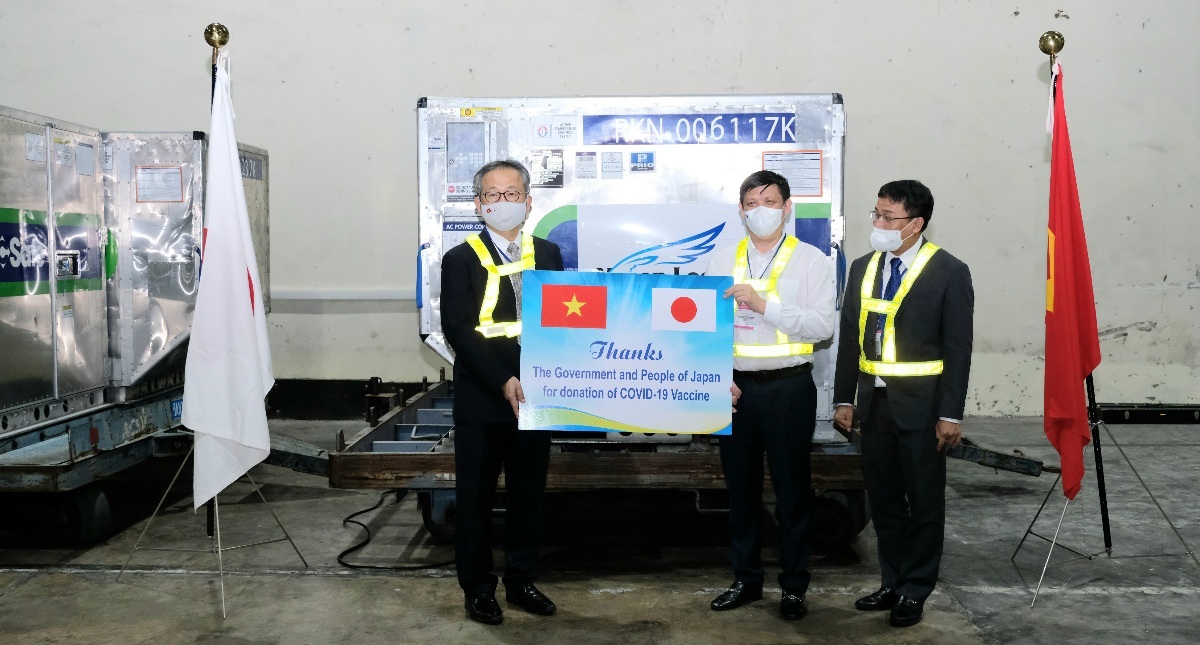 Minister of Health Nguyen Thanh Long receives 1 million doses of AstraZeneca vaccine provided by Japan. 
To have 150 million doses to vaccinate 70% of the population, in addition to promulgating policies and preparing funds to buy vaccines, Vietnam has to seek sources of vaccines. However, it is a hard road for Vietnam to purchase the vaccines, as the source of supply of Covid-19 vaccines in the world is limited. Moreover, Vietnam is not prioritized in vaccine supply because it is seen as controlling the disease well so far.
Vietnam's senior leaders have made effort through diplomacy and lobbying governments and international organizations on the implementation of fair vaccine distribution and the transfer of vaccine production technology.
Resolution 21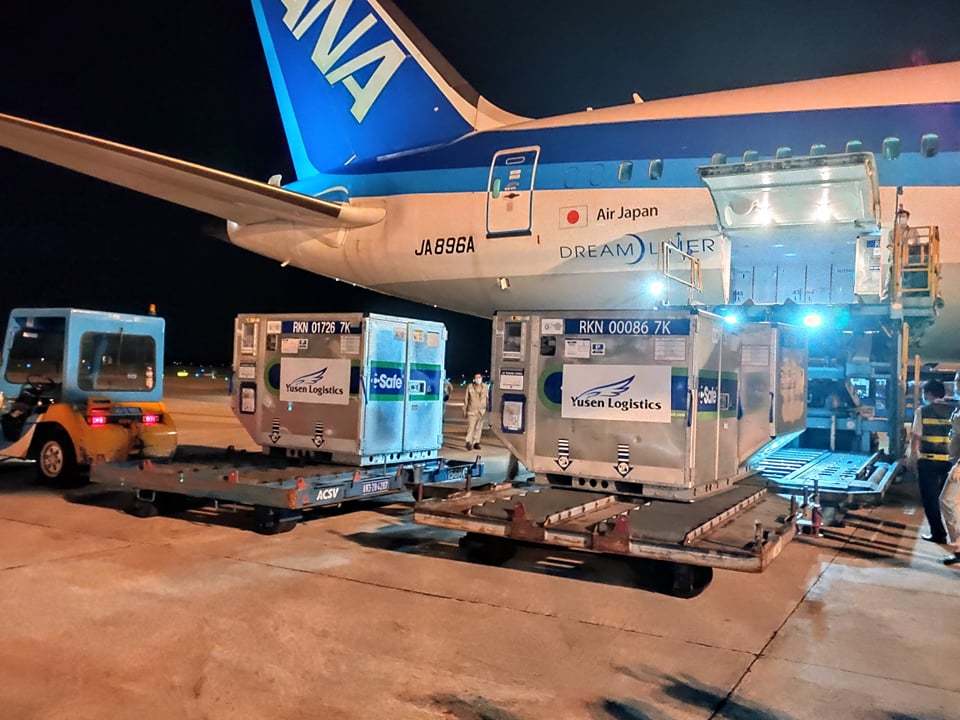 Flight NH897 carrying this batch of vaccines from Narita Airport, Tokyo landed at Noi Bai International Airport, Hanoi at nearly 10 pm on June 16.
At a cabinet meeting in January, former Prime Minister Nguyen Xuan Phuc, who is now the President, proposed purchasing vaccines against Covid-19. On February 26, 2021, the Government issued Resolution 21 on purchasing and using Covid-19 vaccines.
In particular, the Prime Minister assigned the Ministry of Health to assume the prime responsibility for, and coordinate with related ministries, agencies and localities in purchasing, importing, receiving aid, sponsoring, managing and using Covid-19 vaccines in 2021 for people aged 18 and older, with the total amount of about 150 million doses, enought for vaccinating 70% of the population.
The resolution also names the nine groups of people who are prioritized for free vaccinations.
Presiding over the first meeting of the new Government in April, Prime Minister Pham Minh Chinh also emphasized the purchase of vaccines as a strategic issue.
"In the short term, due to the scarce supply of vaccines on a global scale, the Ministry of Health needs to urgently implement Resolution 21 of the Government in order to have vaccines as soon as possible; to develop mechanisms, policies and guidelines for eligible businesses to import vaccines and offer vaccination services," the Prime Minister said.
The Prime Minister also assigned the Ministry of Health to urgently complete the plan and implement the "vaccine passport", and at the same time develop a specific plan to create the most favorable conditions for the testing and production of Made-in-Vietnam vaccines.
On April 27, the Standing member of the Secretariat of the Central Party Committee sent a telegram to the National Steering Committee for Covid-19 Prevention and Control; provincial and municipal Party Committees; and party committees, party cells of agencies under the central government on strengthening the prevention and control of the Covid-19 epidemic. In particular, the Standing member of the Secretariat of the Central Party Committee directed to urgently organize vaccination against Covid-19 under Resolution 21 of the Government.
High-level phone calls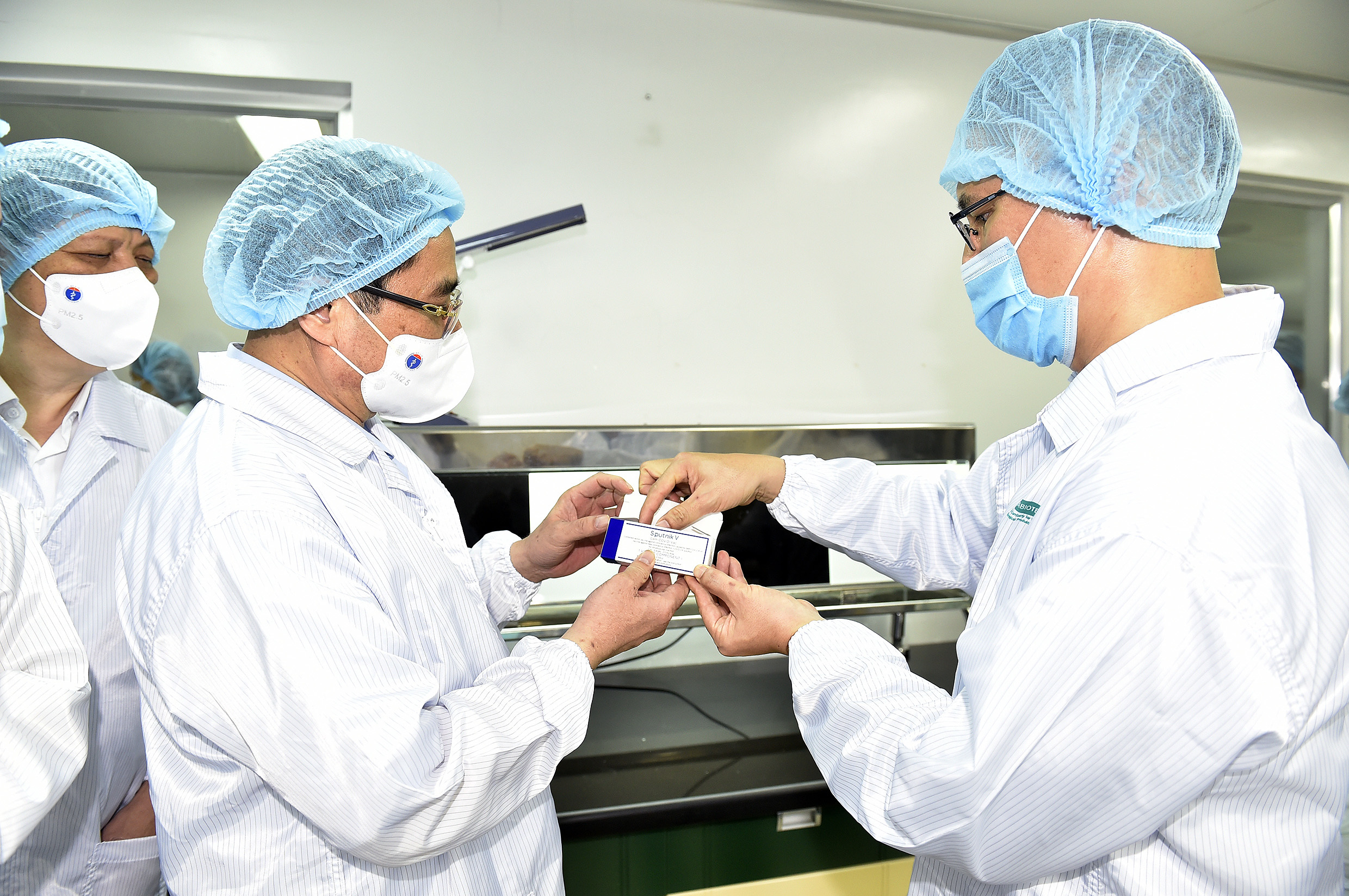 Prime Minister Pham Minh Chinh visits the Vaccine and Biological Products Company Limited No. 1 (VABIOTECH).
On May 30, President Nguyen Xuan Phuc sent a letter to US President Joe Biden to welcome and thank the US for its contribution to the Covax Facility program and ask the US to continue to support Vietnam and other countries in terms of vaccine supply.
On June 1, at a meeting with Mr. Giorgio Aliberti, Ambassador, Head of the European Union (EU) Delegation to Vietnam, President Nguyen Xuan Phuc thanked the EU for supporting Vietnam through the Covax Facility and the "European Group".
He hoped that the EU would continue to pay attention to supporting Vietnam in accessing the supply of Covid-19 vaccines and sharing technology and techniques, strengthening the capacity of vaccination as well as vaccine production in Vietnam.
On June 2, the Vietnamese President sent a letter to his Russian counterpart Vladimir Putin to discuss bilateral relations. In particular, the President thanked President Putin and Russia for giving Vietnam 1,000 doses of vaccines and many other anti-epidemic medical supplies.
The President also expressed his wish that Russia would support and create priority conditions for Vietnam to have access to Russian vaccine sources, as well as cooperate in vaccine production in Vietnam.
Most recently, the Japanese Government's aid of 1 million doses of Covid-19 vaccine after a meeting between Japanese Ambassador to Vietnam Yamada Takio and Prime Minister Pham Minh Chinh proved the Vietnamese government's determination in implementing the Covid-19 vaccine strategy.
Prime Minister Pham Minh Chinh expressed his sincere thanks to his Japanese counterpart, the Government and people of Japan and emphasized: "This is a precious, timely gift, a noble gesture of sympathy, mutual sharing in difficult times, demonstrating the friendship between the Governments and peoples of the two countries."
During his phone calls with leaders of many countries (Canada, Australia, France, China, and others), the Prime Minister also asked for their cooperation and support to Vietnam in accessing sources of supply of Covid-19 vaccines.
At the same time, the National Assembly issued a resolution on May 18 approving the use of VND 12,100 billion of the state budget to buy Covid-19 vaccines. This amount of funding is equivalent to 50% of the estimated capital to buy 150 million doses of vaccines.
Over the past few days, through phone talks with his foreign counterparts, National Assembly Chairman Vuong Dinh Hue repeatedly suggested that these countries support equitable access to vaccines and transfer of technology to produce Covid-19 vaccines for Vietnam.
On June 7, during an online talk with Australian House of Representatives Speaker Tony Smith, Mr. Hue suggested that Australia support equitable access to vaccines and transfer of vaccine production technology for Vietnam.
During a phone talk with the Chairwoman of the Federation Council — Valentina Ivanovna Matviyenko, Vietnam's National Assembly Chairman thanked Russia for giving Vietnam 1,000 doses of Sputnik V vaccine and pledging to provide 20 million doses of Sputnik V vaccine for Vietnam. He hoped that Russia would cooperate and transfer vaccine production technology to Vietnam.
While talking with the President of the ASEAN Inter-Parliamentary Assembly (AIPA) and Speaker of the Legislative Council of Brunei Darussalam Abdul Rahman Taib, Mr. Hue also proposed sharing and equitable access to vaccine resources as part of the agenda of the AIPA General Assembly 2021, which will take place in August 2021.
He called on the AIPA to unite and share the determination to have equal access to vaccines, and support the sharing of vaccine production patents for less developed countries so that the region and member countries will soon achieve herd immunity.
Vaccination campaign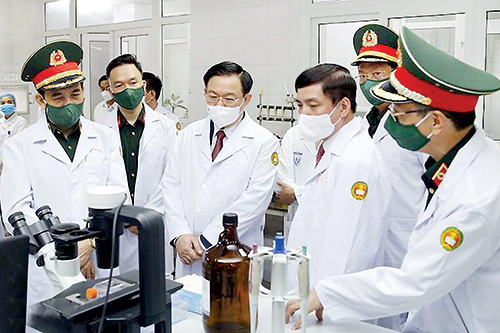 Photo: National Assembly Chairman Vuong Dinh Hue has asked the Military Medical Academy to speed up the production of Nanocovax vaccine.
Conclusion No. 07 of the Politburo dated June 11 once again affirms the determination to carry out the Covid-19 vaccination campaign to soon create herd immunity, and stabilize life and production.
Accordingly, obstacles in policies must be removed to mobilize all the possible resources for the purchase of Covid-19 vaccines and the Covid-19 vaccine fund must be developed to provide the vaccines for residents, prioritizing frontline workers and laborers at industrial parks as well as children.
Vaccination programs with specific roadmaps must be designed and publicized at the earliest. Meanwhile, the domestic research and production of Covid-19 vaccines should be encouraged and supported. The competent agencies should foster international cooperation to access more Covid-19 vaccine sources.
More than 200 meetings, both direct and online with organizations and vaccine manufacturers, have been carried out by officials and the Ministry of Health since mid-2020 to help Vietnam get 130 million doses of vaccine in 2021.
On May 26, the Prime Minister decided to establish the vaccine fund for Covid-19 prevention and control to mobilize donations and financial contributions from domestic and foreign organizations and individuals to purchase and import vaccines, research and produce vaccines domestically, and use vaccines.
The Covid-19 Vaccine Fund was officially launched on June 5 and has received committed donations worth VND6,600 billion from domestic and foreign organizations, individuals and businesses. In addition, the fund also received VND17.7 billion contributed by individuals via switchboard 1408.
As of 5pm on June 25, the Covid-19 Vaccine Fund had received VND 7,610 billion (nearly $331 million).
Thu Hang

The electronics, textile and garment, footwear, wooden furniture and dairy sectors have proposed that the Government allow them to seek vaccine sources and pay for vaccinations at their enterprises so they can maintain production.

Vietnamese Deputy Prime Minister Vu Duc Dam and the World Health Organization (WHO) representative Kidong Park have both noted that Covid-19 has been quietly spreading in the community.