The top leader of the Party and State of Vietnam is indeed an outstanding politician in terms of qualifications, solid political courage, and high prestige, who has a very simple lifestyle.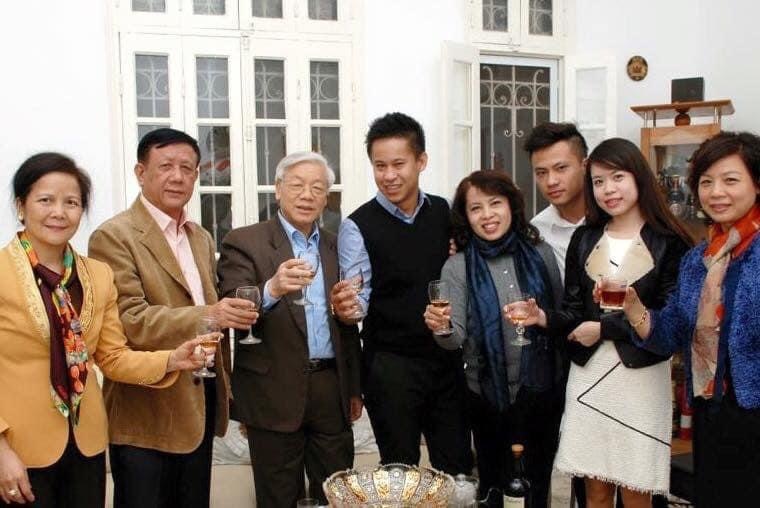 General Secretary and State President Nguyen Phu Trong in a simple everyday context. Standing 4th and 3rd from the right are journalist Thu Hong and her son Le Hong Anh.
The imprint that the head of the Party and State has left for a long time, especially the past term, will be recorded in the country's history.
The following stories are small highlights that I know about him in the normal aspects of life.
Journalist Thu Hong, former reporter of the Hanoi Radio and Television, is honored to be a member of a group of reporters who have followed General Secretary Nguyen Phu Trong since he was a member of the Politburo, Secretary of the Hanoi Party Committee.
In the 20 years covering news about activities of the General Secretary, Hong has many memories about the Party chief.
Love for children
Hong told me about her and her son's memories about the Party leader, which have been unforgettable stories for her son from his childhood to adulthood.
Mr. Nguyen Phu Trong has been very close to and friendly with his subordinates and particularly journalists.
Once, when Mr. Trong, who was Hanoi's Party Secretary at that time, lived on the second floor of the house No. 11, Dang Tat street, Hanoi, Hong asked her son to take her by a motorbike to Mr. Trong's house for an urgent meeting, along with other colleagues.
During the meeting, Hong suddenly remembered that her son was still waiting for her outside.
"Well, then you should go down now! Don't worry! By the way, his name is Hong Anh?," Mr. Trong said to Hong.
Mr. Trong smiled very brightly, and then stood up to see her out to the door.
Seeing the boy who was waiting for his mother, with an angry face, Mr. Trong suddenly waved to the boy and then said: "Hello, General, Minister of Public Security Le Hong Anh!"
Unexpectedly, Hong Anh changed his facial expression. He smiled brightly: "Hello, sir!"
"Uncle Phu Trong is so gentle and funny, mom," the boy told his mother later.
The story of the old Toyota Crown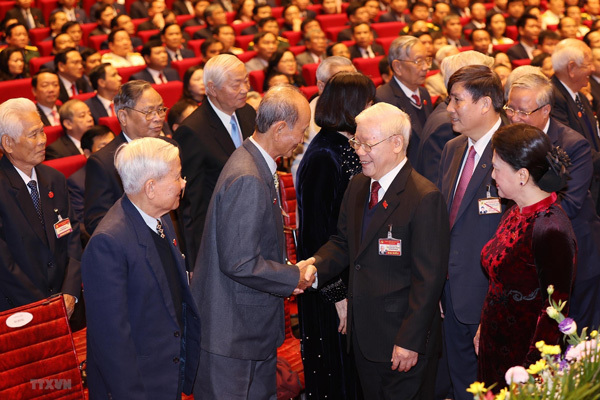 General Secretary and State President Nguyen Phu Trong at the 13th Party Congress. Photo: Pham Hai
Several years later, in 2012, Hong was assigned to accompany General Secretary Nguyen Phu Trong to the UK. Sitting at home watching TV, Hong Anh saw Uncle Nguyen Phu Trong wearing an everyday suit at the meeting with British Prime Minister Tony Blair.
As soon as Hong returned home, Hong Anh told his mother: "Mom, I noticed that when receiving Uncle Trong, Prime Minister Tony Blair wore a very beautiful suit, yet Uncle Trong wore a very simple suit! He is so good-looking, if he wore a fashionable suit, it would have been so great."
Hong did not say anything but she thought that the boy had sharp eyes. It was true that Uncle Trong had been wearing this suit for perhaps a decade.
The next day, Hong told the story to the General Secretary. He smiled kindly and replied immediately: "Please tell Hong Anh, that's what Uncle Nguyen Phu Trong is!"
After that, for several times, Hong suggested assistants and guards of Mr. Trong to find ways to tell Mr. Trong's family members to hide those old clothes and then buy new ones for him.
But they all laughed and said that it was an impossible mission.
During his visit to Cuba, the General Secretary wore a light-colored suit. A button was loose. Journalist Thu Hong detected it and then hastily sewed the button for him. She took advantage of this "golden opportunity" to again suggest to Mr. Trong to replace his old suits with new clothes. However, the General Secretary replied: "It is still good. No need to be changed."
As a leader of the Party and State, who is a member of the Party Central Committee for seven terms and now enters the 27th year if counting from the middle of the 7th term in 1994; a member of the National Assembly for four terms (over 18 years); a Politburo member for six terms (over 22 years); and who has been elected to the three highest positions of the Party, State and National Assembly, Mr. Trong is still using a public car which is an old Toyota Crown (manufactured in 1998).
It was the car that former General Secretary Nong Duc Manh used when he was the Chairman of the National Assembly (until 2000). When Mr. Nong Duc Manh became General Secretary, he handed over the car to the Office of the National Assembly. His successor, Mr. Nguyen Phu Trong, continued to use that car even though it had been running for eight years. Mr. Nguyen Phu Trong still uses that car.
His wife, a few years ago, was still riding an old Honda Cub by herself. His children are civil servants.
"Even his son, while studying at the National Academy of Politics, after half a year, not many his classmates knew that he was the son of the head of the Party and State," journalist Xuan Toan, Deputy Editor-in-Chief of Dan Tri Newspaper, a classmate, revealed.
"Let's leave all titles outside this room'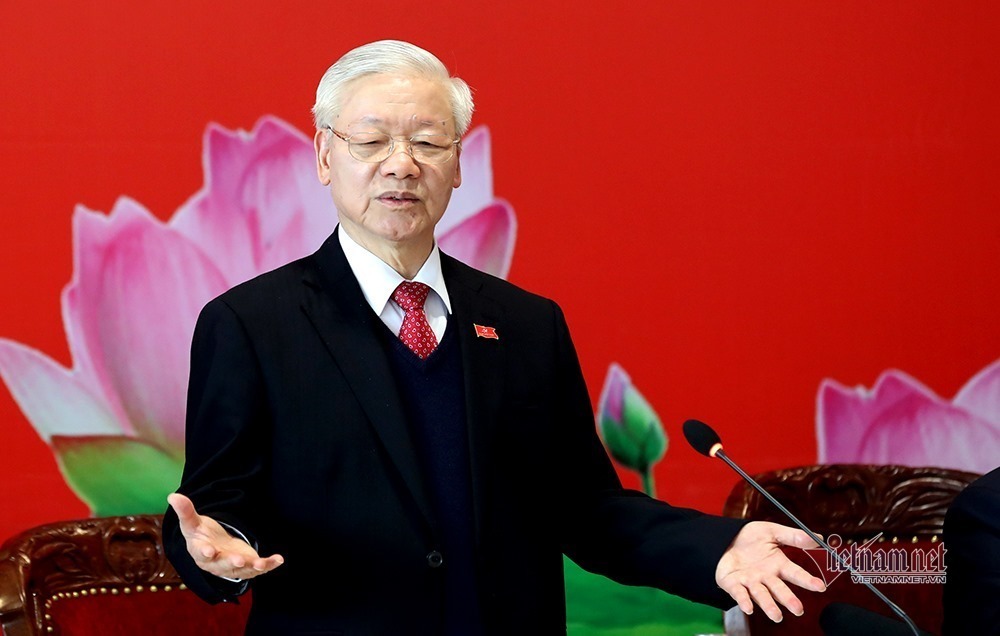 General Secretary and State President Nguyen Phu Trong at the press conference after the closing session of the 13th National Party Congress.
Students of the 8th course of the Philology Faculty of the University of Hanoi (now the Vietnam National University – Hanoi) - journalists Duong Duc Quang, Vu Duy Thong, Duong Quang Minh, Tran Duc Chinh - once told me that, when their classmate was the head of Hanoi, he still returned to visit his university on a motorbike to the surprise of his teachers and friends.
And even when he was General Secretary, and State President, at class meetings he said: "Please let's leave all of my titles outside this room. I come here just as your student and your classmate...".
With one term as Chairman of the National Assembly and being elected as the Party General Secretary for another term, which is three terms in total, he is considered by the 13th Party Congress as a special case. That is not to mention that in the past few years, he has also assumed the position of the State President. Indeed, the work is great and heavy, especially when the entire Party has to declare war on the negativity accumulated after many years. And in any position, his simple, open lifestyle and manner have impressed everyone who has had a chance to work with and to meet him.
His outstanding intelligence and a scientific, methodical and serious working style are the qualities that we must talk about, especially at special moments of history.
It is clear that the country desperately needs talented and virtuous leaders like him.
He is the leader who is uncompromising of evil, who lights the fire to warm the trust of the people on the Party and the State, and get the people to understand that this State is of the people, by the people and for the people.
Quoc Phong

Mr. Nguyen Phu Trong has been re-elected as the General Secretary of the Party Central Committee for the 2021-2026 term. 

The disciplining of a series of high-ranking officials, including incumbent and retired ones, shows that the fight against corruption and wrongdoings in the last five years has been accelerated