I received a call some days ago from a friend. She said she had become an F1 when taking a flight on which there was a person with Covid-19.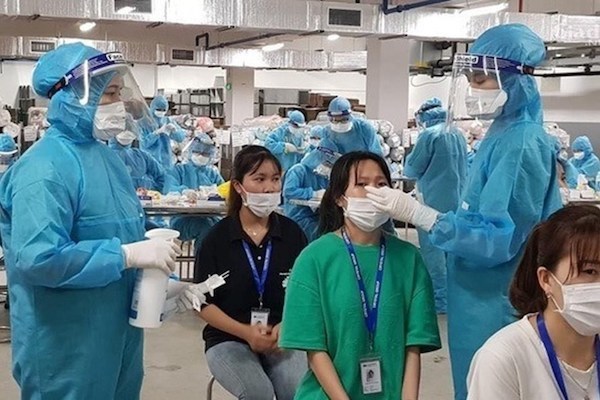 "I am at the airport and I am afraid that I will be taken away and put under concentrated quarantine. What should I do?"
My friend said she had flown to HCM City because she had a job there, and then returned to Hanoi the next day. When the airplane landed at Noi Bai Airport, she received a call from a HCM City medical agency informing her that there was an F0 on the flight. She was asked to immediately contact medical agencies in Hanoi to be placed under quarantine.
The information petrified my friend and she called me to ask for advice. I thought that it was unreasonable and 'unscientific' to take my friend to quarantine, because she had sat far away from the F0 in the aircraft. It would also be heartless to take her away from her parents, who are seriously ill and need her assistance in because they cannot take care for themselves.
My friend is also the manager of a business with nearly 100 workers. What will happen if she has to be under quarantine? Who will manage the enterprise and who will pay the workers, who need to feed themselves and their family members?
But I told my friend to calm down and advised her to make truthful declarations about her status and strictly observe the regulations. If she unluckily became an F0 and it was discovered later, she would face trouble with the public and the local government.
However, both my friend and I were complicating the matter. Our worries were in vain. When my friend came to meet medical workers at the airport and asked what she needed to do, she was told to go home and stay in quarantine there.
When she called the medical unit of the ward where she lived, she received the same answer.
When she called the building management board, she was told that one lift would be reserved for her.
My friend spent a 14-day quarantine at home without knowing if she was infected with nCoV.
The story evokes some thoughts about Vietnam's current pandemic fighting policy – bringing F0s to hospital for treatment and putting F1s under quarantine.
New situation
Putting F1s under quarantine aims to reduce the risk of the virus spread in the community and society. This strategy was effective in the first phase of the pandemic when the number of infections was small, local quarantine capacity was adequate, hospitals were not overloaded, and the logistics force was strong enough.
This explained why social distancing periods in some localities under Directives 15 and 16 have been relatively short and Vietnam still has had a high GDP growth rate compared with other countries.
However, the situation is getting different. In HCM City alone, there are 420,000 people related to Covid-19 cases, including 5,593 F1s.
In Bac Ninh province, 1,100 infections have been found and 51,085 people have been labeled as F1 or F2. In Bac Giang province, there are 19,181 F1s and 86,575 F2s.
The Ministry of Health's (MOH)June 7 morning bulletin showed that 183,923 individuals had been put under quarantine (those who have close contact with sources of infections and migrants from pandemic areas, who are having their health monitored).
Of these, 2,895 people were under concentrated quarantine at hospitals, 32,406 under quarantine at other facilities, and 148,622 under quarantine at their homes.
As such, the first and the second groups of patients alone had exceeded the figure of 30,000 quarantined people in a worst-case scenario developed by the National Steering Committee on Covid-19 Prevention and Control.
Bac Giang province in late May reported that 55 percent of negative F1s became positive at concentrated quarantine areas, while the figure was 79 percent at some companies.
So, it was not by chance that Deputy Prime Minister Vu Duc Dam suggested that Bac Giang and Bac Ninh provinces think of allowing F1s to spend quarantine at home, supervised via technological solutions and neighbors, as concentrated quarantine areas did not have enough beds for all F1s.
Under current regulations, foreigners and Vietnamese citizens entering Vietnam must show a SARS-CoV-2-negative RT-PCR certificate granted by competent medical agencies no more than three days before their departure.
The regulation aims to ensure that the virus cannot be brought into Vietnam.
However, MOH's bulletin on June 4 showed that 12 positive cases were found and isolated soon after they entered the country. The figure was 10 on April 25.

Many individuals demand lockdowns, but they travel everywhere themselves and meet many other people. They want other people to fight the pandemic and demand the Government impose social distancing to protect them and their families, but they themselves neglect the rules.
What does this mean? Were their certificates forged, or were they infected during the flight, or even in quarantine areas?
The Centre for Disease Control (CDC) in Hanoi on May 31 reported that in the concentrated isolation area in the Hanoi Capital High Command in Son Tay, from May 23 to May 31, as many as 50 F1s tested positive for SARS-CoV-2. Of the number, 35 cases were found on May 30 alone.
Realizing the problem, municipal authorities immediately decided to ease the load at isolation areas, establish new quarantine areas, and classify F1s in accordance with risk levels.
Be responsible
Hanoi has been flexible with the measures to fight Covid-19. However, it is unclear about how F1s are expected to quarantine at home.
In other countries, people are requested to take personal responsibility. If you have a cough and fever, you have to stay at home. And if your child has a temperature, you have to leave him or her at home. 
I think that every individual needs to be self-aware and self-disciplined, joining hands with the Government to fight Covid-19.
Many individuals demand lockdowns, but they travel everywhere themselves and meet many other people. They want other people to fight the pandemic and demand the Government impose social distancing to protect them and their families, but they themselves neglect the rules.
Maybe from now on we can no longer have a peaceful time, because the pandemic risks still exist. The pandemic may break out in one locality today and in another province tomorrow. We will only defeat Covid-19 when we have specific medicine and vaccines.
This is the real situation we are facing and we need to adjust the way we fight the pandemic to adapt to the new conditions, including allowing F1s to quarantine on their own. They have to take responsibility for themselves and their family members. 
Tu Giang

Vietnam might reach the 'finish line' – vaccination and herd immunity – later than Europe and the US by five to six months, but it would prefer to go slowly and carefully.