On August 17, when hearing from a volunteer that two members of a family with four Covid patients were getting worse, Nguyen Van Chanh of the 'Thay thuoc dong hanh' network (Companion Physicians) immediately picked up the phone.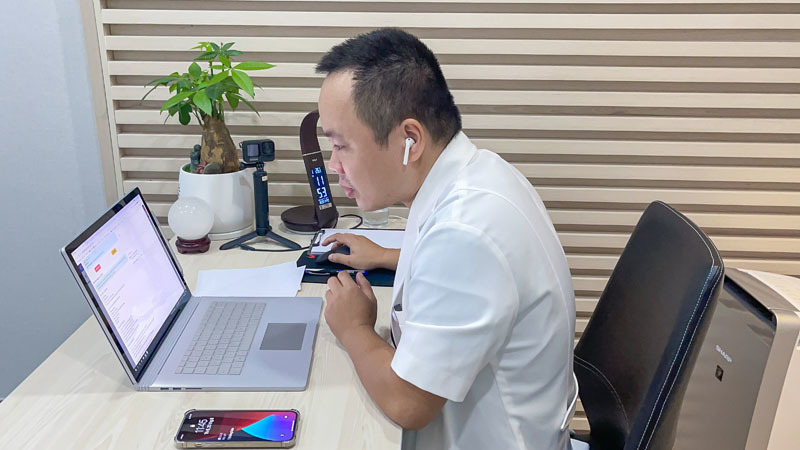 He contacted a representative of the family and realized that the mother, 103, and her daughter, 73, had SpO2 indexes of 89 percent and 90 percent, respectively.
Since it was impossible to contact the local medical unit at that time, Chanh tried to calm the patients down via phone and helped them to practice breathing.
The patients felt more secure thanks to the guidance of the consulting doctor and they began following the doctor's instructions. Chanh also showed them how to contact someone to get oxygen tanks and give advice on health care.
"All members of the family are better. They sent a clip showing the 103-year-old woman feeding herself and doing physical exercise. I am so happy about this," Chanh said.
This is just one of many cases that the doctors of 'Companion Physicians', a network of 6,000 volunteer doctors and nurses, has given support to since the establishment of the network.
Chanh registered to become a member of the network soon after reading the news on Facebook that the network needed volunteers.
"We don't enter pandemic-hit areas and directly treat patients, but we still can help by giving advice to patients, easing the pressure on the city's healthcare sector," he said.
After online training courses and tests, volunteers – doctors in Vietnam and overseas – can begin working as members of the network.
For the Covid cases turning severe, the doctors contact local medical units, while giving guidance and helping them to overcome difficult situations. In cases of emergency, they call hotline and emergency services.
Volunteer doctors call the patients every day to ask about their situation. The oxygen index and blood pressure are always required to monitor patients' conditions. In addition to giving professional advice, the doctors give advice on nutrition and physical exercise.
"Optimism and nutrition are the important factors that help patients overcome disease," Chanh said.
Givng support online, however, is more difficult than face-to-face examination.
"We assess patients' situation via the descriptions from patients or their relatives. If necessary, we use telehealth to more accurately assess patients' situation," he said.
"Sometimes, we ask to talk to patients, because patients' relatives are too worried and give the wrong assessment about the patient situation," he explained.
The number of patients who ask for help from the doctors of the network has increased rapidly, reaching 450,000 after three weeks of operation. After recovering from illness, the patients who received support have introduced the network to their relatives and friends.
"After giving advice, I went to bed but could not sleep. I kept contact with them throughout the night," Chanh said, recalling a case on August 10.
The family consisted of a wife, husband and 20-year-old son. The husband died of Covid-19, and the wife and son were also infected.
"When calling us, the son panicked because his mother had turned severe: she had difficulty in breathing and suffered from diarrhea for two days."
Believing that the patient was at third-level risk, Chanh instructed the patient to practice breathing and contact the Oxygen ATM Program and local healthcare units. The mother was not hospitalized, but she luckily got an oxygen tank.
Two days later, the patient's situation improved. She no longer needs an oxygen tank and the situation has become stable.
"I spent a sleepless night that day. If something bad had happened, the young person would have become an orphan. So I tried to encourage him throughout the night and closely monitor the signs of the patients," he recalled.
Chanh collects the addresses of free oxygen tank providers, which he gives to patients when necessary. He helped an older woman that way.
When he called the patient, she was in very bad condition: she could not eat, had a mild fever, cough, and loss of taste.
"I called the local medical agency and was told that her SPO2 was 64 percent, which meant she needed medical oxygen. After that, the index rose to 90 percent and blood pressure was 120/90mmHg. I reported the case to the team's head and activated the emergency. After getting confirmation from CDC, the patient continued to have medical oxygen and practiced breathing," he recalled.
The patient is recovering. And the doctor continues his work as there are many patients who need help. 
Ngoc Trang

Whenever he receives calls from relatives of F0 cases asking for help, Nghia always tries to get to the site as quickly as possible because he understands that every second is valuable.

While you are staying safe and working from home during social distancing, doctors and nurses are working hard to treat infections and many volunteers are assisting people in quarantine zones.