The huge flow of people leaving Vietnam's Covid-19 hotspots to their hometowns in southwestern provinces has overloaded concentrated quarantine zones, where infection cases have been detected.
Chairmen of some provinces in the southwestern region as Ca Mau, Bac Lieu, Soc Trang and others have asked the Prime Minister and the Government's special working group to not allow migrant workers in pandemic-hit areas to return home spontaneously for 15 days, as quarantine zones in these provinces are overloaded and the rates of vaccination against Covid-19 there are still low.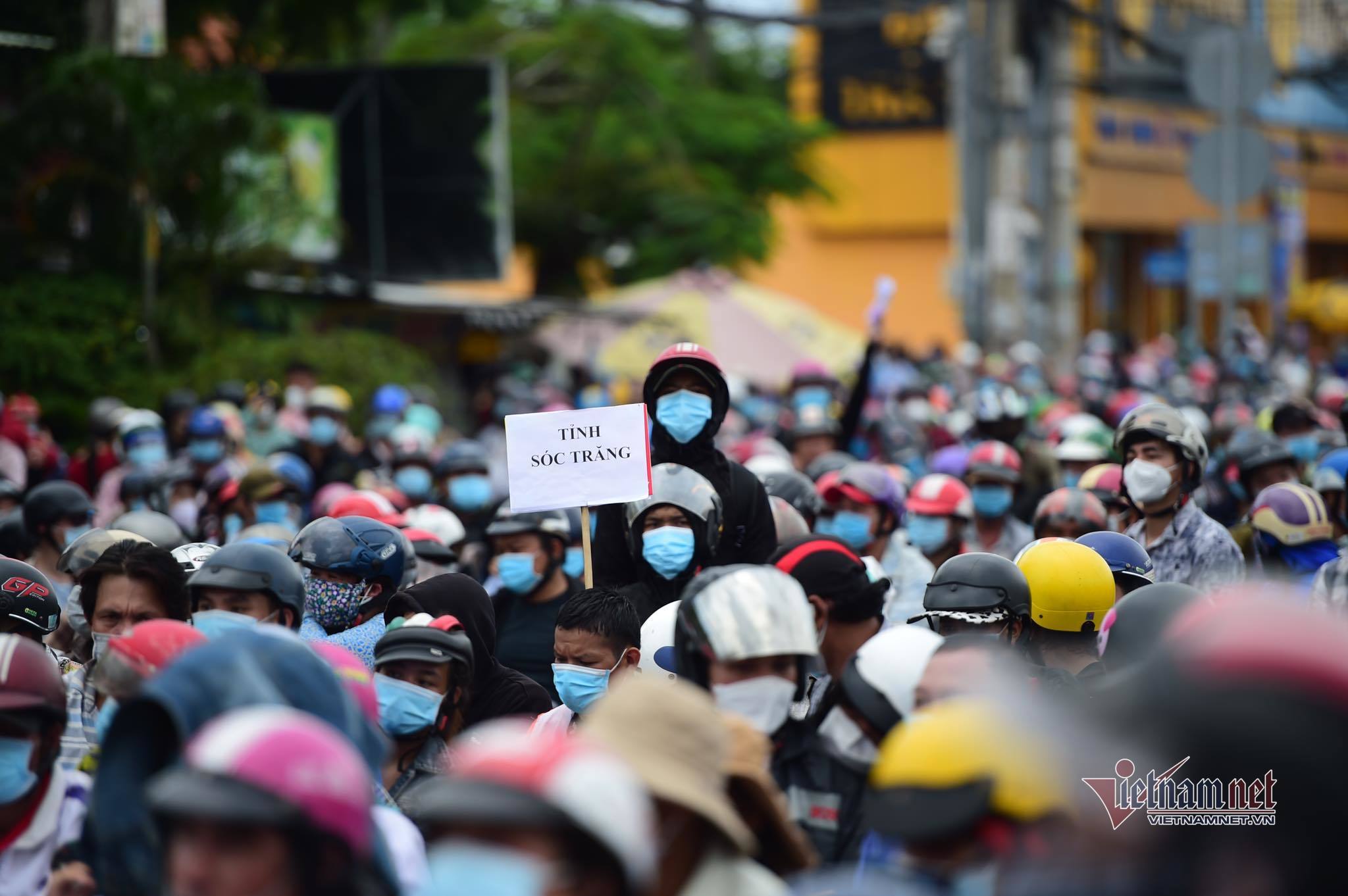 Tens of thousands of people have left HCM City and other pandemic-hit areas for the southwestern provinces. Photo: Tung Tin
Chairman of the southern province of Soc Trang Tran Van Lau told VietNamNet on October 3 that in the past few days, the province had welcomed about 30,000 people who returned home from pandemic-hit Ho Chi Minh City, and Binh Duong and Dong Nai provinces.
According to Lau, these people are now gathered at the Ho Nuoc Ngot cultural zone in Soc Trang City, where they will be medically screened before being sent to quarantine sites in their home districts.
Lau said Soc Trang province had prepared quarantine zones for about 16,000 people who were anticipated to return home for around two weeks following HCM City, Binh Duong and Dong Nai removal of social distancing on October 1. In fact, the number of returnees by October 3 morning nearly doubled the anticipated number.
This situation raises a high risk of infection in southwestern provinces because returnees may be virus carriers and if they are not screened and quarantined, it could be dangerous.
Soc Trang province's chairman said: "If people keep returning home in an unplanned way, no province can stand it. The treatment capacity and vaccination rate of the Mekong Delta provinces are still low, so the possibility of infection is very high. Southwestern provinces may turn red (pandemic-hit)."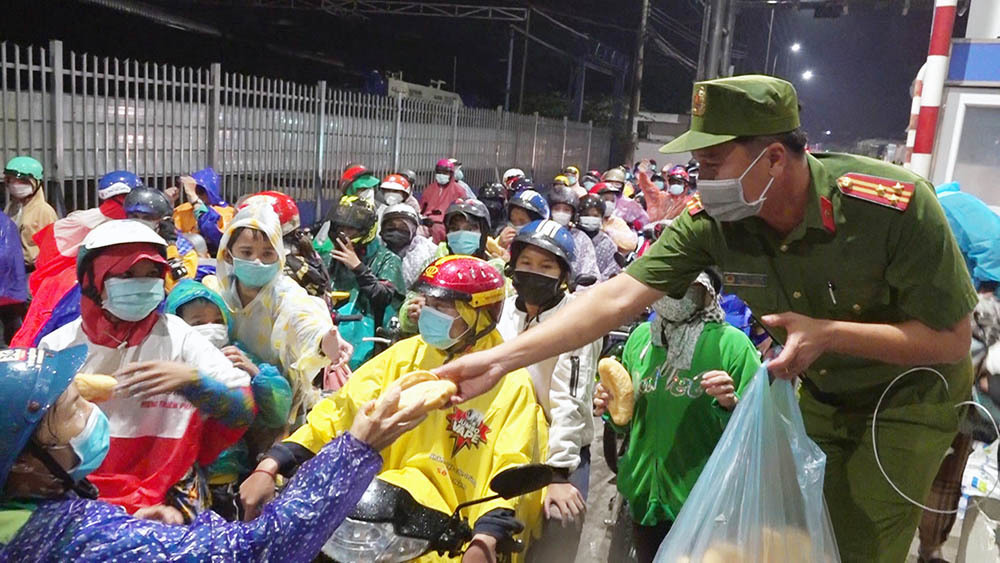 Police officers of An Giang province distribute rice, water and bread to returnees. Photo: Tien Tam
"We propose encouraging people to not massively return home so that localities can handle all quarantined people. It's normal for 30,000 people to return home within two weeks, but it is a completely different story when they return home at once," Lau said.
Chairman of Bac Lieu Provincial People's Committee Pham Van Thieu told VietNamNet that in the past few days, the province had received about 7,000 local residents from from Ho Chi Minh City, Binh Duong, and Dong Nai. All schools are used as concentrated isolation centers and some infection cases among returnees have been recorded.
Thieu added that if people continue to go home this way, Bac Lieu "can't withstand it".
"We have proposed suspending this for 15 days, so that provinces and cities can prepare and survey to find out how many people have returned and who can be quarantined at home," said Thieu.
In a document sent to the Prime Minister on October 2, Chairman of the Ca Mau Provincial People's Committee Huynh Quoc Viet said that more than 1,200 people had returned to Ca Mau by themselves and many more people are expected to return in the coming days.
Viet said that Ca Mau is currently facing difficulties in facilities, equipment and resources to meet the needs of quarantine and treatment. The province needs more time to prepare to welcome people back.
Chairman of the southern province of An Giang Nguyen Thanh Binh said that the province had used schools as quarantine sites for about 16,000 people who returned home in the past few days.
At least 14 positive cases have been detected out of the first 8,000 returnees. Another 8,000 people who arrived in An Giang on October 2 evening are being tested, Binh said.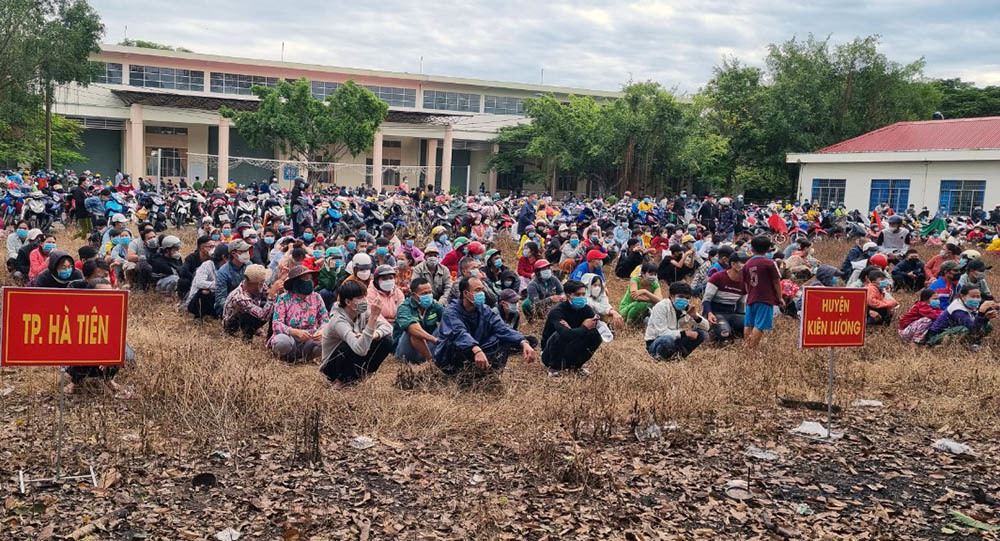 People are gathered for Covid testing. Photo: Anh Vu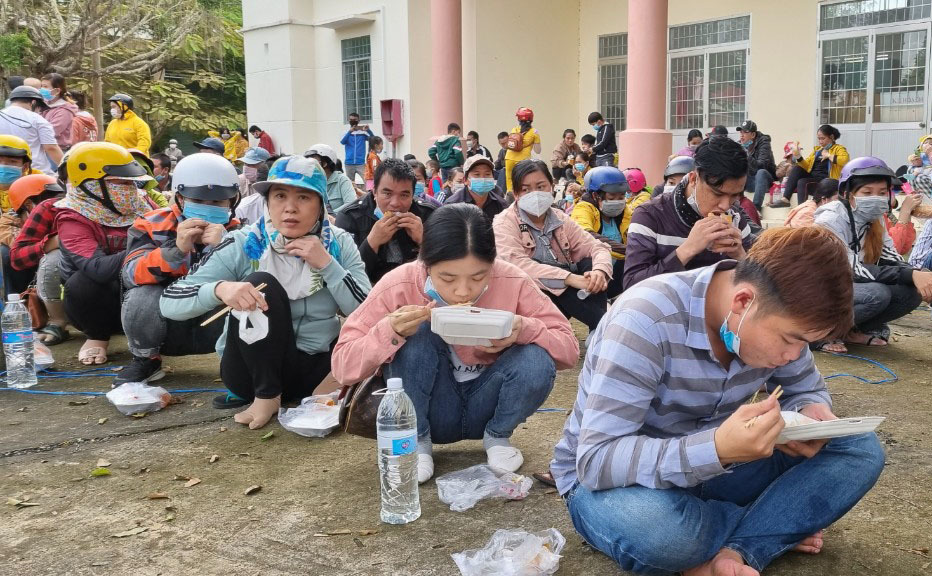 They are provided with free food. Photo: Anh Vu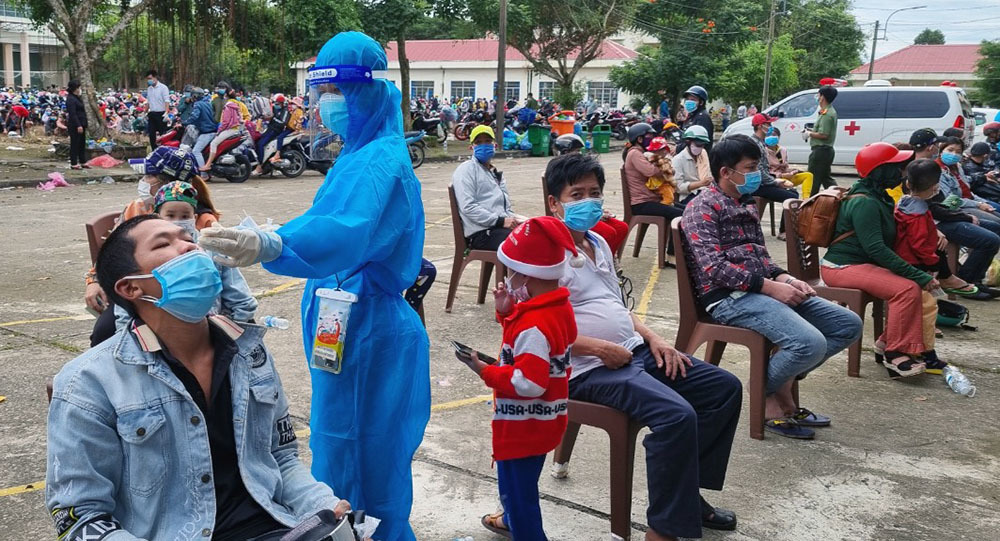 Collecting samples for Covid-19 testing. Photo: Anh Vu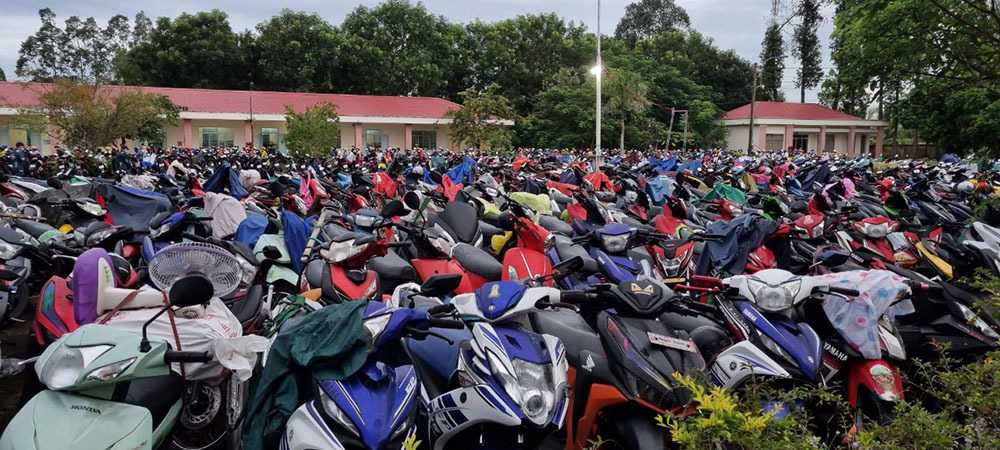 Motorbikes of thousands of people who returned to Kien Giang Province in the past two days. Photo: Anh Vu
Binh added that such a massive influx of people causes overload not only for An Giang but also for all southwestern provinces and cities.
Tra Vinh province has received about 5,000 people and has recorded three infection cases, said the province's chairman Le Van Han.
"Currently Tra Vinh and southwestern provinces are overloaded because people are pouring in at the same time. The province has used all schools to quarantine returnees for 14 days. If these people test negative, they will be sent home for monitoring to give space to other returnees," Han said.
Vinh Long Vice President Nguyen Thi Quyen Thanh said that the locality had received about 2,000 people.
She said vaccination rates of provinces and cities in the Mekong Delta are still very low. In Vinh Long alone, there are more than 600,000 people over 18 years old who have not yet received the first dose, and more than 250,000 people who have overstayed the second vaccine dose.
"Without measures to control, screen and strictly manage quarantine of returnees, the risk of an outbreak in the community is very high," Thanh said.
Thanh asked localities to strictly follow the Official Letter 1265 dated September 30 of the Prime Minister. She also proposed that the central Government prioritize early distribution of vaccines to provinces and cities in the Mekong Delta.
Kien Giang province has also received thousands of returnees in recent days.
Hoai Thanh

Thousands of migrant workers with motorbikes loaded with personal belongings attempted to leave HCM City Thursday night as the southern city starts to ease stringent COVID-19 lockdown that has lasted for more than three months.

Laborers are invited to stay in Ho Chi Minh City for economic recovery after the fourth wave of coronavirus pandemic in the southern metropolis.