Vietnam is still in the group of low-middle income countries. We are trying to narrow the development gap with other countries, but they are not standing there to wait for us.
Minister of Planning and Investment Nguyen Chi Dung recently gave a presentation full of enthusiasm to his staff on issues of development. The matters he mentioned are not only true for his sector, but also the country in general. VietNamNet would like to introduce to readers Mr. Dung's article. 
Part 1: Some key issues about economic development in the period of 2021-2025
After 35 years of Doi Moi (renovation), Vietnam has made quite a strong development, obtaining great and comprehensive achievements. From a country impoverished and exhausted by war and embargo, we have risen strongly.
The scale of the economy today has increased more than 40 times compared to 1990. The per capita income before 1990 was only about $100 and it has increased to more than $2,800 today. The people's material and spiritual life has clearly improved. Besides economic development, we have consolidated our defense potential to protect the country.
We are proud of such achievements but we are also facing many shortcomings and challenges.
Vietnam is still in the group of low middle income countries, that is far behind the world average. In 2019, Vietnam ranked 136th out of 188 countries, about 40 years behind South Korea, 14 years behind Thailand, 6 years behind the Philippines ... Vietnam ranked only higher than Laos, Cambodia and Myanmar.
We are chasing other countries, trying to close the gap of development with them. The problem is that they do not stand there to wait for us. There is only one way to catch up with them: we have to run fast and steadily.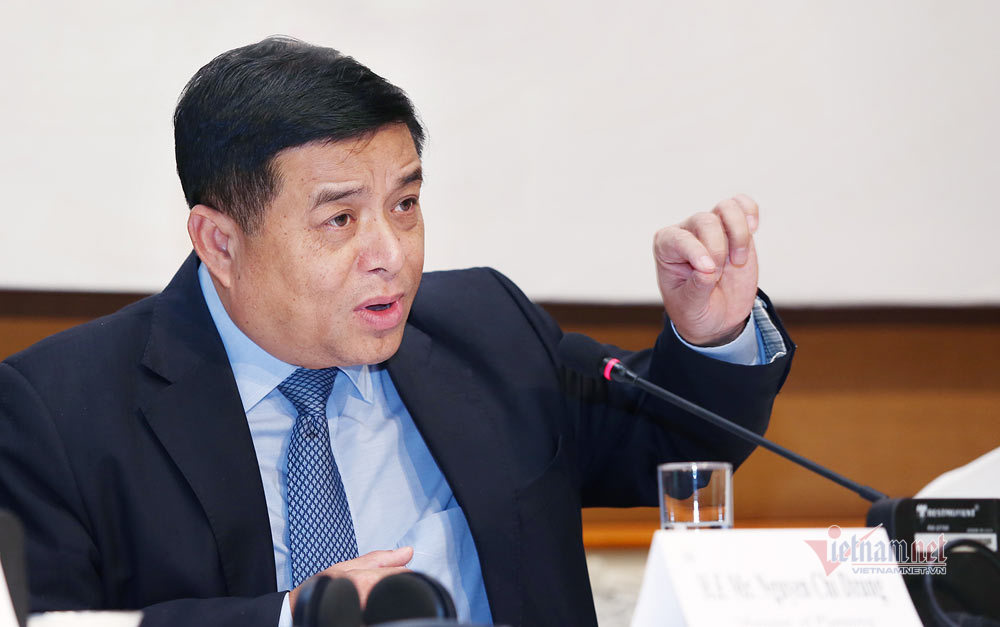 Minister of Planning and Investment Nguyen Chi Dung
I want to raise a question: Why are we so slow?
Why did Japan and South Korea, the countries that were heavily damaged and exhausted after the war, only take 40 years to reach the top 10 in the world?
Why does Vietnam have basic factors such as the people, natural resources and geographical position but is still underdeveloped, and our economy is still unstable?
Very few people talk about industry
I would like to offer some suggestions. We lack basic economic sectors such as manufacturing and source technology. The fundamental and key industries such as processing, manufacturing, and mining are disappearing. The process of industrialization and modernization is very slow. Very few people have talked about industry. This is a worrying thing and I feel really sad. Our country cannot become powerful and prosperous if industrialization and modernization are not successful.
The state economic sector plays a key role, but how is it today? Many state-owned enterprises (SOEs) are sinking in difficulties. There are 12 poor-performing projects that are processed too slowly, making a huge waste. We have not seen any SOEs that have started any major projects in recent years. So how does this business sector play a leading role in the economy? Where does this sector generate development to contribute to growth in the coming years?
How to develop if we do not grasp technology?
We do not have the creative capacity to master source and core technologies. How can we continue if we don't have technology? Will we only process and assemble forever and leave the things that bring about high added value to the hands of foreign countries?
We keep talking of cooperating with foreign businesses, but if we do not hold the technology how can we play equally with them? Even with the technology available, we must have money to get it. Therefore, Vietnamese enterprises have difficulties in many aspects.
Economic innovation and restructuring still slow
Economic reform and restructuring have made progress in the past few years, but it remains slow.
Our infrastructure is developing too slowly, not enough to improve competitiveness. Logistics and input costs are high, making it difficult for businesses to compete right at home. If we fail to compete at home, how can we integrate and compete with others.
The economy still relies heavily on capital, cheap labor, exploitation of natural resources, but the natural resources are already exhausted. Hydropower has reached its peak while we have to import coal and oil, which are increasingly becoming exhausted.
Over the past few years, economic restructuring has been slow and unclear in each industry and field, and efficiency has not been high. Vietnam's competitive indexes all have low rankings. Our sustainability indicators are all low moderate. Vietnam's competitiveness is very low. That means in the world rankings, we still usually stand in the bottom half.
Domestic firms are poorly connected to the FDI sector
Meanwhile, our exports, trade and investment are increasingly dependent on the FDI sector, now accounting for more than 70% of export value and more than 50% of industrial production value. I am very concerned that domestic firms are poorly connected to the FDI sector.
An expert told me that we have two business sectors in one economy and these two regions are separate, not linked at all. Samsung complex in Vietnam exports $60 billion a year, but only 29 Vietnamese businesses can participate in its chain. Meanwhile, a similar complex in Thailand has the participation of hundreds of Thai businesses.
Input materials depend on a few markets, mainly China. This is nothing new because the whole world depends on China. China has very special development policies, very good core industry, and good tax policy. They have support policies for raw material areas. The cost of goods and raw materials is very cheap.
The law is lacking, overlapping and conflicting
Institutional weakness has been identified as one of the bottlenecks of the economy. Our laws are lacking, overlapping, conflicting, and entangled.
In many cases, the more regulations are issued, the more confusing, the more entangled they appear. Why? Although the Party, Government, and National Assembly have made great efforts, and the speed of promulgating laws is good, the quality of laws is not commensurate. Our mechanism is the executive builds the law, the legislature supplements and passes it. If the two agencies do not coordinate well, the quality of laws is not guaranteed. That is, there are problems in the legal building process.
In the process of drafting a law, timely informing of the media and the media's participation is very important; otherwise, there will be huge consequences because of the lack of disclosure, transparency and accountability in the law drafting and enacting process.
In some ministries, when drafting legal documents, they do not want to change, and they try to retain their rights in the name of state management rather than broadly for the benefit of the country. In addition, the implementation and enforcement of the law also have many problems. There are places where subordinates don't obey their superiors' orders.
We lack a constructive management mindset for development. People still complain and businesses are still miserable because of the weakness of officials at all levels.
Each official must be concerned about the country's reality
The Ministry of Planning and Investment must always be a pioneer in innovation and reform, although it sometimes has to face conservative trends. Each civil servant and officer is requested to think about the country's reality, to think about their specific work, and self-assess what they have advised and proposed for the Party and State.
We have to equip ourselves with knowledge, have to learn for life. Listening, reading, thinking, writing, speaking, working - those skills need to be improved. In fact, there are people who speak, but refuse to read, refuse to think ... Many people speak well, but do not do well. Many people think, but dare not to do. Many people don't even say or do.
In brief, the country's achievement after 35 years of Doi Moi is comprehensive and proud. However, the challenges for national development are quite large. The main reason is that our institutional reforms and implementation are not drastic and are inconsistent for a strong transition to a full and modern market economy.
Tu Giang
To be continued...

Prime Minister Nguyen Xuan Phuc has issued a directive on the building of plans for socio-economic development and State budget estimate for 2021, with a target of about 7 percent of economic growth for the year.  

Foreign direct investment (FDI) has been a major driving force behind Viet Nam's national development, Minister of Planning and Investment Nguyen Chi Dung said recently.