The Ministry of Health (MOH) has allowed the use of xuyen tam lien (Andrographis paniculata), a familiar traditional medicine, in Covid-19 treatment, according to Luong Ngoc Khe, Director of the Administration of Medical Examination and Treatment.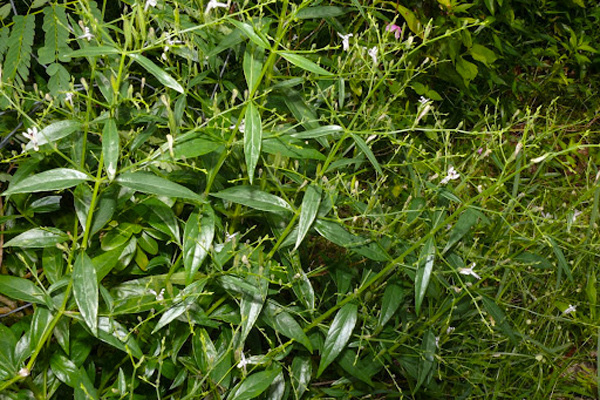 Some countries have recently used this herb in treating Covid-19 patients and the treatment shows effects on mildly ill patients with few symptoms. MOH told the Traditional Medicine Administration Department to cooperate with the Department of Science and Training to do clinical trials on a certain number of Covid-19 cases and report to the professional council for assessment and consideration for use on a large scale.
Vietnam may also consider allowing xuyen tam lien for close contacts of infected patients staying at home quarantine who have signs of fatigue.
According to MOH Deputy Minister Truong Quoc Cuong, xuyen tam lien has been approved for use in Covid-19 treatment in China, Indonesia, Malaysia and Thailand.
In Dispatch 1306 dated March 17, 2020 that guides the use of traditional medicine in prevention and treatment of respiratory infections caused by SARS-CoV-2, MOH included xuyen tam lien in the Ngan Kieu Tan remedy, used during the onset of the disease to detoxify and promote positive energy.
Xuyen tam lien is a tropical plant with cold nature, bitter taste, native to India and Sri Lanka. It is grown in South Asia, Southeast Asia, southern China, the Caribbean, Australia and Central America. China, India, and Vietnam have the most cultivation sites.
Phung Tuan Giang, president of the Institute for Research and Development of Traditional Medicine of Vietnam, Xuyen Tam Lien has anti-microbial effects (bacteria, viruses, fungi, parasites), is anti-inflammatory, antioxidant, anti-cancer, etc. It is used to treat liver diseases, fever, common cold, acute diarrhea, hypertension, chickenpox, leprosy, malaria, inflammation and diabetes.
Vietnam has many herbal remedies using xuyen tam lien to treat heat rash, boils, coughs caused by cold, and support the treatment of tonsillitis and bronchitis.
As for Covid-19 treatment, the scientific research of an Indian college found that the elements of xuyen tam lien (andrographolide and dihydroxy dimethoxy flavone) work against Covid-19 by inhibiting the main protease enzyme of this virus in in silico test.
The scientists from Jadavpur University in India also found that andrographolide and other compounds in xuyen tam lien have an anti-inflammatory effect. It is effective on upper respiratory tract infections, and can significantly reduce the production of cytokines, the inflammatory factors that can occurr i' a person infected with the virus.

Andrographolide in xuyen tam lien has potential antiviral effect in the treatment of Covid-19 and can reduce the inflammation level in patients, improve respiratory symptoms, suppress virus, and improve the immunity with high safety level.
In China, xuyen tam lien has been licensed to use in Covid-19 clinical treatment under the form of semi-synthetic products for anti-inflammatory and antiviral properties.
A group of researchers from Tasly Group in China, after analyzing many clinical cases, found that xuyen tam lien has obvious therapeutic effect on respiratory diseases including pneumonia and upper respiratory tract infection caused by bacteria and virus.
Andrographolide in xuyen tam lien has potential antiviral effect in the treatment of Covid-19 and can reduce the inflammation level in patients, improve respiratory symptoms, suppress virus, and improve the immunity with high safety level.
In addition, andrographolide is effective in protecting liver and has clinical value for the treatment of cardiovascular diseases.
The anti-Covid-19 effect of Xuyen Tam Lien was further confirmed when a Thai research institute announced the results of a clinical trial on Covid-19 patients with mild symptoms such as sore throat and headache, cough or runny nose.
Patients took 180 mg of xuyen tam lien a day, 3 times a day at 6am, 2pm and 10pm, for five days.
The results were very encouraging. Within threr days of using xuyen tam lien, the health conditions of volunteers with Covid-19 improved. All symptoms of the disease disappeared after five days without any side effects.
Those who used xuyen tam lien saw the time of cough shortened, while the virus clearance went faster and very few patients turned severely ill.
The research team did not discover any serious side effects and came to the conclusion that xuyen tam lien is safe and effective in improving the recovery of Covid-19 patients at mild and medium levels.
Thai doctors recommended that it not be used for pregnant women, nursing mothers, and those with liver and kidney problems, or high blood pressure.
This medicine has a cold property, therefore overdose can cause numbness of hands and feet, and a drop in blood pressure, so it is necessary to consult with physicians before use. The usual dose is 5-7 days.
According to Giang, it is not difficult to grow xuyen tam lien. However, the output in Vietnam is small because it has not been prescribed in recent years.
It is necessary to have a policy to encourage the cultivation, conservation, research and development of this medicine as well as other medicinal herbs.
Nhan Dan reported that the MOH's Traditional Medicine Management Department will transfer to HCM City one million tablets of Andrographis Paniculata by the end of July to treat COVID-19 patients. 
Thuy Hanh

How to treat used face masks is a new problem emerging during the fight against the Covid-19 pandemic.

The Ministry of Health on July 26 decided to withdraw dispatch 5944 only two days after its issuance because of inappropriate content.