With high-quality products designed to satisfy diverse demand from businesses, the MICE (Meetings, Incentives, Conferences, Exhibitions) market is heating up, promising to become a highlight in the year-end tourist season.
Analysts have predicted a bustling MICE tourism season this year end as businesses have begun planning their year-review conferences, and customer and partner meetings.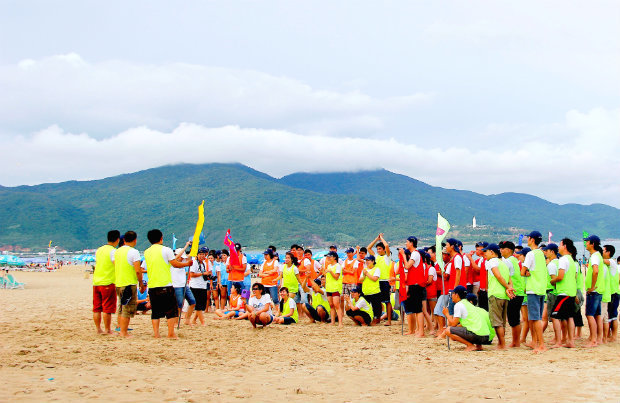 Travel firms look forward to serving MICE tourists at year end
Ha Long City, with the world's natural heritage site of Ha Long Bay, is the site for a customer conference in late December, said Bui Huy Hoang, director of a real estate distribution company in Hanoi.
He said he wants to organize a meeting to thank customers and partners who helped the company overcome difficulties caused by the pandemic. The event is expected to promote cooperation opportunities with partners in the post-Covid-19 period.
Saigontourist reported that in October and November, the firm served 16,000 clients in MICE excursion, seminar and teambuilding tours.
Some travel firms have provided tours that serve businesses' demands for MICE tours in association with donation activities in the areas hit by natural calamities in mid-November.
Nguyen Minh Man from TST Tourist said as Covid-19 has been controlled, the number of domestic travelers, especially travelers in groups, would increase sharply in the time from November 2020 to January 2021.
Many cities and provinces with MICE tourism potential have been receiving big groups of tourists.
In early November, Da Nang received big groups of clients from businesses, 200-600 travelers for each group. According to the Da Nang Tourism Department, after returning to normal, people have returned to Da Nang.
On November 6-8, the city received 300 travelers brought by Sunflower International Travel, 100 travelers by Vu Son Tung Service, and 200 travelers by Vip Travel Hanoi. Most recently, it has received 600 travelers guided by Long Thien Anh Company.
As for Binh Dinh province, though the high tourism season is over, the number of travelers was still high in the last months of the year, mostly MICE tourists.
Analysts say that MICE tourism serves as an 'important leverage' to promote domestic tourism at this time. In Sam Son, for example, MICE tourists are estimated to bring 30 percent of total travelers and revenue of hotels in 2020.
Promotion campaigns

In early November, Da Nang received big groups of clients from businesses, 200-600 travelers for each group. According to the Da Nang Tourism Department, after returning to normal, people have returned to Da Nang.
The representative of a travel firm in the north said MICE clients always set high requirements on destinations. The places they choose not only have to satisfy requirements for facilities and technical infrastructure, but also must ensure safety for travelers amid the pandemic.
High-end destinations and resorts are the most popular choices for clients.
In the north, Quang Ninh province attracts MICE tourists because it has Ha Long Bay and developed infrastructure with high-end resorts and hotels, including FLC Ha Long, which won Asia's Leading Conference Hotel Award at World Travel Awards 2019, as well as Vinpearl Resort & Spa Ha Long, Muong Thanh Quang Ninh and Wyndham Ha Long.
In the central region, Thanh Hoa and Quy Nhon have become new destinations for MICE tourists. The rise of the 'rookies' is explained by comprehensive infrastructure, wonderful natural landscapes and high-end hotels and resorts.
In the south, Phu Quoc Island is a good destination thanks to pristine natural landscape and good tourism services. A lot of high-end resorts have opened recently, with conference rooms serving up to 1,000 people.
Another factor that clients consider when choosing destinations is the flexibility and preferences of the tours offered to them.
Travel firms are focusing on the year-end tourism season, designing a attractive tours. Vietrantour has launched an economy combo of services for packaged internal PR activities.
FLC Hotels and Resorts belonging to FLC Group have announced the preferential service package with the price of VND449,000 per client per night, applied from now to March 31, 2021.
In addition, there are also many MICE products designed with yacht, air tickets and golf courses for groups of 200-300 clients.
Meanwhile, hotels belonging to Saigontourist Group such as Majestic Sai Gon and Kim Do have introduced policies with discount rates of up to 20 percent for conference and party services, applied from now until the end of the year.
Local authorities have also joined forces to lure travelers. Da Nang, Hue and Quang Nam, for example, have cooperated to design attractive packages until February 2021. 
Ngoc Ha

The travel trend among tourists has changed significantly, with a heightened level of travel safety and more sustainable travel offerings emerging as a top priority as well as evolving preferences over where and with whom people travel,

Vietnam has won multiple prizes at the prestigious World Travel Awards (WTA) 2020, being named one of Asia's leading heritage, cultural and culinary destinations.