On August 4, 1970, John Shoemaker, along with his army unit, returned to the site of Kham Duc Township in Quang Nam Province, 8km to the Laos border.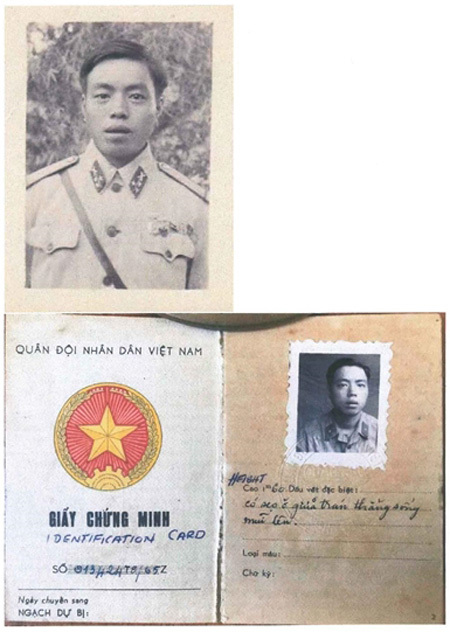 The picture of Bui Van Mo and the first page of his military ID. Photo Courtesy of John Shoemaker

His unit came under attack at the same place in 1968 during the mini-Tết offensive by the People's Army of Vietnam which resulted in a great battle with many lives lost on both sides.
Shoemaker, who was at the time the platoon commander for the 3'CI Platoon of Bravo Company, 2nd Battalion, 1st Infantry of the 196th Infantry Brigade, and his unit returned to recover their soldiers remains.
The brigade was part of the Americal Division with its headquarters in Chu Lai. More than a thousand soldiers took part in the operation to return to Kham Duc.
Key to the operation was securing an old airstrip near Kham Duc. Shoemaker's platoon was chosen to dig in and defend the southern end of the airstrip.
He was given orders to take his platoon, that included 23 men, on a patrol that would last a few days. They left the south end of the airstrip, east down a long slope to the river, crossed the wide river using rope and started up the steep slope to the top on the other side.
They followed a trail that look fairly well used for a short distance and then decided to stop and set up a night defensive position. Shoemaker ordered the placement of Claymore mines with trip wires on both ends of the trail with his platoon in the middle but off to the west side of the trail in the thick vegetation and jungle.
They settled down for the night without making noise or digging foxholes.
In a few hours, one of the Claymores exploded and soon, they felt the presence of Vietnamese soldiers all around them.
"It was very scary," Shoemaker recalled of the moment.
Then another Claymore went off, but it was too dark to do anything.
Before light, more explosions and automatic gunfire shocked them. A fierce firefight ensued for half an hour behind them and across the river.
"We later learned that 16 Vietnamese army sappers from the 404 Battalion attacked the airstrip behind us with satchel charges to destroy the Howitzers/artillery base our battalion had established," he said.
The sappers came from the north and followed the river southeast on the west side and up the slope to attack the artillery.
They waited until light and then found two bodies of Vietnamese soldiers that tripped the Claymores. Shoemaker had his men collect weapons and documents.
He kept the ID of one of the soldiers, before they left the bodies where they fell and moved on to continue patrolling.
"I do remember that the bodies were still there when we returned to the area a few days later. I also experienced that the Vietnamese soldiers generally recovered bodies of their fallen soldiers. I just don't know if they actually recovered Mó's body," he said.
They engaged in firefights many times in the following days and weeks.
Shoemaker had put Mo's ID in his wallet which he stored with other items in an old box after he returned to the US and forgot about it.
In July 2019, when John sold his house and was preparing to move, he came across the wallet from many years ago.
He found his army ID, some pictures, and the ID of the Vietnamese soldier that died on that August night in 1970.
On the Vietnamese ID, there were some notes made in 1970 by someone who helped Shoemaker translate them into English.
The ID's owner was Bui Van Mo, born in 1944. The day he joined the army was February, 1965. His unit was 148. His military ranking was a private. There was information about his father's and mother's name and his height. In his marital status, it said he was unmarried.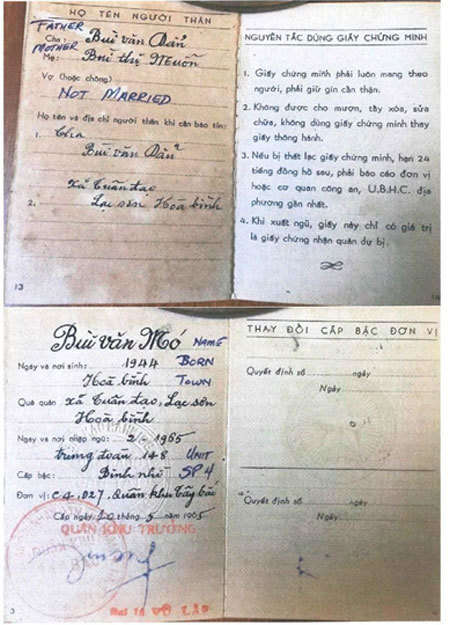 Mo's military ID. Photo Courtesy of John Shoemaker
 
Bringing it home
Shoemaker decided to post the ID on Facebook to look for Mó's family to return the ID.
M.D, who is now working and living in HCM City saw Shoemaker's post and contacted him about the story. M. asked Shoemaker if he would agree to return the ID if he could find Mó's family. Shoemaker said yes.
M.D then shared the story among his network.
A week later, a man from Tuan Dao Commune People's Committee contacted M.D and told him he knew Mo's family, who are now living in Tuan Dao Commune, Lac Son District of Hoa Binh Province.
"I swore under the national flag that I would do everything to serve the country, and returning martyrs' belongings to their families is one task among the country's policies. Everyone has the responsibility to fulfill this task," M.D, whose grandfather served in two wars, said.
"I understand the pains of a martyr's family," he said.
It took M.D a while to prove to Shoemaker that he was trying to help out.
"At first, John was afraid that I might be someone who only wanted to collect war memorabilia," M.D said.
On October 4, M.D took a flight from HCM City to Hanoi. From Hanoi, he had another two and a half hour trip by car and another hour hiking to get to where Mo's family lives.
It was a rustic house built on stilts, where Mo's youngest brother lives with his family. There was no running water, no toilets, and electricity was limited.
Bui Van Sanh, Mo's younger brother, was only five years old when Mo died in 1970.
"When my parents were still alive, their only wish was to find my brother's remains. But we don't even know the exact place where he died," Sanh said.
Shoemaker sent M.D the ID, who ensured the family received them.
In a letter to the family, Shoemaker attached maps where he found Mo's body in 1970. It was in Kham Duc Township, Phuoc Son District in Quang Nam City.
"All I can say is that I am very sorry for your loss. Many died on all sides, military and civilian, in what I believe was an awful war. It still astounds me that the North would lose over one million men and women, even as South Vietnam, America, and other countries would lose hundreds of thousands," John wrote in his letter to the family.
"I trust this brings some amount of solace and positive feeling for a soldier who died courageously on the battlefield. I offer a salute to this brave, honorable man who gave everything for his cause," he wrote.
"War impacts generations to come establishing meaningful historical roots. It is not just about winner and losers. It is about family," he wrote in a column for the Monroe News. VNS
Thu Van

Since 1988, the search teams of both Vietnam and the US have found and repatriated 727 remains of US soldiers during the Vietnam war.

The song "East of Trường Sơn Calling West" has become a soul-searching tribute to those who trekked through Vietnam's deepest jungle to unify the country.