Vietnam is reaching for aircraft and energy orders to balance trade further with the United States, with the future prospects to increase footing of investment and trading flows from the US being in the pipeline.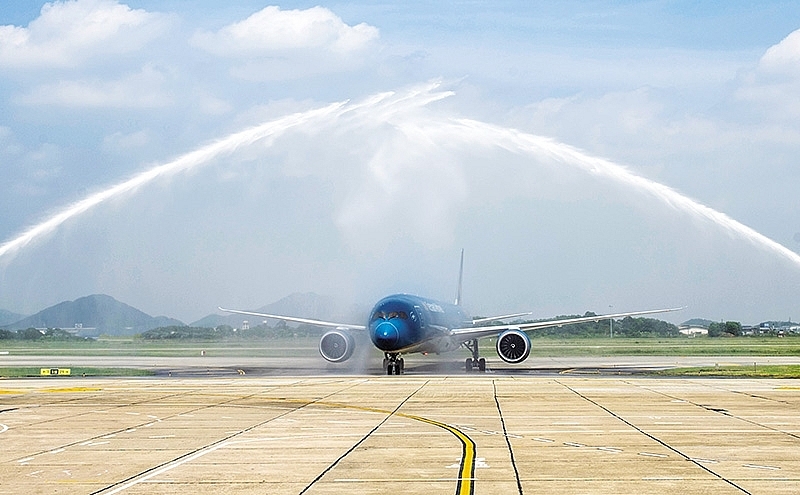 Vietnam plans to purchase more products from the United States over the coming years

The plan of national flag carrier Vietnam Airlines (VNA) to buy 50 narrow-body aircraft with the total investment of over VND88 trillion ($3.83 billion) was a hot topic in the aviation industry last week when the Ministry of Transport (MoT) offered opinions on the proposal.
"VNA should work on the detailed plan on annual network development so as to have a foundation to assess the feasibility with market demands, with aviation infrastructure, and with national network development policy," the MoT said in a recent document sent to Hanoi Department of Planning and Investment.
If the plan for the purchase of the A320/321 NEO and B737 MAX8/9/10 types is approved, VNA and its two units Jetstar Pacific and Vasco, which hold a market share of 51 per cent, will be strengthened with the addition of the Boeing brand to the Hanoi-based airline's fleet.
In October, the air carrier welcomed the arrival of a brand new Boeing 787-10 Dreamliner as the third of an eight-part order, making it the 100th aircraft to join its fleet. Vietnam Airlines expects the current order to be completed by March 2021, with it estimated to cost $338 million for each part.
Moves to trade balance
VNA is not the only Vietnamese airline spending large sums on aircraft development for the future. The biggest budget airline Vietjet, along with Vinpearl Air, Vietravel Airlines, Bamboo Airways, and Kite Air are also involved in billions of US dollars' worth of orders, with Boeing and Airbus reported to be their top selections.
At the US-DPRK Summit held in Hanoi in February, Vietjet and Bamboo signed contracts with Boeing to buy 110 aircraft worth over a total of $15 billion.
Vietjet previously signed a contract to buy 100 Boeing aircraft in 2016 for $11.3 billion during former US president Barack Obama's visit to Vietnam. The latest order increases the total number of Boeing aircraft ordered by the Vietnamese budget air carrier to 200. Last year, Bamboo also ordered 20 Boeing 787 aircraft valued at $5.6 billion.
Following the trend, Vinpearl Air, which belongs to Vingroup's Vinpearl Air Aviation JSC, is to increase its fleet by six annually, reaching a total of 42 by 2026.
Meanwhile, Vietravel Airlines will start with three aircraft with the fleet to hit eight by the fifth year of operation.
In addition to aircraft, Vietnam's growing aviation market is seeing the rising demand for spare parts and maintenance services.
Aircraft is among the most valuable items that Vietnam is currently importing from the US, contributing to balancing out bilateral trade. In particular, 2018 marked a new milestone in US-Vietnam economic ties when bilateral trade reached over $60 billion, of which US exports to Vietnam rose by 46 per cent. The growth momentum in the country's imports from the US continued in the first 11 months of 2019, with a rise of 11.3 per cent.
Industry insiders said that these are signals for the projection that the US trade deficit with Vietnam will be further narrowed.
Le Net, partner at LNT & Partners told VIR, "The Vietnamese government has co-operated closely with the US government to avoid trade circumvention, and plans to buy more US products to reduce the trade deficit, such as aircraft, liquefied natural gas (LNG), oil, and power turbines."
Energy imports are an important factor for Vietnam, one of Asia's fastest-growing economies, as the country is forecast to face a power supply crunch as soon as 2021 and is striving to shore up new generating capacity and fuel supplies.
Vietnam wants to implement 10 LNG import projects by 2030, almost all for LNG-to-power, raising imports from zero to 10 million tonnes per year. While domestic reserves of natural gas are rapidly depleting, the government estimates in its Power Development Plan VII that the power demand will grow from 48,600MW now to 129,500MW by 2030, due to rapid economic growth and urbanisation.
In the latter half of this year, deals for LNG imports and related power generation worth over $5 billion were signed between US investors and the Vietnamese government. In the largest deal, Virginia-based AES signed an MoU with Vietnam's Ministry of Industry and Trade to develop the $1.7 billion Son My 2 combined cycle gas turbine power plant, and $1.4 billion LNG import terminal in the central province of Binh Thuan. Elsewhere, multinational conglomerate GE – the world's largest manufacturer and supplier of gas turbine technology – and the world's leading pure-play renewable energy developer, Mainstream Renewable Power, have since 2016 been active together in Vietnam in the form of development of wind power plants. Vietnam and GE aim to develop at least 1,000MW of wind power by 2025 to supply 1.8 million people.
Vietnam is also attempting to further improve the business climate to facilitate US investors and others, while dealing with American concerns over auto imports, e-payments, and traditional banking and finance.
Trade and investment flow
According to the American Chamber of Commerce in Vietnam (AmCham), trade is the cornerstone of the bilateral relationship and great changes have taken place in the development of the American business community over the past two decades. Vietnam is currently the US' 17th largest goods trading partner, while the S-shaped country is the US' 31st largest goods export market in 2018.
Also, business activity started slowly for Americans in the Southeast Asian country here in the past, but can now see US companies and investors active in almost every sector of Vietnam's economy, with many of them expanding here for exports.
"The past two decades have seen Vietnamese people's incomes quadruple. American companies have invested billions of US dollars here. Americans are selling lipstick, soft drinks and beer, cars, aircraft, software, industrial goods, educational services, mobile applications, financial and legal services, agricultural products, and so much more," said Adam Sitkoff, executive director of AmCham Hanoi.
Nike, the world's largest athletic footwear and apparel company, and the world's largest semiconductor company Intel are outstanding examples for fruitful trade relations, and for the trend of development of US production bases in Vietnam for exports.
It is estimated that if a pair of Nike shoes costs $100, Vietnam benefits $22 and the rest goes to the US. It is worthy to note that around 138 million pairs of Nike shoes are exported to the US from Vietnam annually. Likewise, Intel is one of the most powerful foreign-invested enterprises having great contributions to Vietnam's exports.
US investment in Vietnam also concentrates on conquering the local market. Coca-Cola, one of the world's soft drink giants, is making good performance with big market share in the local market.
Famous US brands Ford and Chevrolet eye local potential growth. Ford Vietnam has announced that it will invest an additional VND1.9 trillion ($82.6 million) in expanding its automobile assembly and production factory in the northern province of Hai Duong in 2020-2022.
Amazon Web Services, the world's most comprehensive and broadly adopted cloud platform, is making moves to boost its footprint here in anticipation of growing demands in Industry 4.0. As expected, Vietnam will continue to import more high technology and services from the US in the future, thus bringing about more opportunities for AWS and others.
According to statistics from the Ministry of Planning and Investment, US corporations invested a total of $396.6 million in Vietnam in the first 11 months of 2019, ranking 12th among countries and territories having investment here, thus increasing the accumulated US investment to $9.37 billion.
Looking forwards, US investment in Vietnam is expected to ascend on the back of the country's new foreign direct investment attraction strategy, with a focus on special incentives to attract powerful high-tech firms in the Fortune 500, with many from the US.
"Among other things, we support a path leading to a free trade agreement between our two countries. For an FTA to move forward, it will need to be viewed as beneficial and fair by all parties. The American business community in Vietnam stands ready to do our part to make this goal a reality," Sitkoff noted. VIR
Bich Thuy

The age of second-hand aircraft imported into Vietnam is among new regulations in the Government's Decree 89/2019/ND-CP.
Vietnam has witnessed strong growth in the aviation industry over the past five years, with the number of air passengers increasing threefold and its airline fleet doubling.