With nothing obtained and losses incurred, the victims of the dating app scam have been left in the depths of despair.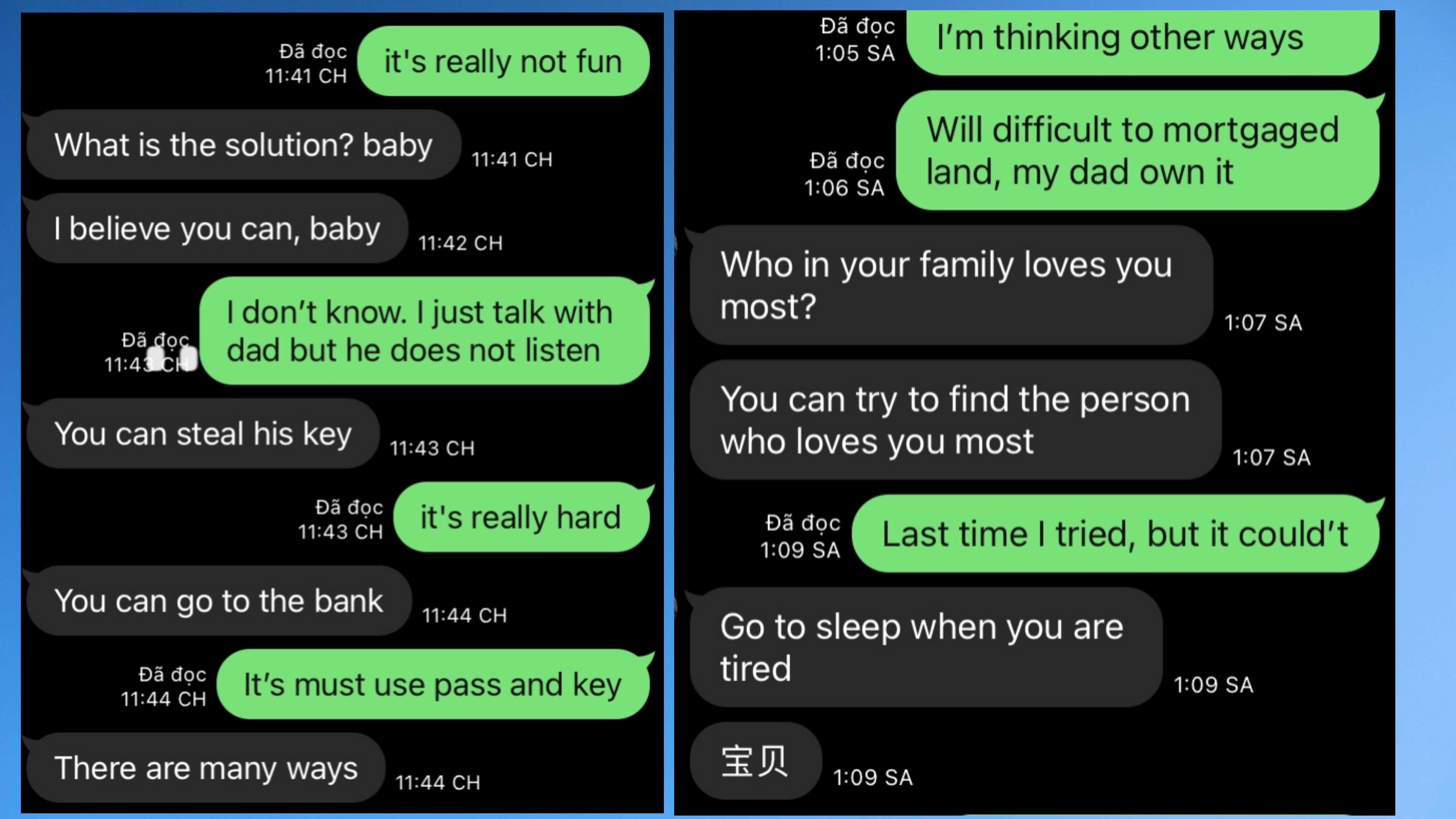 A fraudster tries to convince, seduce, and even instruct a victim to steal money from her parents for investment. 
"I would have ended myself if it wasn't for the consideration of my kids"
They are humiliated and devastated. They struggle in the pit of despair because their transactions were not protected by law.
With tears streaming down her face, H.L.T. (39 years old, Hai Phong city) remembered how she got swindled out of 6 billion, which she had  accumulated for many years to ensure the future for her two young children, by a Tinder account named Jacky.
"When the time was ripe, early in December 2020, I was prevailed upon by Jacky to invest in MMCoin. I seemed so blind to the scam that I made daily transactions of up to billions of Vietnamese dong. Around the end of March, in the moment I turned disenchanted. Then there came the realization that I had deposited over 6 billion VND."
From a person with a stable job rendering handsome income, L.T. has become a debtor in nothing flat. Late nights of crying alone in her own room are due to a massive loss of both money and love. The single mother said she many times wanted to commit suicide because of her inability to face this grievous truth.
"My parents' house was mortgaged, even my sister had to prove her income to be able to borrow money from the bank, all to provide for my investment. I also many times took payday loan with 5% interest per day to have money deposited into my account in the hope that I can then withdraw the amount I have invested. However, everything went all in vain. I was painfully aware that I had been tricked. I not only lost my savings, but also made my parents and sister debtors… Many times I couldn't accept that fact. If I didn't think about my children, I would have killed myself, " she continued.
Despite the same situation, another victim named N.T.H.M. (37 years old, Hanoi) chose to suffer in silence for fear that the truth would be unbearable for her parents who are in their autumn years. Therefore, she daily silently endures the bitter resentment and secretly joins groups of victims of similar affairs to find a way to reclaim the money worth an apartment on the outskirts of the city.
Meanwhile, H.T.T.A. (24 years old, District 3, Ho Chi Minh City) is in disquiet as the scammer threatened to publish her nudes online, which also was done to many other girls by foreign so-called boyfriends on Tinder. T.A. said that these hot photos are saved by scammers for when the victims discover they have been scammed, or ask to withdraw money, or stop investing ... The gullible can be easily inveigled into a nude photo exchange, falling into their trap.
Depths of despair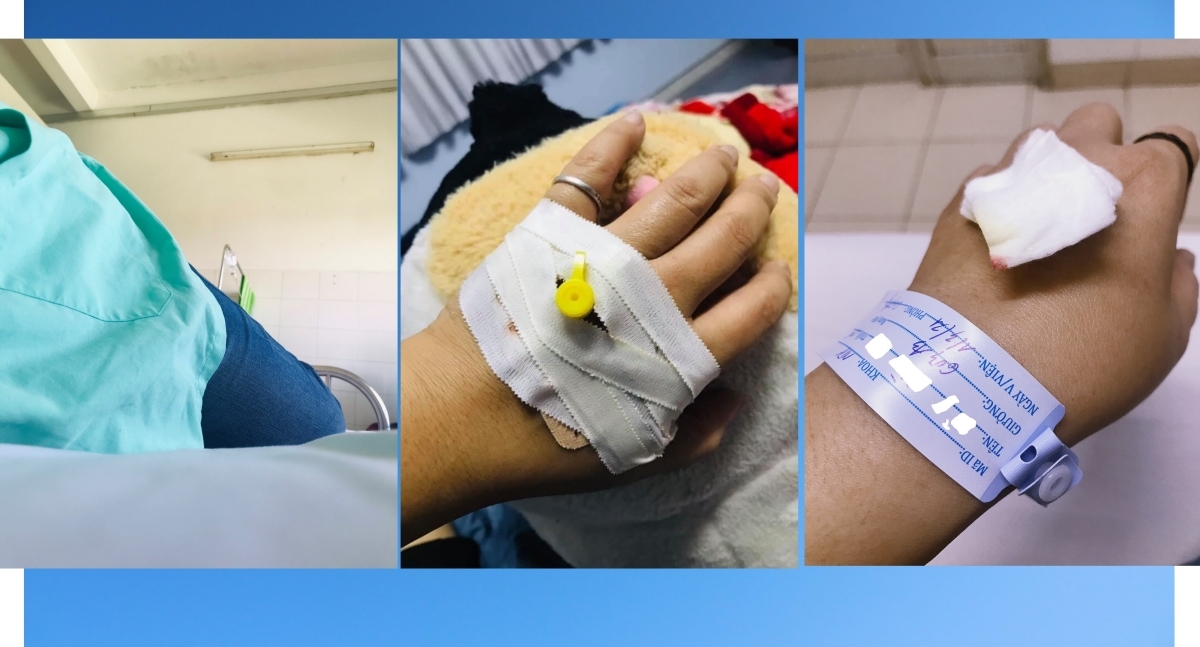 2. H.L.T. fell so ill she needed to be hospitalized for treatment.  
Scams on social networks such as Facebook, Instagram, Skype... have grown omnipresent nowadays. The victims, therefore, are working together in closed groups to exchange and share their stories to find ways to bring the fraudsters to light, as well as to warn any other girls who are on the verge of being defrauded. This general consensus among the women also denotes a slim hope of getting their money back.
From a legal perspective, lawyer Nguyen Van Hau, Vice Chairman of the Ho Chi Minh City Bar Association, said that if the offenders are Vietnamese, they will be criminally responsible as Forex has not been recognized in Vietnam. However, if they are foreigners, it is dependent upon whether their country recognizes Forex or not, for this market is allowed in some countries, namely the US, UK, Italy, Cyprus, Australia, Canada, Japan, Malta, Indonesia, Switzerland, Germany and most countries in Central Europe, Eastern Europe.
Meanwhile, Forex trading is banned in countries such as Belgium, North Korea, Malaysia, France, countries with strict Sharia law like Pakistan.... According to Hau, in the case of criminals operating in countries that recognize Forex, there is no agency to protect the interests of victims.
"Regarding foreign exchange, according to Clause 1, Article 28 and Clause 1, Article 36 of the 2005 Foreign Exchange Ordinance, only banks and authorized credit institutions can trade foreign currencies and provide foreign exchange services. Thus, citizens are not allowed to partake in buying and selling (investing) foreign exchange in any forms," he said.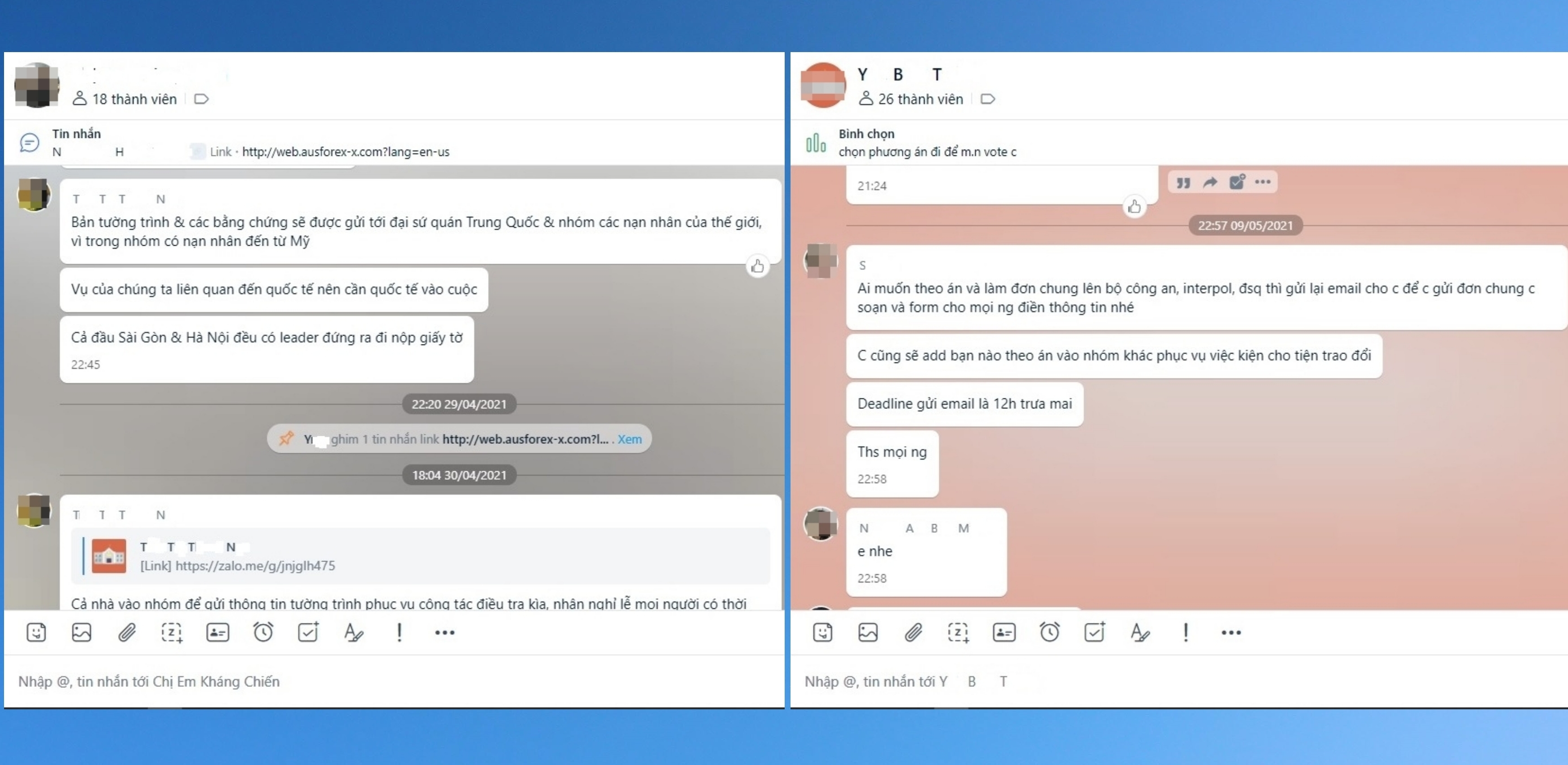 Data collected by victims has been sent to domestic and foreign authorities to denounce scammers.
In addition, official Letter No. 5747/NHNN-PC approved by the State Bank of Vietnam on July 21, 2017, stated: "Virtual money in general and Bitcoin and Litecoin in particular are not currencies and are not a means of payment legally in accordance with the law of Vietnam. Issuing, supplying and using virtual currency in general and Bitcoin and Litecoin in particular (unlawful means of payment) as currency or means of payment is prohibited."
He added: "Regarding illegal foreign exchange transactions, violating individuals and organizations will be sanctioned according to the provisions of Article 23 of Decree No. 88/2019/ND-CP dated November 14, 2019 of the Government regulating the handling of foreign currency penalties for administrative violations in the monetary and banking sectors. Violators, depending on the severity, may be subject to a warning or may be fined up to VND 250 million."
Thereby, he also advised people to raise their vigilance, and not be lured into investing in virtual financial websites and trading floors. Currently, Vietnam does not recognize any type of virtual currency and cryptocurrency. Investors will bear risks when investing in virtual currency investment activities and virtual products.
Some further information is that money transmitters transferring money at the request of fraudsters based on tricks, providing fake information to deceive users into transferring money and then appropriating this money, is considered signs of constituting the crime of fraud to appropriate property specified in Article 174 - Penal Code 2015 (amended and supplemented 2017).
Ho Chi Minh City Police have granted access to the hotline phone number 0283.8413744 or 0693187680 in order that people can promptly report when property is being appropriated or scammed via the Internet.
Nguyen Son

Many young Vietnamese women have fallen into traps set by men on dating sites.

Gang members got acquainted with Vietnamese women, declared their love for them, and then presented them with gifts.