After 30 years of development, South Korea has had hundreds of large-sized corporations, while most Vietnamese businesses are small and medium-sized after three decades of Doi Moi (reform).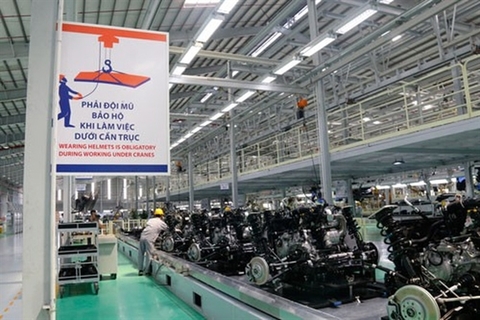 Illustrative image
Mai Anh Hien, a manager from Toyota Vietnam, compared finding local suppliers to be as difficult as finding diamonds. "Finding domestic suppliers is an arduous process. After 5-10 years, many domestic enterprises have failed to become suppliers for Toyota because they could not meet the minimum standards," Hien said.

This is the common situation of Vietnamese enterprises today. Because their scale and competitiveness are weak, they are unable to participate deeply in the global production and supply chain. Most Vietnamese enterprises are small and super-small in size, with low labor productivity, limited scientific and technological capacity, and poor governance.

A recent survey by the Vietnam Chamber of Commerce and Industry (VCCI) shows that very few private enterprises of Vietnam participate in the global value chain, or become suppliers of goods and services to foreign-invested firms in Vietnam. Worse, the number of such businesses is even decreasing.

In 2015, about 69% of foreign-invested enterprises purchased input materials from domestic private enterprises. This proportion fell to 62.5% in 2017 and 60.2% in 2018. Similar trends are observed for groups of individual and household suppliers. The proportion of foreign-invested enterprises with suppliers being individuals and households decreased from 19.3% in 2015 to 15% in 2018.

Currently, only 15% of private enterprises sell goods and services to foreign enterprises in Vietnam; 8.4% export products directly, and 7.4% export goods indirectly through a third party. This is why there is reason to worry about the global economic integration of Vietnam's domestic private sector, according to VCCI.

Over past years, foreign investment inflows into Vietnam have increased and over 50% of which has been poured into manufacturing sectors. However, the number of Vietnamese enterprises participating in the supply chain of foreign-invested enterprises is extremely limited, especially in industries requiring high technology such as automobiles and electronics. This number is even decreasing, which is quite a surprise as the presence of global value chains in Vietnam is very clear at present. Many economists have acknowledged that Vietnam is one of the "big factories" of Asia.

The main reason given by experts is that Vietnamese private enterprises are getting smaller and smaller in size, so they cannot participate in the supply chain. A typical private enterprise currently has fewer than 20 employees and VND1.2 billion (US$54,000) of fixed investment capital.

Meanwhile, Vietnam has joined many free trade agreements and revolution 4.0 is taking place. This is a great opportunity, but Vietnamese private enterprises cannot catch it.

Remove discrimination

"I am very impatient. Many private economic development policies have been issued but they don't work effectively because of many hindrances. How can private enterprises, especially small ones, grow to join the value chain? How to create favorable conditions for people and businesses to invest and do business, instead of buying gold to store up? Obviously, there are still many barriers and bottlenecks that we have not yet removed, so we cannot release resources from the private sector, although this resource is huge," said Minister of Planning and Investment Nguyen Chi Dung.

According to senior economist Pham Chi Lan, although the law affirms equality between enterprises of all economic sectors, the business environment has constantly improved, and there have been discrimination and inequality against private businesses which has lasted for more than 30 years of Doi Moi and is still serious and common at present.

Private enterprise's right to access resources and business opportunities is narrowed, even deprived, by unfair incentives. They have to pay higher prices for many resources and products, especially land, production and business premises, transportation costs, etc. The small and precarious profit margin makes it harder for private enterprises to invest in development and to think about doing big or long-term business.

The Ministry of Planning and Investment has developed a project "Comprehensive reform of state management in private economic development in Vietnam", which is in the process of collecting comments for finalization and submission to the Government.

Accordingly, state management reform for the private economy will be: defining the role of the State in the market economy, the State only providing public administrative services; reducing administrative interference in corporate internal governance; and non-criminalization of economic and civil relations.

The focus of the reform is improving institutional quality on principles of market development, consistent with international principles and practices; reducing risk; promoting competition and using market tools in resource allocation; and applying the principle of risk in inspection and examination to reduce costs and troubles for businesses.

The experience of South Korea shows that, to become a developed country, it could not rely on only small and medium enterprises. Vietnam is no exception; it is necessary to build a team of large-sized private enterprises. Only large enterprises with access to capital and technology can drive growth.
-
In South Korea, there are groups of global stature. The five largest corporations in this country - Samsung, Hyundai, LG, Daewoo and SK - created up to 50% of the total GDP in 1990 and became the "eagles" that led the Korean economy to development.

Tran Thuy

The world is changing, with many great opportunities opening up for Vietnam.

After over 30 years of Doi Moi (reform), Vietnam has had large private groups operating in many industries with international stature. There are also Vietnamese USD billionaires, but only a handful.