Vietnam is struggling with the 4th wave of the Covid-19 pandemic. The number of infections has spiked and is now at the highest level since the virus appeared in Vietnam early last year.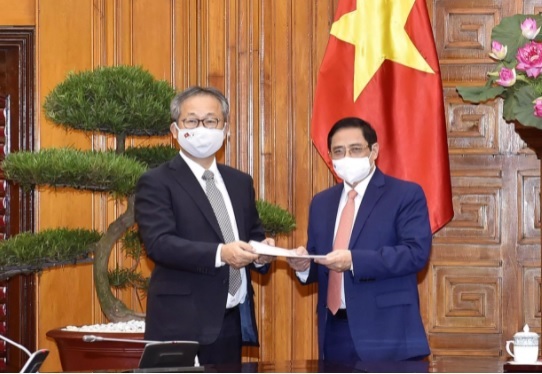 Japanese Ambassador Yamada Takio conveys a message from Japanese Prime Minister Suga Yoshihide to Vietnamese PM Pham Minh Chinh about the Japanese Government's decision to provide Vietnam with 1 million doses of Covid-19 vaccine.
Experience from other countries shows that social distancing and lockdown bring temporary benefits as they can help stamp out the epidemic for a certain period of time or in certain areas.
Although the effectiveness of vaccines is not 100%, according to experts, this is still the most effective weapon to help prevent Covid-19 and create herd immunity. While the "Made in Vietnam" vaccine is under the trial process, "vaccine diplomacy" is a solution to help the country have access to vaccines.
The Politburo, the Secretariat of the Party Central Committee, and the Government forecasted and issued directions on epidemic prevention and control, including the implementation of the vaccine strategy: accessing vaccine sources from outside, strengthening international cooperation in technology transfer and vaccine production, and locally producing vaccines, ensuring safe and effective vaccination for Vietnamese people.
The Party General Secretary, the President, the Prime Minister, and the National Assembly Chairman have paid great attention to, directed and participated in drastic way, in both bilateral to multilateral diplomacy, from telephone talks to writing letters to leaders of other countries to seek all available sources of vaccines. In hundreds of phone calls and meetings at home and abroad, Vietnamese leaders have talked about cooperation on vaccines.
At the virtual summit of the Communist Party of China (CPC) and world political parties on July 6, Party General Secretary Nguyen Phu Trong emphasized that the current urgent task is to protect the people's happiness, and to stamp out the epidemic. In order to effectively carry out this task, the efforts and consensus of governments, political parties, organizations and people are key factors, but effective international cooperation has very important implications, including ensuring supply, and equal and timely access to vaccines.
In a letter to US President Joe Biden on May 30, President Nguyen Xuan Phuc assessed that COVAX Facility is a valuable support that has helped Vietnam and many developing countries in handling the epidemic when international vaccine supply is scarce. He hoped the US would continue to support Vietnam and other countries in vaccine supply, and suggested the two sides strengthen cooperation in vaccine research, production and technology transfer.
During a phone call with Chinese Premier Li Keqiang on June 4, Prime Minister Pham Minh Chinh suggested the two sides strengthen cooperation in the prevention and control of the Covid-19 epidemic, and he looked forward to finding appropriate and effective solutions for cooperation between two sides in the implementation of the vaccine strategy.
During a conversation with Australian House of Representatives Speaker Tony Smith on June 7, National Assembly Chairman Vuong Dinh Hue suggested the two countries continue to support equal access to vaccines and the transfer of vaccine production technology for Vietnam.
Since mid-2020, the Ministry of Health, the Ministry of Foreign Affairs and related ministries and agencies have had dozens of talks, meetings to negotiate with vaccine manufacturers as well as health agencies, diplomatic representatives of vaccine producing countries to take advantage of all possibilities and resources to have the vaccines as soon as possible.
The spokesperson of the Vietnamese Ministry of Foreign Affairs Le Thi Thu Hang said at a press conference on July 8 that Vietnam welcomes, appreciates and wishes that countries and international organizations uphold the spirit of solidarity and responsibility, and strengthen the sharing of information, technology, finance, and healthcare, especially vaccines.
So far, the implementation of "vaccine diplomacy" has yielded some positive results. Vietnam has received nearly 5 million doses of Covid-19 vaccines of all kinds. COVAX has provided 2.5 million doses of AstraZeneca vaccine; The Japanese government aided 1.4 million doses of vaccines; the Chinese government provided 500,000 doses; more than 400,000 doses were provided via VNVC, a local vaccine distributor; and more than 97,000 doses of Pfizer/BioNtech vaccine were received.
According to the Ministry of Health, Vietnam needs about 150 million doses to vaccinate 70% of the population aged 18 and over.
Many experts believe that, in addition to promoting "vaccine diplomacy" to get as many vaccines as possible, the production of locally-made vaccines is very important for Vietnam to control Covid-19.
Tuan Minh

Access to Covid-19 vaccine sources has been difficult due to a scarcity of supply in the world. What solutions will Vietnam need to buy enough Covid-19 vaccines for its people?