Some people have criticized the Government for being slow in vaccinating its people. To date, only nearly 1 percent of population has been vaccinated, a figure which is even lower than Laos and Cambodia.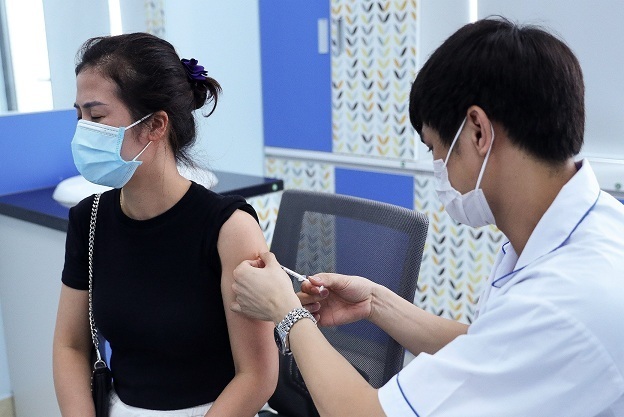 As expected by millions of Vietnamese. on May 18, the Prime Minister released Resolution No 09 on buying Covid-19 vaccines. The worrying information about Vietnam's Pfizer vaccine purchase was cleared. The manufacturer earlier had refused negotiations on prices and contract conditions. But the supply of vaccines for Vietnam has been put through.
Vietnam has vaccinated 0.9 percent of people, while the figure needs to be 60-70 percent at least to reach herd immunity. And the path to the end point has now been shortened.
Do Cao Bao, a member of the board of directors of FPT Corporation, posted his analysis on the burning issue on his Facebook page. VietNamNet would like to introduce his viewpoint.
The countries running vaccination programs can be classified into four groups.
Group 1. These are countries that can research and develop vaccines of their own. Their homegrown vaccines are prioritized for domestic use. These include the US, UK, Russia and China.
Group 2. These are countries which participate in vaccine testing and production, including India, Brazil, Indonesia, UAE and South Korea.
Group 3. These are countries that 'bet' on vaccine research and development. They signed contracts to buy vaccines and paid a deposit when vaccines were still in the experimental period.
If the vaccines can be developed successfully, these countries will have priority to buy vaccines in accordance with the signed contracts. If the vaccine development fails, they will lose money.
Israel, Singapore and other countries are included in this group. And most of them are rich countries.
Group 4. The group of remaining countries. These countries are not given priority to buy vaccines after vaccines get approval, because these governments did not order vaccines when vaccines were still in the experimentation stage.
This means that the countries belonging to Group 4 can only acquire vaccines from two sources, diplomatic channels (mostly from China's Sinopharm) or the Covax Program.
Vietnam is between Group 3 and Group 4.
Vietnam deposited $30 million to buy AstraZeneca vaccine when AstraZeneca was still under clinical experimentation, and it belongs to Group 3.
However, the number of vaccine doses Vietnam ordered was too small compared with the population, and with the vaccine doses Vietnam has received so far, it belongs to Group 4.
To date, Covax is the only source of vaccines for Vietnam. Covax distributes vaccines under the principle that the countries suffering more heavily from the pandemic will receive more vaccines.
Of the Group 4 countries, Vietnam is among the countries that have best controlled COVID-19. It has had fewer vaccines and has been slow in getting them.
Other Southeast Asian countries where the pandemic is more serious (Indonesia, Thailand, Malaysia, the Philippines, Myanmar, Brunei and Timor Leste) are prioritized by Covax, or have accepted Chinese Sinopharm vaccines. They have, therefore, vaccinated more people than Vietnam.
As of late May, Vietnam has used up the vaccines provided by Covax (more than 900,000 doses). It has received 1.7 million more doses.
Most recently, Vietnam signed a contract on purchasing 31 million Pfizer vaccine doses (31 million in the first phase and 20 million in the second phase; the first 31 million doses are expected in Q3 or Q4, but this depends on Pfizer's supply -- reporter). Perhaps from now on, Vietnam will switch to an active position, not a passive position about vaccines.
Some people have shown concern that Vietnam will obtain herd immunity only by 2023-2024 (when at least 60 million people will have received two shots of vaccines). This means that Vietnam will be slower than other countries in recovering its economy after the pandemic.
The concern was raised because of the slow vaccination in the last two months.
But I do not think so. In fact, the vaccination has been slow in the last two months because the health sector has been vaccinating while exploring vaccine side effects, and especially since the supply of vaccines from Covax has been small.
Now, as the vaccine supply has been put through, I believe that Vietnam will speed up vaccinations.
I have tried to figure out the vaccination of 60 million people within 10 months, from June 2021 to March 2022, and found that the plan is feasible.
To vaccinate 60 million, Vietnam will need 120 million doses; 12 million doses a month, 400,000 doses a day. On average, each province can have 6,349 doses a day, each district 571 doses, and each ward (commune) 38 doses.
With Vietnam's current network of healthcare points, the vaccinations at such a level will be within reach.
The healthcare sector needs to:
First, ensure enough vaccines by regulating the import of 39 million Covax and 31 million Pfizer doses, buying 30 million more AstraZeneca or Sputnik, and organizing the domestic production of 30 million Vietnam-made vaccines if the experiments succeed (slated for August 2021).
Second, organize preservation and transport; ensure vaccination procedures and the screening examination process; and prepare for emergency procedures.
Third, ensure that enough syringes and needles are available.
All Vietnamese need to stand side by side with the Government and the health sector to implement the vaccination program, so as to reach herd immunity after giving 120 million doses of vaccine to 60 million people by March 31, 2022. 
Do Cao Bao

Prime Minister Pham Minh Chinh has urged scientists and representatives of vaccine research and production units to step up research and technological transfer for the domestic production of vaccine against COVID-19 as early as possible.

Organisations and individuals have so far committed more than VND5.6 trillion to the national COVID-19 vaccine fund since it was established not long ago to support the national vaccination campaign.