In recent decades, the Vietnamese wood industry, from a small craft industry, has grown rapidly to become a global processing industry.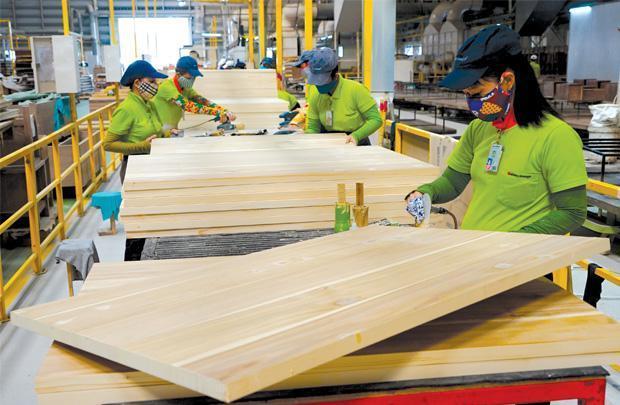 Last year, thanks to its shift to "online sales" and changes in product structure that was in line with consumer trends in the world in the time of the Covid-19 pandemic, Duc Thanh Woodwork Company obtained high revenues. In 2021, it completed 50% of the whole-year plan within the first two months of the year.
Not only happy when revenue in 2020 increased by 40%, Ms. Pham Thi Hong Quang, General Director of Nguon Viet Handicraft Company, said that her company was able to sell products that had gone unsold for years. The unsold noise-resistant boards were turned into "unique" tables for meeting rooms. This product was advertised online and became a "hot" product, which was favored by many foreign customers.
Earning high revenue in 2020, Dau Tieng Wood Company plans to build a new factory on an area of 10 hectares specializing in making refined products for export. Its current factory has been operating at full capacity.
US$13 billion roadmap
According to statistics from the Ministry of Agriculture and Rural Development, the export of wood and wood products in 2020 hit about $13 billion, an increase of more than 16% compared to 2019. In the first quarter of 2021, this sector earned nearly $4 billion, 46% up year on year.
Former Deputy Minister of Agriculture and Rural Development Ha Cong Tuan once said that the pandemic had affected the entire forestry industry, in the period from March to May 2020, orders decreased, both exports and import of raw materials stagnated, and these factors hit production.
However, "necessity is the mother of invention". When direct sales are restricted, wood businesses have to switch to online sales. They have taken advantage of the opportunities from the change of the market to make connections with major markets such as the US, China and others to make records.
In recent decades, the Vietnamese wood industry, from a small craft industry, has grown rapidly to become a global processing industry.
Mr. Nguyen Chanh Phuong, Vice Chairman of Ho Chi Minh City Handicraft and Woodworking Association, said that in 2020, Vietnam surpassed Poland, Germany and Italy to rise to second place, just behind China, in the world's top wood and wood products exporters.
The export turnover of Vietnam's wooden furniture rose from $219 million in 2000 to $13 billion in 2020, the highest growth rate for an export item of Vietnam. Vietnamese furniture holds the top position in the "billion-dollar export club" of Vietnam. Vietnamese wood products are exported to 140 countries and territories around the world.
More importantly, the Vietnamese wood industry has transformed into a "green" way. Most Vietnam's consumer wood products are made from plantation timber. In recent years, the import of wood materials has decreased significantly, as the rate of raw materials from planted forests increased. The forest industry is developing in a sustainable way. Currently, Vietnam has 4.3 million hectares of planted forests, providing about 48 million m3 of wood.
According to experts, in agriculture, the key commodity groups only do well in the production stage, while the chain link and the processing stage are still the weaknesses that hinders their development.
The wood-furniture industry is a special case as it has built an almost complete value chain with close links between the stages of afforestation, processing, and trade. Therefore, the labor productivity of the wood industry in 2010 reached about $17,000/person/year and at present is about $25,000/person/year.
The rise of Vietnamese woodwork