Vietnam Airlines is in an extremely difficult situation as it continues incurring losses. Private airlines, including Vietjet Air and Bamboo Airways, have also been affected financially.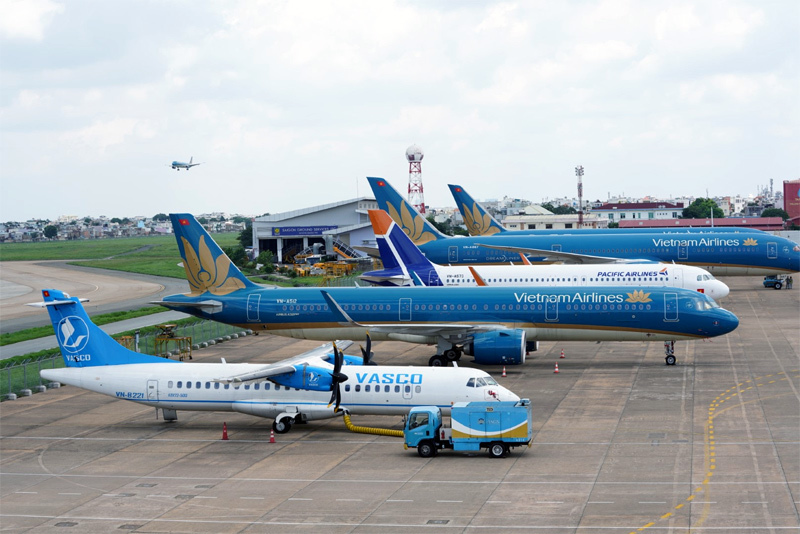 The Ministry of Planning and Investment (MPI) said that the Covid-19 pandemic has caused the air transport market to seriously decline. Air transport demand has decreased by 34.5-65.9 percent compared with 2019, while air transport revenue in 2020 dropped by 61 percent.
More seriously, the third outbreak occurred on pre-Tet days, which caused the aviation sector's revenue to plummet by 80 percent compared with the same period last year. Enterprises' solvency has seriously been hurt.
MPI warned that with the current Covid outbreaks and changing decisions made by passegers, the aviation sector will remain in serious difficulty in 2021 and is only likely to recover in 2024.
Inaccurate information about the Covid outbreak recurrence, it said, led to a massive cancellation of tickets, thus causing big losses to the aviation sector and problems in cash flow.
According to MPI, Vietnam Airlines had an estimated loss of VND4.8 trillion in the second quarter and VND10 trillion in the first six months of the year.
The overdue debt of the airlines has reached VND6.24 trillion. The national flag air carrier has fallen into an extremely difficult situation and is on the verge of bankruptcy, according to MPI. Meanwhile, as commercial banks have not seen the VND12 trillion bailout promised by Government, they refuse to continue disbursement for the airlines or provide credit.
As a result, the airline is facing the risk of being sued because of the high debts, and not balancing its short-term loans due at banks.
As for private airlines such as Vietjet Air and Bamboo Airways, MPI said the carriers in 2020 optimized their operations and maintained production and business activities by transferring assets and financial investment projects they had in previous periods.
However, the ministry believes that the private airlines will face difficulties in 2021 and their financial resources will not be sufficient to maintain air transport activities.
Credit needed urgently

Vietnam Airlines is in an extremely difficult situation as it continues incurring losses. Private airlines, including Vietjet Air and Bamboo Airways, have also been affected financially.
Explaining to its shareholders about business performance in 2021, Vietnam Airlines said the impact of the Covid-19 outbreak had caused total revenue and income from other sources of the holding company to fall by 65.3 percent compared with the same period last year (VND9.558 trillion). The income from services dropped sharply by 63.7 percent.
Vietnam Airlines' domestic revenue dropped by 25.8 percent and international revenue by 97 percent, while revenue from chartered flights fell by 83.5 percent. As the drop in revenue was higher than the fall in operation costs, the post-tax profit fell by VND2.793 trillion.
Having no passengers, hundreds of aircraft have been idle. According to Planespotters, 127 out of 218 aircraft of four airlines in Vietnam have been suspended.
MPI has asked the Prime Minister to instruct the central bank to amend and issue a circular allowing the restructuring of debts and rescheduling of debt payments. It said that the classified debt groups should be unchanged.
The ministry said that it is necessary to reduce the lending interest rate by 3-5 percent and apply other solutions to help enterprises have working capital so they can resume production.
MPI has also proposed amending Resolution 84 dated May 29, 2020 and expanding the subjects that are entitled to 2 percent interest rate reduction for direct loans, and expand indirect lending not only to small and medium enterprises but also to enterprises in hard-hit business fields, including tourism, aviation, hotel and transport.
More importantly, MPI has asked the PM to instruct the State Bank of Vietnam (SBV) to design an interest rate support mechanism for loans from 2021 to 2023 so as to help private airlines to improve their liquidity and maintain resources, similar to the support package offered to the national flag air carrier Vietnam Airlines.
It also proposed that the Ministry of Transport (MOT) be allowed to extend the time for 50 percent reduction for the taking off/landing fee and flight control service fee. In addition, it asked to extend the time for zero dong fees from specialized aviation services on the list of products and services included in the State's price framework.
The Ministry of Finance (MOF) has been asked to submit to the Government and National Assembly (NA) Standing Committee a plan to amend Resolution 1148 dated December 21, 2020 on continuing the environmental protection tax on air fuel at VND2,100 per liter until the end of December 31, 2021. The tax should be lowered to VND1,000 per liter, it said.
The State Securities Commission (SSC) under MOF has been asked to amend Decision No 87 on margin trading conditions and allow airlines and businesses directly affected by Covid-19 not to have their margin trading cut when profits are negative for two consecutive quarters. 
Ngoc Ha

The national flag carrier Vietnam Airlines has announced the plan to sell 11 A321ceo aircraft made in 2004, 2007 and 2008.

Some local air carriers such as Vietnam Airlines, Pacific Airlines, Vasco and Bamboo Airways will increase their management fees by up to VND100,000 per passenger.