Nguyen Anh Thu, founder and president of the non-profit Women in Aerospace and Aviation, plans to circumnavigate the globe solo in her single-engine LANCAIR IV-P aeroplane from May 15 to July 1, covering nearly 50,000km. 
Thu reckons this would make her the first Vietnamese-American and eighth woman in history to do so. She speaks with Chau Yen and Quynh Hoa about her daring plan.
Intro:
Nguyen Anh Thu grew up in Tuy Hoa City in Phu Yen Province in Vietnam. As a young girl, she received her education from a UNICEF-built school. At the age of 12, she immigrated to the US. She has overcome innumerable challenges in her life. She was valedictorian at her high school and graduated top 10 at Purdue University with honour. Thu's story is a typical immigrant story, but she transcends the model minority label and is aiming for something bigger.
Thu is founder and president of Women in Aerospace and Aviation, a non-profit organisation which focuses on inspiring the next generations of female pilots. Currently, she is an airline transport pilot and certified flight instructor at AeroVentures Flying Club in Atlanta.
She is also advancing her education by pursuing a PhD in Aerospace Engineering from Georgia Tech.
Jetstar Pacific has first female Vietnamese captain
Women pilots blaze new career path
The first female pilots of Vietnam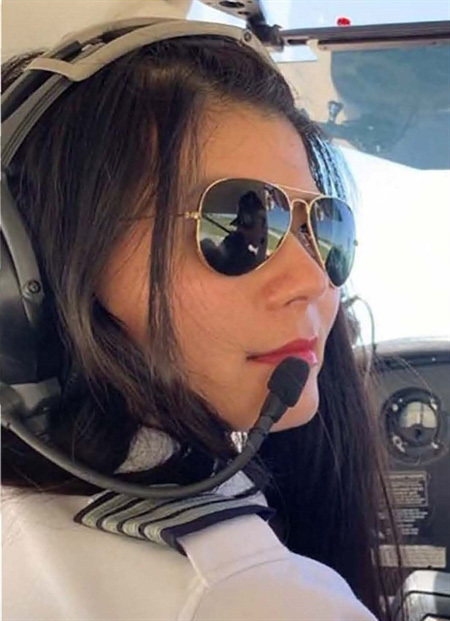 Nguyen Anh Thu, founder and president of the non-profit Women in Aerospace and Aviation, plans to travel solo in a single-engine aeroplane LANCAIR IV-P to 25 countries from May 15 to July 1, 2020. Photos womeninaerospaceandaviation.com
 
You plan to travel in a single-engine aeroplane to 25 countries, covering 26,800 nautical miles. What do you hope to achieve by completing such a feat?
I want my sky-conquering plan to help young girls and women with an interest in the aerospace and aviation field, as well as inspire them to believe in themselves to dream big. It is a global flight for every girl on this planet with a dream.
How are you preparing for the trip?
It has taken us about a year to prepare. Many things need to be prepared including licences, fuel efficiency, safety, maintenance, aeroplane equipment, weather forecast, and especially sponsorship.
At present, three sponsors Crew Dog Electronics, BOSE, and P- have agreed to work with us. The flight is estimated to cost US$1 million.
We have also opened a GoFundMe page for other people to visit, support and donate to our cause.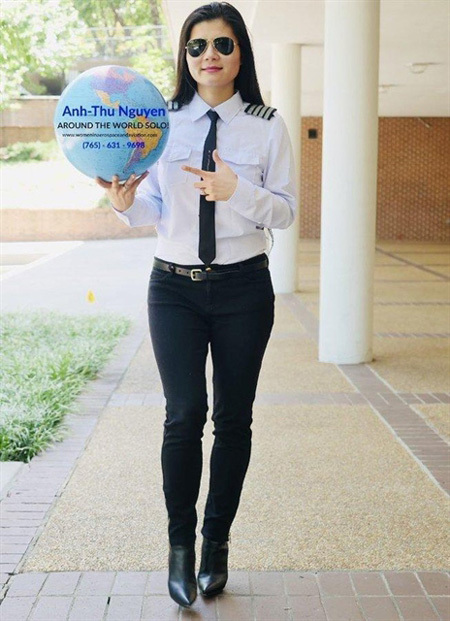 Thu plans to travel solo in a single-engine aeroplane LANCAIR IV-P to 25 countries from May 15 to July 1, 2020, covering approximately 26,800 nautical miles or nearly 50,000km.
 
What challenges will you face flying around the world by yourself?
There are a lot of challenges, sure. Inaccurate weather forecasts or unpredictable weather worldwide is a thing we need to think of. The aeroplane has to be well maintained throughout the journey.
Our challenge now is to find more sponsors to help pay for the flight.
Will Vietnam be one of your stops?
Sure. Vietnam is a must in my route. I want to come back to my beloved native land, Phu Yen.
At each stop in my journey, I would want to meet and interact with girls and women around the world. I hope I can inspire them to believe in themselves, encourage them to dream the impossible even when things are difficult.
I also want to raise visibility and awareness of women in aviation and to promote aerospace education for young girls.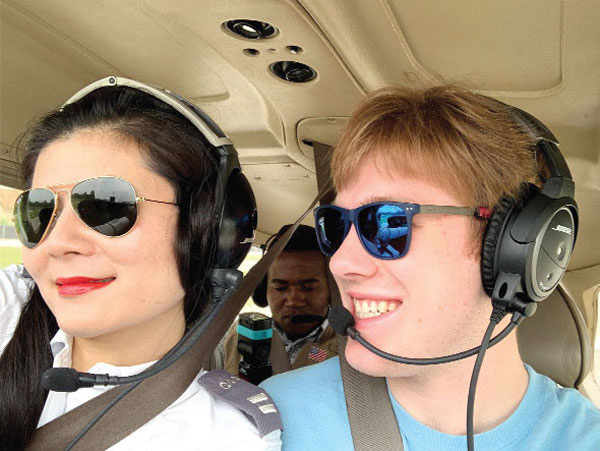 Instructing students is one thing on Thu's busy schedule.
 
Is that why you established the non-profit Women in Aerospace and Aviation foundation?
People have told me I am a source of confusion and a shock to many, including airport security personnel, who on many occasions have denied me entry through the pilot gates. I have been told "We don't open the door to passengers" many times. Disappointing experiences became a motivation for me to create my foundation.
My second inspiration in creating the organisation is that I want to promote education within aerospace and aviation, to inspire the next generation of young girls and women who wish to combat the pilot shortage epidemic.
I hope the number of female pilots will increase considerably in the future instead of only 6 per cent of all pilots in the world as now.
Why did you pursue a career which is full of pressure?
I chose it because I had a deep passion for aviation and aerospace engineering since I was at a very young age. I wanted to go through with my childhood dream to one day fly in the sky, going around the world. And I want to prove that Asian little girls can also become pilots.
What were your feelings on your first flight?
For most of us, the first time is definitely the most memorable.
In the basic course of training, there is a compulsory lesson to take off and land three times. It's a difficult lesson which requires concentration, determination and mastery. I was so nervous when my coursemate passed the test. Bad weather also added to the pressure. For nights before my turn, I was so upset. When I sat in the cockpit on my own and completed the course myself, I was over the moon. As the plane rolled into the parking lot, I hugged my instructor and cried like a baby.
There is a tradition that the instructor pours water on their student upon completion of his or her course, but I was so much happy that I jumped into a swimming pool right after I got out of the plane. It was really an amazing feeling.
So far, I have 10 certifications relating to the pilot career.
Sitting in a plane carrying hundreds of passengers is not only a responsibility but also a source of pride for each pilot.
What has the female pilot life brought to you?
The aviation industry is characterised by landing time, not normal time like other jobs. But I feel happy. I got married and my husband is also a captain. We have a little son and he is also interested in flying.
As a woman and a wife, I know how to manage my schedule to finish my job and take care of my family. I can cook quite well. We used to hold parties for our family members and friends. When we are both on duty, we ask our grandparents to take care of our boy.
As a female captain, I don't want any better treatment than my male colleagues. Thanks to my working environment and my family's support, I feel secure in completing the responsibilities of a female captain.
Do you want to say something to Vietnamese young people, especially young girls, who are interested in your field?
I hope Vietnamese young people, especially young girls, trust themselves, dream big, work hard and are devoted to their passion. By doing this, your dreams could become a reality, surely. VNS

Great pressure is being placed upon the airlines industry's manpower as a consequence of ambitious schemes to expand aviation fleets and open more runways to cater to new airlines.  

Over the past few years, Vietnam's aviation market has been sustaining a two-digit growth rate, while the introduction of new airlines has also put high quality personnel in the industry on high demand.