As an associate professor at a top university in Australia, Hoang Lan Anh says that she was not a typical "dutiful child and excellent student" as valued in Vietnamese culture.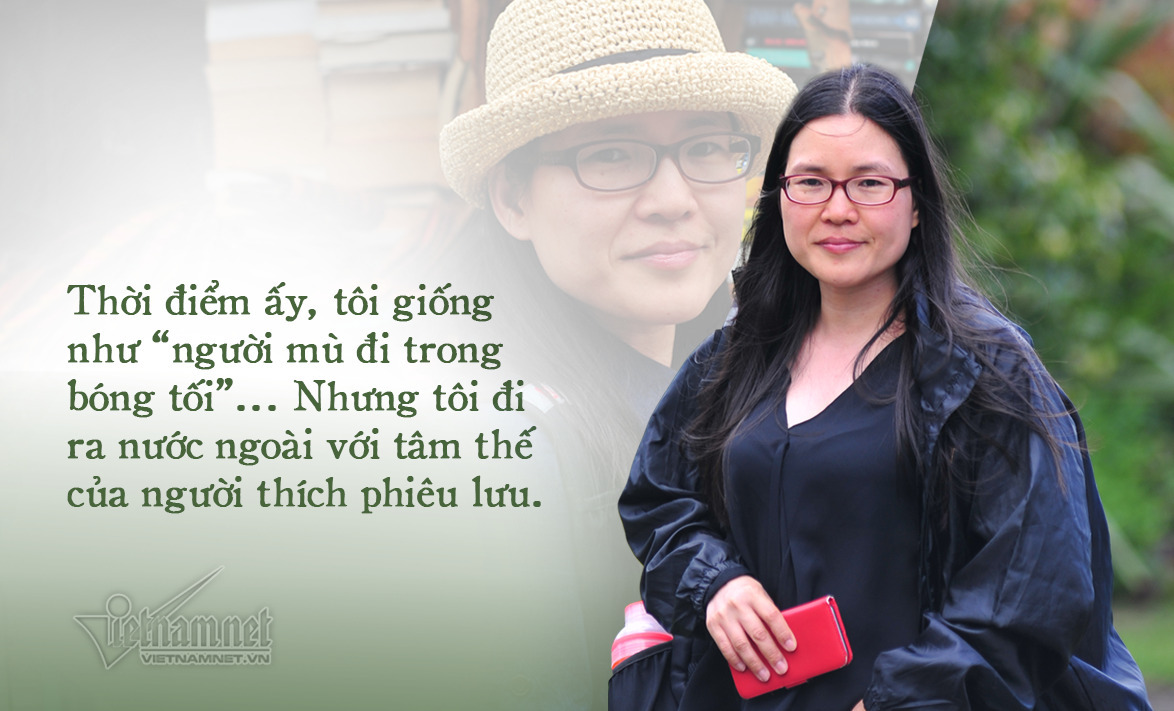 Hoang Lan Anh is writing 'Dung noi loi tu biet'
She said she was mischievous in childhood and once went to see the school's board of management to ask to change a teacher.
Taking advantage of a six-month break, Anh has set to work on her novel called 'Dung noi loi tu biet' (Don't Say Goodbye).
As a person who has lived, studied and worked in four countries for nearly 20 years and an expert in immigration, Anh is always concerned about the expatriate life of Vietnamese people overseas.
"The novel is a 'personal debt' and a part of my memoir on my journey abroad," she said.
"We, the first generation of Vietnamese students studying abroad after doi moi (renovation), encounter many events and breakdowns on a difficult and lonely journey in foreign countries. We live, study and work in civilized and prosperous societies, but also have private 'hidden corners' in our souls that not everyone can understand," she said.
Anh was a major in Russian language at the Thai Binh High School for the Gifted. Later, she studied Russian at the Hanoi University of Education in Foreign Languages. However, at that moment, the Soviet Union disintegrated.
"I realized that I needed to study something rather than foreign languages, because foreign languages are just a 'tool' we use in work," she recalled.
After two years at university, Anh decided to study tourism at the University of Social Sciences and Humanities, thus studying two majors. During her study, she worked as a tour guide for many large tourism firms.
She graduated when Vietnam witnessed the tourism boom in 1999-2000. But she decided to work for an international research project. After two years of working with foreign specialists, she realized that she needed to continue studying.
She got the opportunity to research at East Anglia University after obtaining a Chevening scholarship granted by the UK Ministry of Foreign Affairs.
"At that moment, I was just like a 'person who walked in the dark'. The number of Vietnamese students studying abroad then was very modest and the internet was something very unfamiliar to Vietnamese," she recalled.
She became the valedictorian of her graduate course and received the award for the best thesis. With this great achievement, she was invited to to enter the PhD program designed for international students.
When she heard about the invitation, she was in Vietnam after graduation and had received a desirable job, she recalled. "While civil servants received VND500,000-700,000 a month in monthly salary, I could earn $1,000. I was then trained to become a manager at a very large development organization."
However, she gave up and decided to return to the UK to study for a doctorate. Later, she became a postdoc at the Asian Center for Population and Sustainable Development Analysis at the National University of Singapore.
After two years in Singapore, in 2010, she became a lecturer of research and development at Melbourne University in Australia.
Working for the No 1 university in Australia in 2021 THE's ranking, she said she has more time for research. "Forty percent of my time is reserved for scientific research, 40 percent is for lecturing, and 20 percent for management," she said.
Anh is now a well-known expert in the world on Vietnam's immigration. She has published three books and tens of chapters and articles in the world's leading journals. Her research works have had 1,189 citations, a very impressive figure for social sciences.
In 2020, her book about Vietnamese people in Russia was published, showing how Vietnamese struggle to survive in the Russian market.
Anh also successfully asked for funding from the Australian Ministry of Foreign Affairs to develop a project on compiling a textbook on sex education for secondary school students in Vietnam.
In fact, this is not a new issue and there have been some projects in the field. But Vietnam is among the countries with a high rate of abortion among adolescents because of their limited knowledge.

Hoang Lan Anh is now a well-known expert in the world on Vietnam's immigration. She has published three books and tens of chapters and articles in the world's leading journals. Her research works have had 1,189 citations, a very impressive figure for social sciences.
Recent surveys found a high proportion of 12th grade graduates have sex. However, many children still do not understand basic knowledge about sex and reproduction.
Students should not study abroad at any cost
According to Anh, many parents try to send their children abroad at any cost but are not aware of the "other side of the coin" .
"I know many students go abroad when they enter high school and many of them have to stop halfway. They cannot stand the lonely and high-pressure life in a foreign country with no parents and relatives next to them," she said.
Anh knows many students who are excellent students, or valedictorians in Vietnam, but have hard lives overseas and cannot find jobs commensurate with their qualifications.
Anh believes that parents should only send children abroad if their children can be independent and live in a demanding educational and working environment. 
Thuy Nga - Phuong Thu

Tran Nguyen Kim Thi is a postdoc majoring in AI usage in medicine at the Huge Kaul Precision Medicine Institute at the University of Alabama in Birmingham (UAB) in the US.

Nguyen Thi Lan Huong, 43, resigned from her post as a dean to which she was appointed at aged 27 to begin a new path of research about tertiary education.