In 2020, Masan took over the tungsten division of H.C. Starck Tungsten, the world's leading manufacturer with thermal resistance technology, as part of its plan to become a leading high-tech industrial material manufacturer.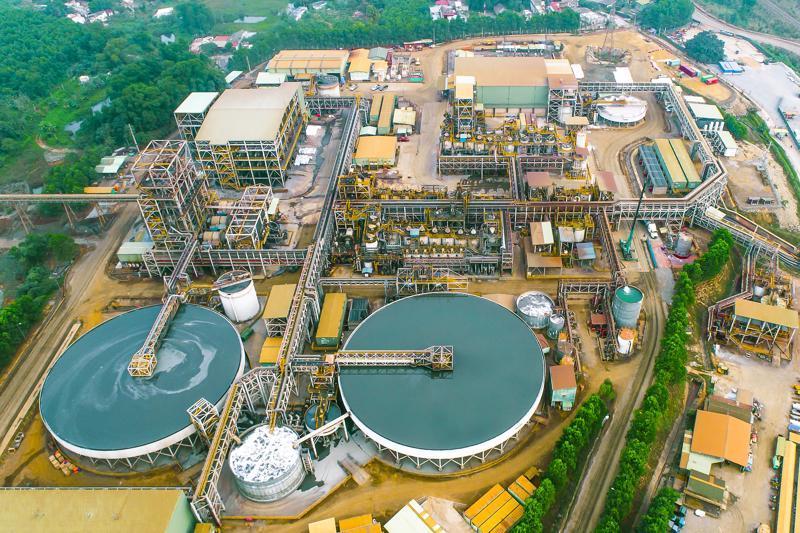 In 2020, Masan took over the tungsten division of H.C. Starck Tungsten
The Vietnamese name is now among the top manufacturers of tungsten products for important industries such as mechanical engineering, mining, automobile, energy, aviation and chemicals.
An M&A (merger and acquisition) was also what Vingroup did to pave the way to enter the manufacturing industry. To make Vsmart phones, VIngroup acquired 51 percent of shares of Spanish BQ smartphone manufacturer. The takeover allows VSmart to exploit the capability of European experts for the R&D process, as well as utilize advanced technologies.
To increase automobile manufacturing capability, VinFast, a subsidiary of Vingroup, took over Lang Lang car testing center in Australia, covering an area of 900 hectares. In 2020, VinFast set up a car R&D (research and development) center in Melbourne, Australia.
Meanwhile, a large Vietnamese corporation has taken over a battery manufacturer which has the latest technology on increasing battery storage capacity. The move will help solve the problem of storing electricity fuel for the automobile generations using electricity engine, which is a key part of the corporation's strategy on conquering the world market.
In 2014, FPT, the Vietnamese largest information technology (IT) group, took over RWE IT Slovakia, belonging to the Europe's leading technology group RWE.
RWE IT Slovakia has experts with experience in SAP (Statutory Accounting Principles) solutions. It has an advantage is providing IT services, especially solutions on business resource management and Smart Home solution that FPT is striving for.
Analysts believe that Vinamilk, the nation's largest dairy producer, pioneered the acquisition of foreign companies. Ten years ago, the nation's leading dairy producer, spent $10 million to acquire Driftwood, a US-based milk plant. After several years of restructuring, the plant with a long history now helps Vinamilk make a profit of $100 million.
Driftwood also serves as a jumping board for Vinamilk to offer its dairy products made in Vietnam in the US market.
In addition to the production facility in the US, Vinamilk also holds a stake in Miraka plant in New Zealand. The investment not only brings dividends to Vinamilk, but also brings a stable supply source of powder milk.
Also, Vinamilk can get revenue from stable material sources and from plants and organic cow farms in Cambodia and Laos.
Pham Dinh Nguyen, a Vietnamese businessman, became well known in the world in 2012 when he spent $1 million to buy a small town, Buford. After becoming the mayor of the smallest town in the US, Nguyen set up PhinDeli, a coffee company and renamed the town PhinDeli in a plan to introduce Vietnamese coffee prepared with filter to American consumers.
Ambitious plans
H.C. Starck, with 105 patents, is the leading manufacturer of hi-tech tungsten products with production complexes in Europe, North America and China. With a stable supply of APT at low prices and H.C. Starck's refining capacity, Masan is believed to have global competitiveness.
With the takeover deal, Masan has the ambitious plan of expanding its market by 3.5 times, from $1.3 billion to $4.6 billion.
For Vinamilk, after the first M&A deal, the enterprise continues to make a series of other deals, considering M&A as a quick step to expand production scale and develop its brand in the international market. Vietnam's dairy products are now available in choosy markets such as the US, and the most populous market of China.
For FPT, after the M&A deal, RWE became the largest client of the IT group in the European market with the contracts valued multi-millions of dollars within five years. This is considered the jumping board for the group's globalization strategy implementation.
Analysts said previously, in M&A deals, the buyers were always foreign investors. But more Vietnamese buyers have appeared in recent years.
In general, Vietnamese investors target two major groups of clients – those who have advanced technologies and those who can help them expand markets quickly.
Vietnamese corporations tend to eye foreign companies because they have become powerful enough for M&A deals. They also want to seek new development space once the competition in the domestic market gets stiff.
Analysts say that acquiring international corporations is the way that enterprises of many countries, especially China, have been pursuing to scale up their production and have been succeeding. Acquisition deals in the last decade have helped China jump into a high position in the hi-technology field with 'Made in China 2025' strategy.
However, Vietnam has also witnessed strategic failures of some large corporations, including Yeah1's takeover of the US ScaleLab LLC, projects of PetroVietnam and Thu Duc House. 
M. Ha

Several of Vietnam's key export sectors have become magnets for merger and acquisition (M&As) activities, posing a risk of leading enterprises in those sectors being purchased by foreign investors.

Hoa Phat Stee Group of billionaire Tran Dinh Long has entered the world's top 15 corporations in terms of market capitalization.