In mid-June, Vietnam's litchis officially hit the supermarket shelves in Japan, priced at VND500,000 per kilogram and selling out after several hours.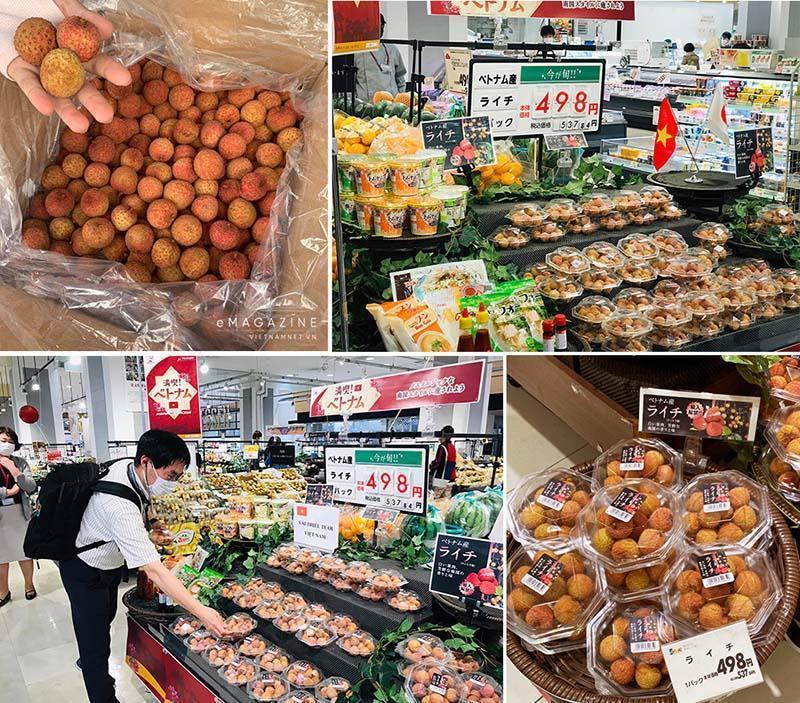 Vietnamese growers and exporters spent five years making every effort to conquer the choosy market. This affirms the high quality of Vietnam's litchis in the world market.
The Vietnamese specialty is 30 countries and territories, bringing turnover of VND7 trillion to litchi growers in Bac Giang and Hai Duong.
In mid-December in 2019, the Plant Protection Department (PPD) under MARD announced that it had received a letter from the Japanese Ministry of Agriculture, Forestry and Fisheries (MAFF) about Japan's decision to officially open its market to Vietnamese litchis.
The decision took effect on December 15, 2019.
Vietnamese litchis had to satisfy a series of strict phytosanitary requirements. The litchis must be grown in gardens examined, supervised and granted codes by PPD and must meet the requirements on food safety set by Japan.
The batches of exports must be packed and disinfected with Methyl Bromide, recognized by PPD and MAFF, with a minimum dose of 32g/m3 within two hours, under the supervision of food quarantine officers of the two parties. Exporters have to show phytosanitary certificates issued by PPD for batches of exports.
It took PPS and MAFF five years to get the nod to enter the Japanese market, from the day of sitting at the negotiating table, making theoretical calculations, and building experimental methods, to preparing materials and equipment for experiments and sending specialists to check.
Le Son Ha from PPD said while the other choosy markets of the US and Australia only required litchis to be radiated, Japan requires the litchi to be treated with sauna disinfection.
"It took us more than two years to carry out experiments and prepare sauna and disinfection facilities to get approval by the Japanese side," Ha said.
He went on to say that this was a breakthrough made by Vietnam. The success will pave the way for other kinds of fruits as well to enter choosy markets, including South Korea and Japan, which do not accept radiation and only allow sauna disinfection.
After approval by the Japanese side, PPD had working sessions with Hai Duong and Bac Giang, the two biggest litchi growing areas in the country, to prepare the first batches of litchis to be shipped to Japan, connect litchi exporters, and give guidance to localities and enterprises about the cultivation, care, quarantine and packing under Japanese standards.
Nguyen Quang Hieu from PPD said in order to help the exports go smoothly, in February 2020, Vietnam at the same time built three first commercial sauna disinfection facilities at Post-import Center No 1 in Hanoi, Toan Cau Company's factory in Bac Giang and Hung Viet Company's factory in Hai Duong.
Bac Giang and Hai Duong began forming litchi growing areas to meet standards for export to Japan.
Bac Giang's agriculture department reported that there were 19 growing area codes in the province with a total area of 103 hectares allowed to be exported to Japan. There were eight in Thanh Ha District of Hai Duong.
Last-minute developments

In mid-June, Vietnam's litchis officially hit the supermarket shelves in Japan, priced at VND500,000 per kilogram and selling out after several hours.
Everything was going smoothly until one day in early May, when farmers were about to harvest litchis. The Ministry of Industry and Trade (MOIT) then sent a dispatch to Hai Duong and Bac Giang agriculture departments, informing them that MAFF could not send specialists to Vietnam to inspect the disinfection systems because of the Covid-19 pandemic.
At that moment, farmers and exporters thought that exporting litchis to Japan was impossible.
To settle the problem, MOIT then sent a dispatch to the Vietnamese Ambassador to Japan, asking him to work with MAFF and persuade Japanese agencies to seek alternative solutions.
Vietnam then suggested authorizing independent inspection institutions in Vietnam to supervise the disinfection, or cooperate with MARD to carry out inspections from a distance.
The Minister of Industry and Trade of Vietnam sent a letter to the Minister of Economy, Trade and Industry of Japan, proposing that MAFF consider special and creative measures in the context of the Covid-19 epidemic to remove difficulties and facilitate Vietnam's litchi exports to Japan.
Meanwhile, PPD had online meetings with the Japanese side to discuss possible measures to ensure that Vietnam's litchis can be exported to Japan as initially planned.
After the great negotiation efforts, on June 3, Japanese specialists arrived in Vietnam. After the requested quarantine time, on June 17, they began supervising the litchi disinfection.
"On the first working day, a list of items for inspection was shown. Japanese specialists examined everything very carefully and then concluded that this was a good treatment line which went beyond Japan's expectations in technical indicators," Nguyen Manh Hieu from the Vietnam Institute of Agricultural Engineering and Post-harvesting Technology recalled.
As such, Vietnam finally solved the problem arising in 'the 89th minute'. On June 19, the first two batches of litchis left for Japan, officially clearing the way to the choosy market.
Present in 30 countries, favored in Japan
Vietnam's litchis appeared on supermarket shelves on June 21, packed in small boxes of 200 grams and sold at a promotional price of 489 yen (the original price is 537 yen), or VND100,000 per box, or VND500,000 per kilogram.
On the first day of sale, the batch of two tons of fresh litchis, carried to Japan by air, sold out m within several hours. The litchis am were praised by Japanese consumers.
Vietnamese exporters have intensified deliveries of litchis to Japan by sea.
In Nam Duong Commune in Luc Ngan District, Bac Giang province, the litchi area meeting standards for Japan, farmer Tran Van Lan said the 2020 litchi crop was a 'turning point' for his family.
"The entire 3 hectare litchi garden is cultivated in accordance with Japanese standards. Specialists come directly to the garden to inspect and assess," he said.
"Businesspeople began coming one week ago to collect litchis at VND30,000 per kilogram," Lan said.
The farmer sells 1.5-2 tons of litchis a day to businesses. He has had a bountiful crop this year and the products have high quality. With the current selling prices and the output of 40-45 tons, he expects a profit of VND1 billion.
According to the Bac Giang agriculture department, enterprises have collected 12 tons more for export to Japan by sea. It is expected that 200 tons of fresh litchis will be bought in Japan this crop. 
Tam An

Hai Duong's first farm produce, including cabbage and chicken eggs, are being sold on voso.vn, an e-commerce website, while an online stall distributing Hai Duong's produce has been set up.

An eel farm of an older man brings turnover of nearly VND10 billion a year, and 99 percent orders are online. Another farmer sold 26 tons of rambutan by contract after putting goods on online sale.