Minister of Information and Communications Nguyen Manh Hung said that the digital age is coming and it will fundamentally change our lives. VietNamNet should be a newspaper that applies the most of the new technology.
On the occasion of VietNamNet's launch of a special column, VietNamNet Premium, we would like to introduce to readers the full text of Minister Nguyen Manh Hung's speech at VietNamNet's 21st anniversary: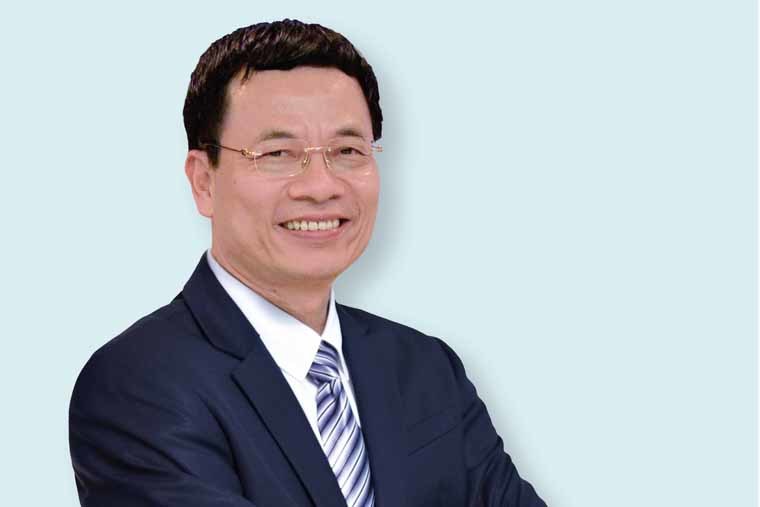 Minister of Information and Communications Nguyen Manh Hung
VietNamNet is the only news agency of the Ministry of Information and Communications, which is in charge of state management in the field of journalism.
VietNamNet is a major online newspaper with over 2 million people reading it every day. Born very early, VietNamNet has overcome challenges in 21 years and has asserted itself. Now it is the time to rise.
The press must show the mainstream of society, and create consensus, social beliefs and aspirations for a mighty Vietnam. VietNamNet must be at the forefront of this mission. The launch of "Industrial Revolution 4.0" and "For a Mighty Vietnam" columns is the first step in this direction.
VietNamNet is a newspaper from a ministry about technology - digital technology, ICT technology. The digital age is coming and it will fundamentally change our lives.
VietNamNet has a great opportunity to take the lead in technology, digital technology, 4.0 technology. Technology helps us not to repeat things; technology helps us evaluate the reader's response; technology helps an article reach the right people. Technology helps us to solve the problems of newspapers. VietNamNet should be the newspaper applying the most technology. The best way to popularize the Industrial Revolution 4.0 is to apply these technologies to journalism. The Ministry of Information and Communications will help VietNamNet in terms of technology.
Your newspaper has to balance revenues and expenditures, and pay salaries based on the market rule to attract talented people. Your operational processes need to free labor, be able to manage risks, focus on human resource training, and build team culture. All of these things require good, modern governance. A well-designed organization, with good governance tools, has 70-80% of conditions to reach success. VietNamNet needs to have a modern and effective management system. You can and should hire a professional consultant to help you in this regard.
An excellent organization must first have an excellent team of leaders, with the nucleus at its head. Raising new and difficult tasks, setting high goals and high demands on work results to aim at excellence; mobilizing sufficient resources to achieve the goal, being the pioneer in doing hard work, being an example for everyone to follow, being fair and straightforward to create trust for everyone in the organization - those are the qualities that the head should have. It is not an easy task to be the head. Only those with qualified quality should stand there. VietNamNet's Editor-in-Chief and Editorial Board must be properly and fully aware of their mission to VietNamNet.
Among thousands of printed newspapers, electronic newspapers, magazines and news sites, VietNamNet must determine its difference. If there is no difference, VietnamNet will not be seen, and VietNamNet itself will not know what it is, will not have a clear direction, and will not have like-minded people. That difference probably already exists in VietNamNet, or just needs a little more. VietNamNet must build its own differences to go ahead, move towards the goal of being a newspaper with the most readers.
A large, excellent newspaper cannot help but have excellent, quality and classy columns; it is impossible not to have excellent, qualified reporters; it can't be without important articles that can change the reader's perceptions. Without such columns, reporters and articles, VietNamNet would be a dull, lifeless newspaper.
Vietnamese read more news than books. And so, the press influences the perceptions of Vietnamese people a lot. So, the importance of journalism in Vietnam is great compared to other countries. Therefore, the sense of responsibility of Vietnamese journalists is even higher. VietNamNet reporters must see this responsibility in order not to be comfortable with their articles. And you must also feel proud and noble because you have a lofty mission to influence the perception of hundreds of millions of people.
I highly appreciate your inclusion of social work and charity in your development plans. If the project to call for donations to build 500 houses a year for the poor is successful, it will bring great prestige to VietNamNet, showing the responsibility of your newspaper to society and spreading good things in society.
VietNamNet is a second home to several hundred people. They come here not only to work but also to live, to develop themselves, to contribute to the country. The Editorial Board must build a VietNamNet house for each employee to maximize their ability and be happy in that house. The newspaper leaders must take care of VietNamNet as they would take care of their family. Only that way can make your employees work wholeheartedly for the sake of the newspaper and the country.
Minister of Information and Communications Nguyen Manh Hung

With the desire to serve more diverse needs for information among readers, VietNamNet would like to introduce a new column – VietNamNet Premium.