A number of famous doctors have recently had to pay a heavy price for their breaking of the Hippocratic Oath, which they recited at their medical school graduation ceremonies.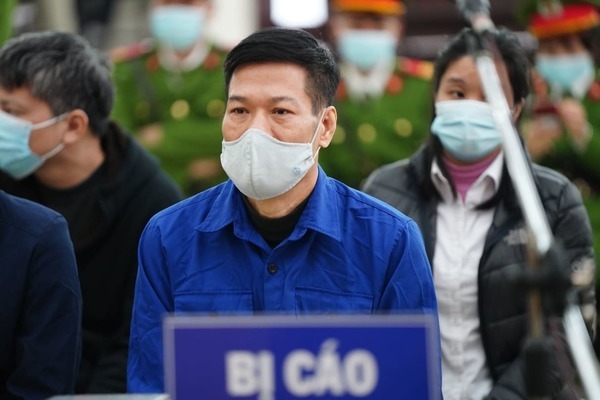 Defendant Nguyen Nhat Cam
In April 2020, when the first Covid-19 wave was in its peak with many clusters found in localities, Nguyen Nhat Cam, Director of CDC (Centers for Disease Control and Prevention) Hanoi, was arrested for "violations of regulations on bidding which caused serious consequences".
Before the arrest, the former CDC Hanoi director was well known as Associate Prof and Doctor of Medicine, dedicated to the profession, making great contributions to Hanoi's healthcare sector and the country's preventive medicine.
Investigators found that Cam met Nguyen Ngoc Nhat, a former officer of Vitech, at his office to discuss the procurement of the Realtime PCR system.
Nhat stated at the investigation agency that he knew Cam since 2018. After the 2020 Tet holiday, Cam called Nhat to ask about the system manufactured by Qiagen (Germany) that CDC Quang Ninh was using.
The two sides came to an agreement that Nhat would sell the system to CDC Hanoi at the price of VND7 billion and Cam would receive a commission equal to 15 percent of profit.
In mid-March 2020, violations in the Realtime PCR system procurement implemented by CDC Hanoi were found, which caused a loss of VND5.4 billion.
In another case, in April, the investigation agency completed its probe and requested prosecution against former Director of Bach Mai Hospital Nguyen Quoc Anh and Chair and Director of BMS Medical Technology JSC Pham Duc Tuan, and accomplices.
Before the arrest, Associate Prof Dr Nguyen Quoc Anh was appointed Director of Bach Mai Hospital in 2009. He was awarded a number of prestigious titles, including Meritorious Doctor and People's Doctor.
Tuan was the legal representative and Chairman of BMS Company who administered and regulated all operations.
Anh and Tuan came to an agreement that BMS would install the Rosa robot system at Bach Mai Hospital, where Anh was director.
Tuan admitted that the total value of the Rosa robot system, plus transportation and installation cost, was only VND7.4 billion, but they had declared on documents that the system was worth VND39 billion.
Bach Mai Hospital then agreed to incorrectly pay VND23 million in equipment depreciation for every disease case. With 551 cases, Tuan and MBS pocketed VND9.1 billion.
At the investigation agency, Tuan declared that from May 2016 to the end of 2019, he gave VND400 million and $10,000 to Anh in total.
Officials commit wrongdoings
In October 2019, HCM City People's Court sentenced Nguyen Minh Hung, former Chairman and General Director of VN Pharma, to a 17-year prison sentence for trading in counterfeit medicinal drugs.
The investigation agency found that Truong Quoc Cuong, Deputy Minister of Health, got involved in the case. He was charged with lacking responsibility and causing serious consequences.
In 2007-2008, Cuong was the Head of the Drug Administration under the Ministry of Health.
He lacked responsibility in examining, approving and issuing registration numbers to seven counterfeit medicines labeled Health 2000 Canada; and lacked supervision, inspection and control over the activities of the drug inspection specialists and the standing department for drug registration.
After the above seven drugs were imported into Vietnam, Hung and the defendants in the case sold the drugs for VND151 billion.
Cuong had received a report about the ambiguous origin of the products but did not give instructions to stop the circulation of the drugs and recall the products for destruction.
Cuong's mistake caused many patients to use counterfeit drugs, causing a loss of VND50.6 billion.
Nguyen Nhat Cam, Nguyen Quoc Anh and Truong Quoc Cuong all have broken the Hippocratic Oath: "I will use those regimens which will benefit my patients according to my greatest ability and judgment, and I will do no harm or injustice to them."
Cam has been sentenced to 10-year in prison.
The investigation agency has decided to prosecute Cuong on a charge of 'lacking responsibilities, causing serious consequences' in accordance with Article 360 of the 2015 Penal Code. The highest sanction is a 12-year imprisonment term.
Anh has been prosecuted for abusing his position and power while performing his official duties under Article 356 of the Penal Code 2015 (amended and supplemented in 2017), under which the highest sanction is up to 15 years in prison. 
T. Nhung

Top-ranking General To Lam, Minister of Public Security, authorized by the Prime Minister, has signed a report to the National Assembly on work to prevent and fight crime and legal violations in 2021 (from October 1, 2020 to September 30, 2021).

A number of violations by medical staff have been found recently, and many medical doctors, who have the respect of society because they save peoples' lives, have been handcuffed.