"We are confident that we can control the Covid outbreak, so we have not imposed a lockdown on the entire province," said Bac Giang Chair Le Anh Duong.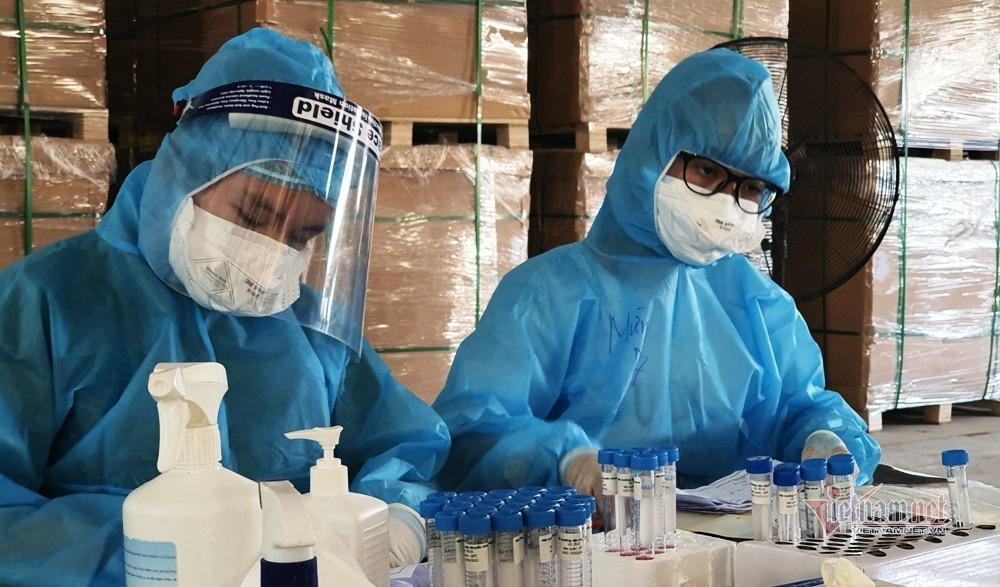 When the outbreak in Bac Giang reached its peak, you asked Quang Ninh to send medical workers to the province to help fight the pandemic. Was Bac Giang 'afraid' of public opinion?
On May 14, the pandemic broke out in Quang Chau IZ with the complicated hotbed Hosiden. We found that the situation was very serious, which was beyond the province's capability.
After asking for Deputy PM Vu Duc Dam's opinion, we decided to ask Quang Ninh to send its elite force to help us fight the pandemic.
On the same day, Quang Ninh sent 200 medical workers from the Vietnam-Sweden Friendship Hospital. These are elite frontline doctors, with a lot of experience from pandemic fighting campaigns.
Hai Duong, Yen Bai and Thai Nguyen also sent volunteers to Bac Giang to help us.
Now, looking back at the decision, I still find it a right and wise decision. To date, the reinforced doctors still serve the major force in tracing infections and taking samples for testing.
Multi-purposes targeted
Were you personally afraid of possible negative public opinion about the Covid fighting capability?
At that moment, fighting the pandemic must be a top priority, above the ego. The optimal task then was obtaining resources as soon as possible to stamp out the pandemic. The 'resources' here are human resources and experience of many localities.
The Quang Ninh provincial Party Committee Secretary shared a lot of lessons and experience with us. The benefits of the whole province must be put above my ego. I thought so and I did so.
At some moments, Bac Giang was nearly going to announce the lockdown for the entire province. Why wasn't the decision released?
In fact, this was just a suggestion by some people. However, Bac Giang was confident that it could control the outbreak, so it did not decide to impose lockdown.
First, when considering the situation, we believed that Covid only broke out in IZs and spread to workers' residential quarters, while there was a low possibility of spreading into the community. We could see the path of the virus and knew where it would go.
Second, we have to fight the pandemic while ensuring the implementation of other tasks. If we had announced a lockdown, this would have meant declaring death to the litchi growing area, which was about to harvest.
We not only have a VND7 trillion litchi growing area, but also have 17 million fowl that need to be sold, and more than 1 million pigs which cannot be kept in farms forever. And we have pineapple, watermelon, vegetables and fruits. If we had imposed lockdown, the VND7 trillion litchi growing area would have been lost.

"We are confident that we can control the Covid outbreak, so we have not imposed a lockdown on the entire province," 
Le Anh Duong, Chair of Bac Giang People's Committee
Our decision on not imposing lockdown has helped protect the litchi growing areas of Tan Yen and Luc Ngan amid the pandemic. As of June 9, we had sold 70,000 tons of litchis, including 50,000 tons of early litchis. The litchi price was still the same as 2020. Around 35 percent of litchis was exported, while 65 percent was consumed domestically.
As such, Bac Giang both can fight the pandemic and protect farmers' benefits. If we had only set one target of fighting the pandemic and making light of other tasks, we might have stamped out the pandemic more quickly, but socio-economic consequences will last a long time, and the people's confidence in the Party and government would have been shaken.
Gathering forces for recovery
Bac Giang is entering a new period of launching a 'general offensive' to extinguish the pandemic. Which new solutions will you have?
The 'general offensive' of Bac Giang has the time limit of 14 days. We will basically control the outbreak after June 21. This is a big political commitment and a goal which is not easy to reach. We have some solutions.
First, as the outbreak has shrunk to Viet Yen IZ, we will deal with it this way:
The areas where many workers stay will be locked so that it cannot be spread to the community, while all workers in the areas will leave the areas for concentrated quarantine places.
As for the other hamlets, which are less risky, we will organize regular testing, once every two days. Those workers who are really safe (who have 5-6 negative results, live in safe places and don't contact F0) will be certified as meeting requirements to go to work. Quarantine areas will be applied in production facilities to reduce the worker density in residential quarters.
As such, we will localize the pandemic step by step, from hamlet to every alley, and from every alley to every house.
Second, we will carry out community screening of the entire Viet Yen District and 'delicate' areas in other districts to ensure safety. If we find hotbeds, we will able to stamp them out immediately, with no 'little fires' left in the community.
Third, we attack the outbreak in concentrated quarantine zones. The pandemic is now mostly seen in the zones. We will conduct classification and screening.
Fourth, re-organizing production in IZs. The production must be safe and workers must 'clean' (i.e screened many times, tightly controlled, avoid social communications and quarantined in production facilities so that they can have income).
Regarding social security, we will design a new boarding model for workers.
Previously, one guesthouse had workers from many different companies and workers rented rooms directly from landlords. But from now on, landlords with signed contracts with companies, and each guesthouse will become a 'dormitory' for one company. One guesthouse will serve one company. This will help ease pressure on the government.
We are also accelerating vaccinations. We have asked the Government to provide more vaccines.
Social distancing will be lifted in areas which have become safe and the new normal will be restored. Meanwhile, control will be tightened in three districts of Viet Yen, Hiep Hoa and Yen Dung.
We are building concentrated collection centers with 1,800 beds. You may ask why we want to build such centers to treat Covid-19, if the outbreak is nearly over.
But we will accelerate the project. All Covid-19 patients will be gathered there so that medical centers in districts can operate well. People have abstained from having medical examinations for a long time. 
Kien Trung

Bac Giang province has been gathering strength to fight the Covid-19 outbreak for one month, vowing to stamp out the outbreak by the end of June.

The northern province of Bac Giang, Vietnam's ongoing Covid-19 epicentre, plans for workers from other localities to return to their hometowns to help mitigate Covid-19 infections.