While the movement of reducing administrative procedures and simplifying business conditions in 2018 was described as a 'big wave', the activities were just 'small ripples' in 2019.
In an effort to continue business environment reform, in early 2019, the Government issued Decree 02 requesting ministries and branches to do three major things.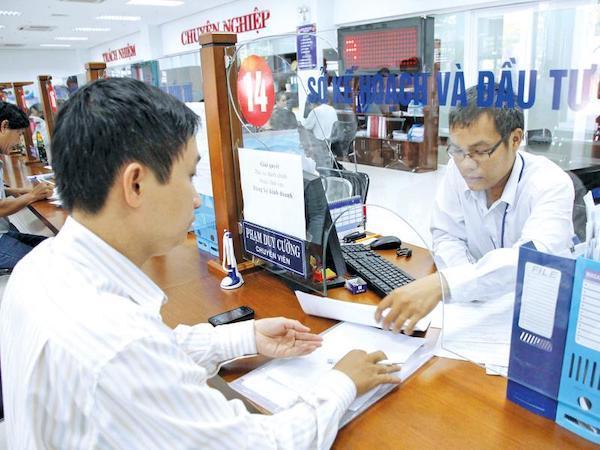 First, continue reviewing and submitting to the Government plans to abolish and simplify unclear, non-specific and unfeasible business conditions before the third quarter of 2019;
Second, accelerate the drafting of the law on amending related laws and submit the draft to the Government, so that the Government submits to the National Assembly for removal and simplification of business conditions prescribed in specialized laws;
Third, fully disclose the business conditions abolished and simplified in 2018.
This shows the strong determination to put Vietnam's business environment and competitiveness into the ASEAN 4 group. To reach that goal, ministries and branches will have to undertake a huge workload.
The Vietnam Chamber of Commerce and Industry's (VCCI) report 'Dong chay phap luat kinh doanh Vietnam 2019' (Vietnam business laws 2019) released on December 26, 2019 showed that the number of legal documents issued in 2019 was lower than the previous years.
By the end of November 2019, only 267 circulars had been released, much lower than 500-800 of the years before. Meanwhile, only 91 decrees had been promulgated, lower than the 155 decrees in 2018 and 125 decrees in the first 11 months of 2017.

While the movement of reducing administrative procedures and simplifying business conditions in 2018 was described as a 'big wave', the activities were just 'small ripples' in 2019.
 However, VCCI found that the efforts to reduce business conditions were modest. As of mid-November 2019, VCCI only received two requests from two ministries (Ministry of Industry and Trade - MOIT and Ministry of Health - MOH) to offer suggestions to the draft decrees on amending and supplementing some provisions of the legal documents related to business and investment conditions.
Meanwhile, according to the Ministry of Planning and Investment (MPI), two ministries, including MOIT and Ministry of Agriculture and Rural Development (MARD), have plans to remove and simplify business conditions as per the request of Resolution No 02 in 2019.
"The activities of reducing and simplifying business conditions this year seem to be quiet," commented VCCI chair Vu Tien Loc.
"After a year of positive and innovative movements, it seems that the enthusiasm of some ministries has decreased significantly, or the ministries may find it impossible to simplify business conditions," he said.
Loc went on to say that while the movement of cutting administration procedures and simplifying business conditions in 2018 was described as a 'big wave', the activities were just m 'small ripples' in 2019.
According to VCCI, after taking the moves of reviewing and cutting business conditions in 2018, some management agencies may think that
1/ business conditions have become perfect and it is impossible to cut business conditions further.
2/ they need time to assess the effectiveness of the cutting before they continue reviewing for the next simplification campaigns.
3/ space for reform is limited by the provisions of the laws.
However, VCCI said the business community believes that there is still much space for cutting and simplifying business conditions.
The World Bank's Doing Business 2020 Report shows that though Vietnam's business environment increased by 1.2 points from 68.6 to 69.8 points, it fell one grade in general ranking, from 69th to 70th.
This shows that Vietnam's reforms and improvement in business environment have slowed down, while other regional countries have been speeding up.
Meanwhile, there are still big problems in the legal system on business, which are the inconsistency and overlapping of legal documents in covering investment and business activities.
Under the laws, investors have to go through many stages from the very beginning to the implementation of investment and business activities. And in each stage, they have to follow many procedures stipulated in many different legal documents.
Projects in the real estate sector, for example, are covered by the Investment Law, Environment Protection Law, Construction Law, Land Law, Housing Law, Real Estate Business Law, Urban Development Planning Law, Bidding Law and the Law on Fire Prevention and Fighting.
Meanwhile, the requirements stipulated in legal documents are inconsistent, which confuses investors as they don't know which procedures they have to follow first or if they have to follow the procedures.
The inconsistency in legal documents prolongs the project implementation process and implementation, thus increasing the implementation costs, time and risks for enterprises, and causing an unfavorable business environment.
A real estate developer said some projects have to wait 3-5 years to get approval, while the process should take one month only.
According to VCCI, state management agencies are confused about the inconsistency in legal documents. If they apply the provisions flexibly to create favorable conditions for businesses, they will violate the laws. If not, the procedures will become very complicated.
Many local enforcement agencies are facing pressure from administrative procedure reform, but they feel powerless because of the inconsistency of legal documents.
Nguyen Dinh Cung, former head of the Central Institute of Economic Management (CIEM), thinks that it is necessary to limit the power of ministries and branches to issue circulars and then amend the circulars at any time.
He suggested setting up a task force in charge of reducing business conditions, comprising experts and businesspeople, and a taskforce operating under the lead of at least one Deputy PM. 
Lan Anh

Institutional reforms will continue to be the major growth driver in 2020 and beyond, while a focus would be placed on removing barriers and connecting firms to establish value chains, VCCI Chairman Vu Tien Loc said.

Implementing institutional reform is a crucial and challenging task of the National Assembly, especially in the context of the country's rapid development and deeper economic integration, according to NA Chairwoman Nguyen Thi Kim Ngan.