The pandemic and uncertainties have put pressure on the global economy. However, Vietnam, though facing many risks, is expected to continue growing well.
Vietnam among fastest growing economies
The Asian Development Bank's (ADB) Asian Development Outlook 2020 predicts that Vietnam's economy will grow by 2.3 percent in 2020, higher than the predicted 1.8 percent last September.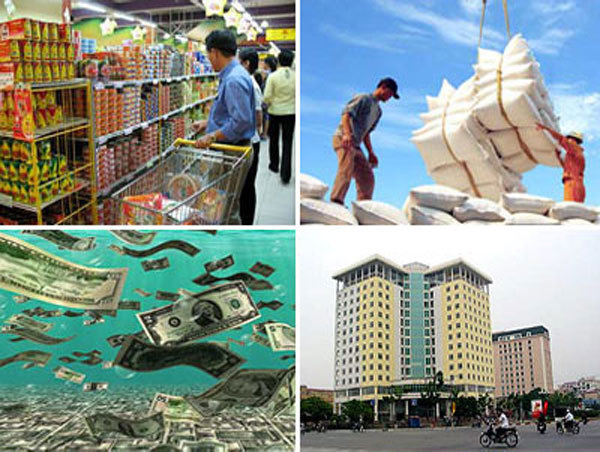 As such, ADB has predicted a brighter outlook for Vietnam. The medium and long-term outlooks remain unchanged. The major reasons are that Vietnam can control the pandemic and is a member of many free trade agreements. It is now an economy with high openness.
According to ADB, the fact that Vietnam's GDP growth rates increased from 0.36 percent in Q2 to 2.6 percent in Q3 has helped the economy grow by 2.1 percent in the first three quarters. This is the factor behind ADB's forecast that Vietnam's GDP growth rate would be 2.3 percent in the year 2020.
Vietnam's has seen positive and relatively high GDP growth rate amid Covid-19 thanks to the accelerated public investments, recovered domestic consumption and increased trade, especially trade with China.
ADB has predicted 6.1 percent growth rate for Vietnam in 2021.
In a similar move, IMF last month also lifted the predicted GDP growth rate in 2020 from 1.6 percent to 2.4 percent. If this happens, Vietnam would be among the fastest growing economies.
The institution has predicted a 6.4 percent growth rate for 2021 and the inflation rate close to the government's target of 4 percent.
Standard Chartered has predicted higher growth rates, 3 percent for 2020 and 7.8 percent for 2021, to be obtained thanks to the increase in household consumption and manufacturing sector growth.

Standard Chartered has predicted higher growth rates, 3 percent for 2020 and 7.8 percent for 2021, to be obtained thanks to the increase in household consumption and manufacturing sector growth.
In a report released in mid-2020, Can Van Luc, chief economist of BIDV, and his research team predicted that Vietnam's economy would witness a V-shape recovery from the bottom in Q2, recover growth momentum in Q3, and obtain relatively high growth rate in 2021. He predicted t'a 6.5-7 percent GDP growth rate for the next year.
In late October, the Vietnam Institute for Economic & Policy Research (VEPR) forecasted a 2.8 percent GDP growth rate for 2020.
Most domestic and international institutions predicted a positive growth rates of 2.5-3 percent for Vietnam for this tough 2020 year.
Difficulties still ahead
Though having recovered in an impressive way thanks to macroeconomic stability and control over the pandemic, Vietnam's economy is still facing high risks.
As the global economy is still bogged down in recession because of the pandemic, Vietnam will bear a negative impact.
In its latest report, ADB warned that Asia is still facing uncertainties, including coronavirus recurrence, the slow global economic recovery, trade tensions and difficulties of the business community. These may lead to a shutdown of many businesses and to tensions in the labor market and the banking sector.
The world has made progress in creating vaccines against coronavirus. After the UK, the US has approved Pfizer/BioNTech vaccination for citizens aged from 16. However, the infection rate is still high in the US, Europe and Asia as well.
In the US, the number of infections has increased to 17 million, while more than 306,000 deaths have been reported. In the first two weeks of December alone, the US reported 30,000 deaths.
The situation is also serious in Europe. Germany has imposed a national lockdown for the Christmas and New Year holiday as the number of infections and deaths have reached a record high.
In Asia, South Korea is likely to impose social distancing at the highest level to restrict the spread of the pandemic after the country found over 1,000 infection cases in the community within one day late last week.
The uncertainties will affect the demand for Vietnamese goods and the supply of products to Vietnam.
Nevertheless, Vietnam's economy is still a bright spot in the region. According to ADB, Vietnam's prospects in the medium and long term is still positive, partially thanks to its membership in many FTAs.
The increasingly deeper international integration will help Vietnam's economy recover quickly. Moreover, Vietnam is likely to enjoy benefits from the move to relocate supply chains to countries with lower production costs.
Vietnam is expected to enjoy benefits from multinationals moving some production from China to Vietnam and the implementation of the EVFTA (EU-Vietnam FTA). 
Duy Anh

Optimism for the year ahead has been improved to the highest thanks to the country's effective control of Covid-19 pandemic.

To develop tourism quickly and in a sustainable manner, Vietnam has defined island and sea tourism as a breakthrough measure in the development of the marine economy.