In the past few days, the news about two Vietnamese engineers who surpassed 1,600 teams to win the international Show US the Data contest has attracted public attention.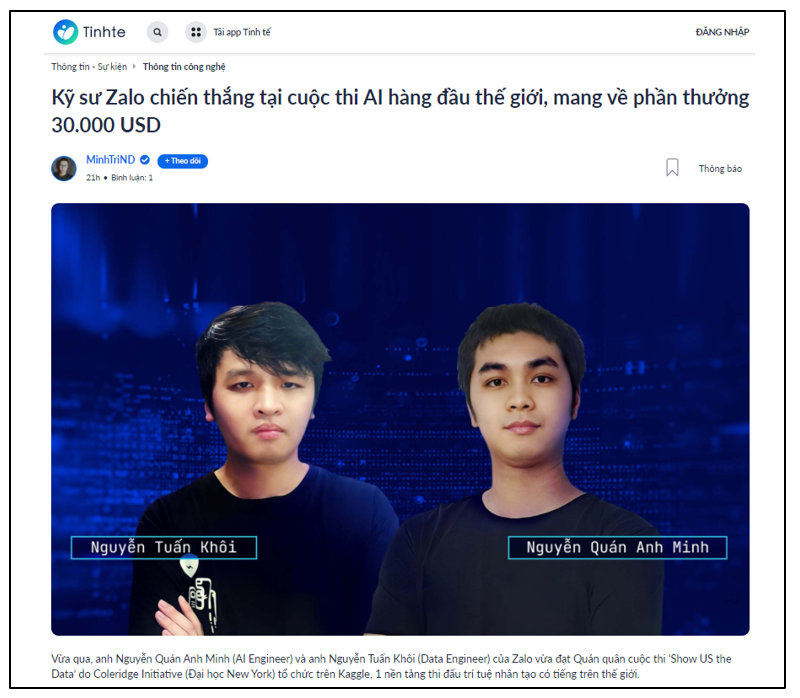 Tuan Khoi (left) and Anh Minh.
A few years ago, Vietnam's artificial intelligence (AI) solutions could not compete with those of countries with developed AI technology such as the US, China, Korea, and Japan.
At present, with the national digital transformation strategy, with AI as the key technology, along with the investment and methodical research of large domestic technology corporations, the development of AI technology in Vietnam has made great strides.
AI solutions created by Vietnamese engineers have improved and won international awards. The victory of Nguyen Quan Anh Minh and Nguyen Tuan Khoi, two young members of Zalo, at 'Show US the Data', a prestigious AI award on a global scale, organized on Kaggle platform, is a prime example.
Having "battled" at many AI competitions on the Kaggle platform, the most notable achievement of Tuan Khoi, 27, before winning Show US the Data, was in the Top 3 of the Tweet Sentiment Extraction competition. Anh Minh also made an impression when he entered the Top 1% of Google QUEST Q&A Labeling and RSNA Intracranial Hemorrhage Detection contests.
Show US the Data is considered a highly competitive competition, which requires participants to find outstanding and unprecedented AI solutions, making the identification of documents and public data more efficient and faster.
Anh Minh was a contestant at the Zalo AI Hackathon 2019 competition. (Photo provided by the character).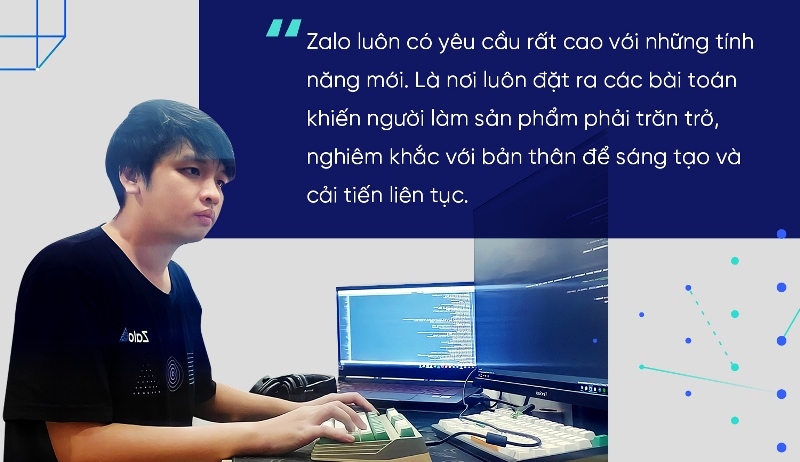 Engineer Tuan Khoi. (Photo provided by the character).
Tuan Khoi and Anh Minh said that the exam questions were very difficult and the opponents were also very strong. To achieve the initial goal of being in the Top 10, both had to focus and make their best effort over a period of nearly three months.
In addition to the $30,000 reward, their solutions are expected to be used in data analysis in the United States. "Although the short-term goal of the competition is to provide solutions for scientists in the US, I believe that our solution is general enough to be applied to many other problems in the field of information extraction," Tuan Khoi said.
Winning in a global competition, the two engineers said they were very proud that Vietnamese wisdom could be applied to practical problems abroad, and on a large scale and they have made a small contribution to let the world know more about Vietnam.
"We always dreamed that one day AI solutions created by Vietnamese people can stand on par with countries that have developed AI, thereby affirming that Vietnamese intelligence is not inferior to any other country in the world," Anh Minh said.
They formed the team in Zalo AI Challenge 2020 contest. Experience and harmony from this event were used by Anh Minh and Tuan Khoi at Show US the Data.
"Thanks to methodical work arrangements, we almost finished the solution a week ahead of schedule. In the last week, we focused on reviewing and checking the general application of our solution," Anh Minh said.
Anh Minh and Tuan Khoi are two typical examples of the new generation of Vietnamese technology engineers: Young and talented with the desire to use technology to serve Vietnamese people.
They said that for AI or any other technology, the ultimate goal is to make life easier.
Voice assistant Kiki, a product that embodies Zalo's "AI-first" vision (AI is the main character). (Photo: Nguyen Thao)
Anh Minh is participating in the Text-to-Speech project and a number of other audio-related projects such as voice recognition (voiceid) and voice anti-spoofing. Meanwhile, Tuan Khoi is a member of natural language processing projects to help build new features for Zalo.
"We are very happy that AI is no longer a trendy, vague concept but is gradually taking shape and gradually creeping into the lives of Vietnamese people. This has been our desire from the very beginning of learning about AI," Tuan Khoi said.
Phuong Dung

Nguyen Quan Anh Minh and Nguyen Tuan Khoi of the local messaging app Zalo have won the Show US the Data competition, organized by Coleridge Initiative on Kaggle, the world's most prestigious artificial intelligence competition platform.