The 2020 V.League 1 season is almost upon us and (coronavirus permitting) matches will kick off coming week.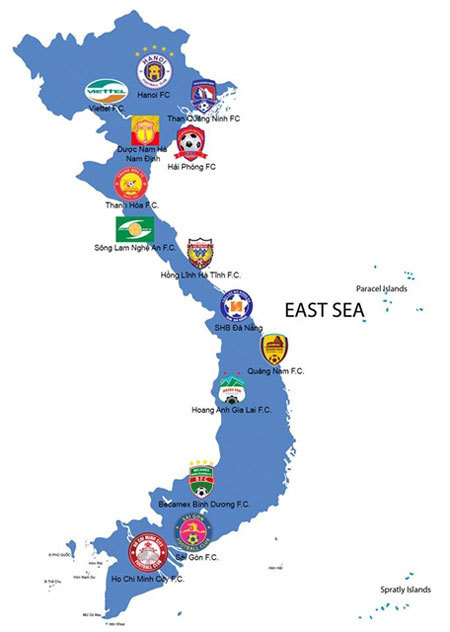 A map showing each of the 14 V.League 1 sides this season. VNS photo Doan Tung

To mark the start of the season, Việt Nam News has put together a 14-team preview of each club and we've even had a look into our crystal balls to predict where each team will finish. Please note these predictions do not necessarily represent the view of any single writer but are a composite.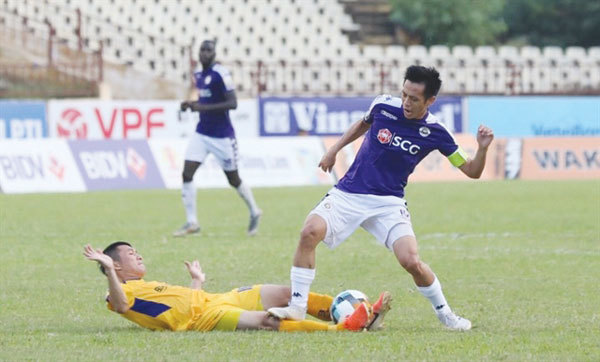 Captain Nguyen Van Quyet of Hanoi FC (right). Photo anninhthudo.vn

Hanoi FC
Last season's position: 1st
Việt Nam News writers' predicted position: 1st
Key man: Nguyen Van Quyet, Vietnamese, forward
Last season's defending league, National Cup and Super Cup champions may have a capital-sized target on their back, but it's hard to see past coach Chu Dinh Nghiem's men for the title.
With national team stars like Nguyen Quang Hai and Do Hung Dung, free-scoring Senegalese striker Pape Omar Faye and captain Nguyen Van Quyet (who has inexplicably been frozen out of the Vietnam side), Hanoi have the firepower to defend their title.
On top of that, the capital side can focus on domestic trophies as they failed to obtain a licence for continental competitions.
One roadblock could be complacency, with this season's squad largely the same as last year's, bar the addition of Jamaican striker Rimario Gordon from Thanh Hoa. Another concern would be losing some of that star power if the likes of Hai and Dung follow Doan Van Hau out the door to move abroad.
Nguyen Cong Phuong (second, right) celebrates his first AFC Cup goal with teammates in the first round match against Yangon United. Photo the-afc.com

HCM City FC
Last season's position: 2nd
Việt Nam News writers' predicted position: 2nd
Key man: Nguyen Cong Phuong, Vietnamese, forward
HCM City FC are all in. The southern side splashed out big time in the off-season and brought in a raft of big-name signings, both foreign and domestic, in an effort to go one better than last season and lift the V.League 1 trophy.
Alongside Sweden-capped forward Viktor Prodell and former Celtic FC striker Amido Balde, the southern side signed mistake-prone but promising goalkeeper Bui Tien Dung from Hanoi FC and ended Nguyen Cong Phuong's nightmare loan spell in Europe to bring the local superstar home.
Signing hugely popular players like Dung and Phuong shows City want to do more than win the league, they want to make a cultural, or perhaps commercial, impact in Vietnam. Their chances for silverware and clout will greatly depend on Phuong finally living up to his promise, as with the league's heavy northern tilt geographically, HCM City FC face a lot of long away trips and an uphill battle.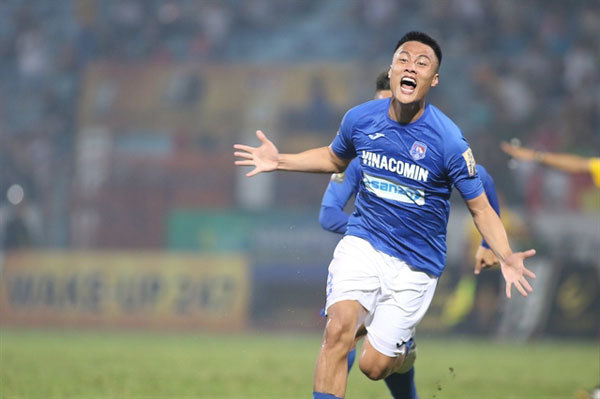 Playmaker Mac Hong Quan is key to Quang Ninh's hopes this year. Photo webthethao.vn

Than Quang Ninh
Last season's position: 3rd
Việt Nam News writers' predicted position: 3rd
Key man: Mac Hong Quan, Vietnamese, forward
While Quang Ninh may have finished third last season and qualified for continental football, this is one case where the league table may indeed be lying. The northern side finished 14 points behind champions Hanoi, and 14 above relegated Sanna Khanh Hoa.
While they may not be ready to truly challenge for the title, Quang Ninh will hope to kick on and solidify their spot towards the top end of the table, but some curious transfer dealings don't fill one with confidence. Talismanic Russian forward Rod Dyachenko is gone (for now) and Jamaican forwards Andre Fagan and Jeremie Lynch have been signed from Hai Phong on loan, despite not exactly pulling up trees with the port side.
Balancing the demands of AFC Cup fixtures with domestic engagements will be crucial, as will the form of creative forward Quan.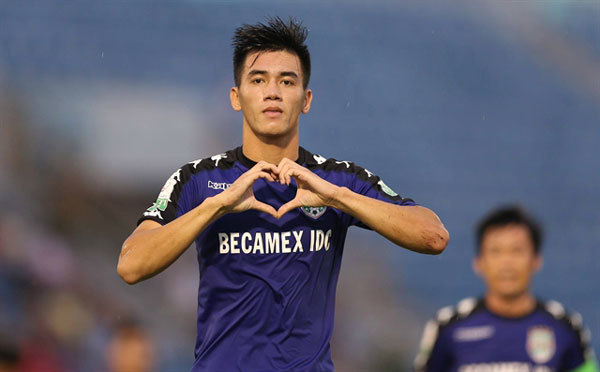 Striker Nguyen Tien Linh in action for Becamex Binh Duong. Photo nguoiduatin.vn

Binh Duong FC
Last season's position: 4th
Việt Nam News writers' predicted position: 4th
Key man: Nguyen Tien Linh, Vietnamese, forward
It has been four years since Binh Duong's last championship and a fourth-place finish last season was a disappointment, leading to a raft of changes in search of returning to glory.
Long-time captain and national team hero Nguyen Anh Duc's contract wasn't renewed, senior midfielder Le Tan Tai has moved to V.League 1 newcomers Hong Linh Ha Tinh, and former Viet Nam goalkeeper Bui Tan Truong has dropped down a division to join Dong Thap, among other personnel changes.
A lot is expected of young players like midfielders Tong Anh Ty, Than Thang Toan and Tran Phi Ha, defender Truong Du Dat, and forward Ngo Hong Phuoc.
The heaviest responsibility will be on rising national team star Nguyen Tien Linh, as he will be tasked with replacing Duc up front.
Binh Duong had a turbulent off-season in terms of their coaching staff, with Brazilian coach Carlos Oliveira brought in November only to leave two months later, reportedly due to a lack of the correct coaching certificates. Whatever the reason, Nguyen Thanh Son is back in charge.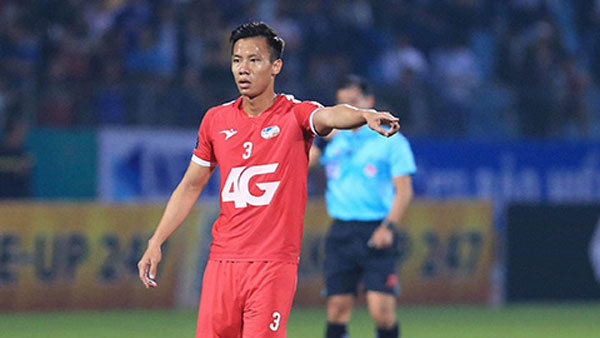 Inspirational Viettel and Vietnam captain Que Ngoc Hai. Photo bongdaplus.vn

Viettel
Last season's position: 6th
Việt Nam News writers' predicted position: 6th
Key man: Que Ngoc Hai, Vietnamese, defender
Although it was their first year back in the top-flight last season, the former Military team finished a superb sixth. With a considerable investment in players, the target this year has to be to push on.
Midfielder Ho Khac Ngoc and goalie Tran Nguyen Manh were signed from Song Lam Nghe An and are expected to immediately strengthen the squad, while the Hanoi-based side are yet another team with a trio of Brazilians to call upon, including impressive forward Bruno Cantanhede.
Viettel's strength though is in their local players, including national team captain Que Ngoc Hai, who is one of the best defenders in Southeast Asia. They can also call upon veteran midfielder Nguyen Trong Hoang, young defender Nguyen Duc Chien and rising star playmaker Nguyen Hoang Duc.
Newly appointed coach Truong Viet Hoang has a lot to work with, but the question is how far can he take this side.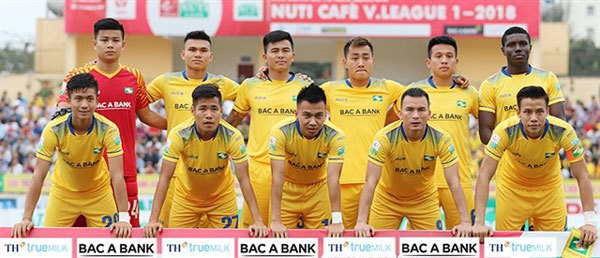 Players of Song Lam Nghe An. Photo courtesy of Song Lam Nghe An FC

Song Lam Nghe An
Last season's position: 7th
Viet Nam News writers' predicted position: 6th
Key man: Phan Van Duc, Vietnamese, midfielder
Ngo Quang Truong replaced Nguyen Van Thang as head coach after SLNA finished seventh last year, and he'll be heavily reliant on a pair of young guns.
National U23 team players Phan Van Duc and Ho Tuan Tai will be key to their hopes of a better 2020, and Tai will be expected to improve on his eight goals from last year.
The team have signed Gambia-capped Alagie Sosseh, Nigerian forward Peter Onyekachi and Brazilian striker Gustavo Santos Costa, but local players will take SLNA as far as they'll go. The hopes of a top-three finish may be unrealistic looking at the squad.
Hoang Anh Gia Lai
Last season's position: 8th
Việt Nam News writers' predicted position: 7th
Key man: Nguyen Tuan Anh, Vietnamese, midfielder
Perhaps the country's best-supported side, HAGL had a tough 2019 and looked set for relegation at one point. Nevertheless, the club's leadership kept their faith in South Korean coach Lee Tae-hoon, who has been allowed to strengthen the squad.
The team signed midfielders Damir Memovic from Serbia and Kelly Kester from Nigeria to help shore up at the back, a weakness last season.
Midfielder and captain Nguyen Tuan Anh has recovered from injury and is ready for the upcoming season, though his fellow national team star Luong Xuan Truong is out with a long-term injury, while Nguyen Cong Phuong is on loan at HCM City FC.
Jamaican forward Chevaughn Walsh returns after a decent 2019 to partner the fleet-footed Nguyen Van Toan up front.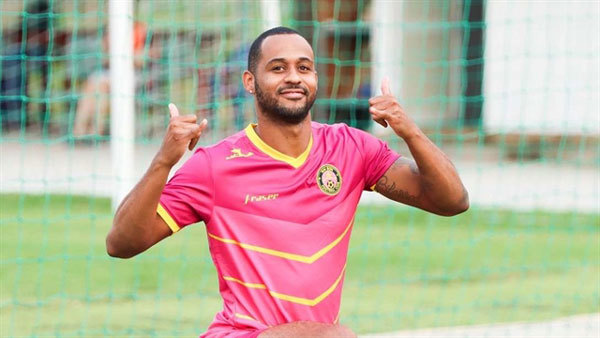 Brazilian forward Pedro Junior of Sai Gon FC. Photo goal.com

Sai Gon
Last season's position: 5th
Việt Nam News writers' predicted position: 8th
Key man: Pedro Junior, Brazilian, forward
With former national team boss Hoang Van Phuc in charge, the long-term future looks bright for HCM City's second team, especially with the recently signed co-operation deal with Tokyo FC.
The southern team have said goodbye to Brazilian midfielder Thiago Moura and naturalised player Dinh Hoang Max who had a long trial period with the team but wasn't signed.
Earlier, they welcomed multipurpose midfielders Huynh Tan Tai of Long An and Nguyen Minh Trung of HCM City as well as young goalie Duong Tung Lam from Hanoi FC.
They also kept Brazilian striker Pedro Junior and Brazilian midfielder Geovane Magno, the former having performed outstandingly last year, notching 12 goals to help Sai Gon FC reach fifth place.
Stability is considered the key for Sai Gon this year.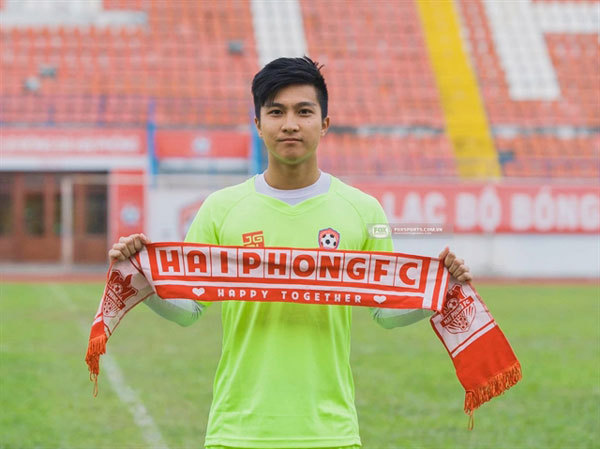 New Hai Phong signing Martin Lo. Photo bongda.com.vn

Hai Phong
Last season's position: 12th
Việt Nam News writers' predicted position: 9th
Key man: Diego Silva, Brazilian, forward
After finishing just four points out of the relegation zone last season, this year looks like it could feature more choppy waters for the northern port side.
Former technical director Ngo Quang Truong was named their new coach in November, but he swiftly upped sticks and returned to Song Lam Nghe An to coach further south. Pham Anh Tuan will start the season in the hot seat, but it's fair to ask how long he'll last.
Hai Phong are also dealing with an ongoing legal issue and are appealing an order by FIFA to pay former player Errol Stevens VND5 billion (US$200,000) after the club was ruled to have breached his contract.
The club have made some intriguing signings, including Brazilian striker Diego Silva and overseas Vietnamese pair Martin Lo and Michal Nguyen, but another season of tumult could be on the cards unless Silva can replicate his Thai League 3 form and fire Hai Phong to safety.
The SHB Da Nang squad. Photo courtesy of SHB Da Nang

SHB Da Nang
Last season's position: 10th
Việt Nam News writers' predicted position: 10th
Key man: Ha Duc Chinh, Vietnamese, forward
Having won the V.League 1 three times in 1992, 2009, and 2012, as well as two national cups in 2009 and 2013, SHB Da Nang have struggled in the last few years with a string of poor performances.
The central city team, under coach Le Huynh Duc, have signed in two foreign strikers Frenchman Phillippe Nsiah and Nigerian Ismahil Akinade, alongside Serbian defender Igor Jelic, to strengthen their squad.
That squad already contained national U23 team members Ha Duc Chinh, Do Thanh Thinh and Bui Tien Dung, and much will be expected of Chinh in particular after a stellar Southeast Asian Games campaign.
SHB Da Nang also said farewell to talismanic striker Do Merlo. The Vietnamese-Argentinean moved on to Nam Dinh after scoring more than 100 goals across two stints with the central side.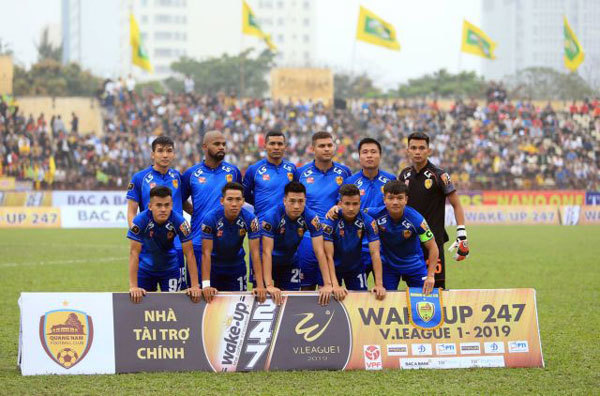 Quang Nam will play in the V.League 1 2020 season. Photo courtesy of Quang Nam FC

Quang Nam
Last season's position: 9th
Việt Nam News writers' predicted position: 11th
Key man: Dinh Thanh Trung, Vietnamese, midfielder
The central province team had an amazing year in 2017 when they lifted the V.League trophy, but since then things have gone downhill, with two seasons flirting with relegation. Last year's ninth-place finish led coach Hoang Van Phuc to resign.
New coach Vu Hong Viet, 41, is now in the hot seat and tasked with improving life at Tam Ky Stadium.
The team held on to their key players like playmaker Dinh Thanh Trung, forward Ha Minh Tuan and goalkeeper Pham Van Cuong, while adding Brazilian Jose Pinto to join his countrymen Rodrigo Dias and Lucas Rocha, giving the club what could be a solid core of foreign players.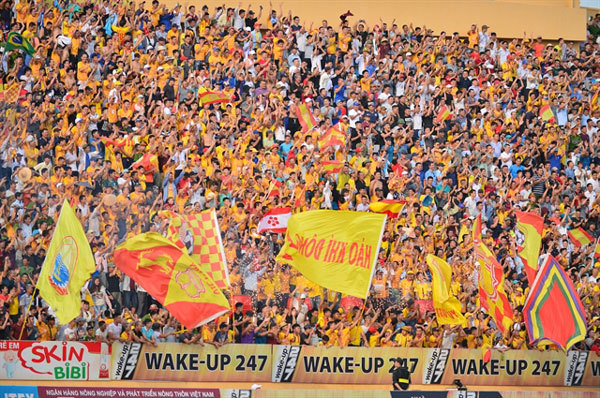 The Nam Dinh fans make sure Thien Truong Stadium is a fortress for their side. Photo toquoc.vn

Nam Dinh FC
Last season's position: 11th
Việt Nam News writers' predicted position: 12th
Key man: Do Merlo, Vietnamese-Argentinean, forward
Last season was a success for Nam Dinh by staying in the V.League for the second year in a row, and in fact finishing two places higher than they did in 2018, outperforming a pair of more fancied and financially stronger teams in Hai Phong FC and Thanh Hoa FC.
Though Nam Dinh lack talent and cash, they have turned Thien Truong Stadium into a fortress thanks to their passionate fans, though some may say their passion runs too hot after an ugly flare incident away to Hanoi last season.
Coach Nguyen Van Sy has been able to make some signings, with the legendary Da Nang striker Do Merlo in particular a coup. The naturalised Argentinean is joined by Brazilian forward Rafaelson Bezerra Fernandes and Nigerian defender Tony Agbaji, who are expected to be the core of the team.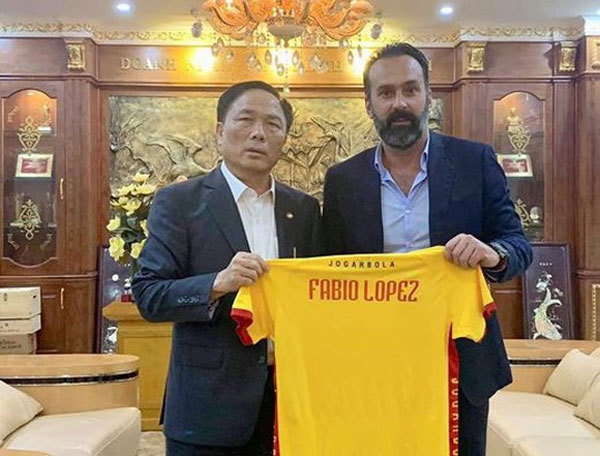 New Thanh Hoa manager Fabio Lopez. Photo vietnam9.net

Thanh Hoa FC
Last season's position: 13th
Việt Nam News writers' predicted position: 13th
Key man: Hoang Vu Samson, Nigerian-Vietnamese, forward
Thanh Hoa escaped from automatic relegation on the last day of the 2019 season and then scraped through a playoff against Pho Hien to retain V.League 1 status, all after going through three head coaches.
This year, it's safe to say club president Nguyen Van De wants to turn things around.
The club have signed Cameroonian defender Epassi Ewonde, Croatian midfielder Josip Balic and Swedish striker Grace Tanda to strengthen all three levels of the team.
The biggest deal though may have been bringing in Nigerian-Vietnamese forward Hoang Vu Samson from Hanoi. The all-time V.League 1 top-scorer will be out to prove the capital side made a mistake in letting him go.
Not content with strengthening the playing squad, Thanh Hoa also hired the first foreign head coach in their history. Italian Fabio Lopez joined the team in November after a long career coaching around the world.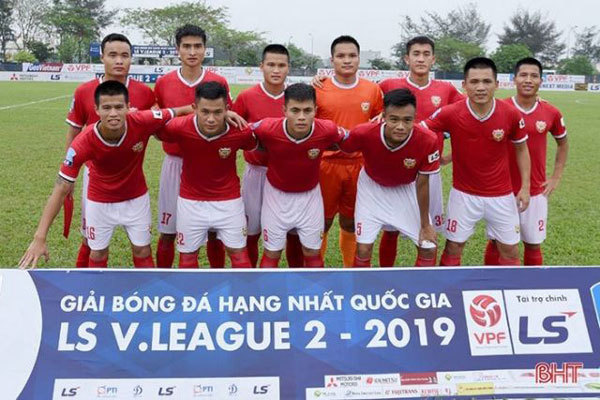 V-League newcomers Hong Linh Ha Tinh football club. Photo courtesy of Hong Linh Ha Tinh FC

Hong Linh Ha Tinh
Last season's position: 1st in V.League 2
Việt Nam News writers' predicted position: 14th
Key man: Le Tan Tai, Vietnamese, midfielder
V.League 1 newcomers Hong Linh Ha Tinh could be in for a tough season, as many of the squad lack experience at this level.
One man who doesn't lack experience is former Binh Duong midfielder Le Tan Tai. The 35-year-old signed for the rookies and was quickly installed as captain. If he can pass on his wealth of experience, Ha Tinh stand a chance of staying up.
The club may not have a huge budget, but coach Pham Minh Duc has been able to recruit a Brazilian trio. Defender Janclesio Almeida and forwards Antonio Pina Pereira and Bruno Henrique will have to prove their worth for the club.
Ha Tinh have also brought in some V.League 1 experience in the form of Nguyen Hoai Anh from Quang Ninh, Pham Hoang Lam from Hoang Anh Gia Lai, and Le Manh Dung from SLNA. VNS
By Hoai Nam, Peter Cowan, Ha Be and Thanh Nga

Defender Do Duy Manh of Hanoi FC on Monday expressed his regret after suffering a serious knee ligament injury in his side's National Super Cup win on Sunday.

Vietnam's midfield Nguyen Quang Hai has been recognised for his quality over the past season by being named as the best player in the V.League during the 2019 season, as announced by the Vietnam Professional Football Company.