Female international drug trafficker arrested in Hai Phong

Police in Haiphong have successfully arrested a Vietnamese woman suspected of being the gang leader of an international drug trafficking ring between the northern port city and the Republic of Korea (RoK).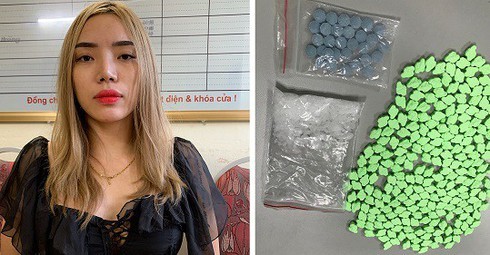 Suspect Loan at the police station:
Upon her arrest the suspect was identified as 29-year-old Le Thi Loan of Thuy Nguyen district in Haiphong. Loan is married to a Korean man and is currently living in the RoK.
According to police, Loan confessed to starting a gang made up of other drug traffickers with the aim of transporting drugs from Vietnam to the RoK.
The busts came after police noticed a suspicious woman at Cat Bi Airport on October 12. The woman was identified as Cu Thi Nguyet and she was carrying a large number of goods, including a suspicious looking teddy bear. Upon conducting a search of the woman and her luggage, the police discovered 140.78 grams of MDMA and 17.92 grams of ketamine stashed inside the teddy bear.
Upon questioning, Nguyet admitted to being hired by Loan for the purpose of transporting the teddy bear from Haiphong to the RoK via air.
The police successfully arrested Loan on October 16, before expanding their investigation in order to arrest other members of her gang.