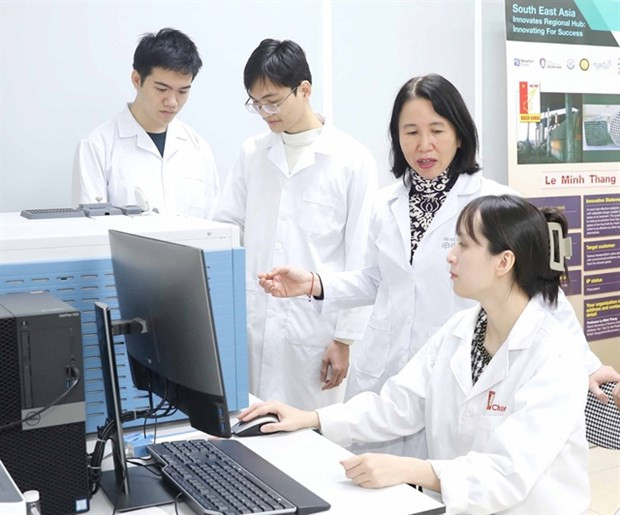 Prof. Dr. Le Minh Thang (second, right) with her students at a lab at the Institute of Chemical Engineering at Hanoi University of Science and Technology. (Photo: VNA)
Environmental protection is a matter of concern, especially in Vietnam where the number of old vehicles remains high, causing significant exhaust emissions.
Thang, a senior lecturer at the Department of Organic and Petrochemical Technology of the Institute of Chemical Engineering at Hanoi University of Science and Technology, is dedicated to solving issues that involve exhaust fumes and wastewater treatment processes for the protection of the environment and people's health.
Thang's findings have been widely applied, with many of her ideas proving highly effective.
She has published more than 100 scientific articles in prestigious international and national journals and was honoured with the Kovalevskaya Award in 2022 for her outstanding achievements in scientific research.
New invention
In 2009, Thang led a team of scientists on a four-year research project on developing a catalytic converter to reduce motorcycle emissions.
"Catalytic converters for the treatment of exhaust from internal combustion engines have been studied for a long time and widely applied. However, these parts are made from palladium and platinum. The rare and expensive metals are not suitable for application in Vietnam due to their high cost," she said.
"Therefore, my research team and I set out to create a catalytic converter from a mixture of transition metal oxides to replace precious metals. This is much cheaper and easily applied in developing countries such as Vietnam," she said.
This converter is much cheaper and has the same efficiency as other commercial products. The catalytic converter has been used for Vespa scooters and was tested for efficiency by Vietnam Register.
The scientist has undertaken other research on the treatment of exhaust gases of fuel combustion, the selective oxidation of propylene/propane from natural gas, and photocatalytic treatment of organic compounds and heavy metals in wastewater.
In 2021, Thang was one of three Vietnamese female scientists who won the Hitachi Global Foundation Asia Innovation Award for the project on catalytic converters from transition metal oxide and technology of exhaust gas and wastewater treatment to protect life on land and in water.
"This research work has provided a cost-effective solution to deal with environmental pollutants. The converter can reduce pollutant emissions by more than 90 per cent while it is stable under extreme conditions and has a long service life," she said.
"We have initially commercialised the product with a number of industrial plants that use fuel-burning processes," she added.
After graduating from the Institute of Chemical Engineering at Hanoi University of Science and Technology in 1997, Thang worked as a lecturer.
In 1999, she obtained a master's degree and was selected to continue her doctoral studies at Ghent University in Belgium from 2000 to 2005.
Returning to Vietnam in early 2005, she continued her research on petrochemical catalysis with many research projects at home and abroad.
Thang was the youngest female Associate Professor in Vietnam in 2009 and was recognised with the title of Professor in 2019.
There are many factors behind her success, including her family, workplace, and luck, the scientist said.
"But the most important thing is persistence in scientific research and the foundational knowledge that has been accumulated during the process of serious study," Thang said.
Moreover, it entails the training in techniques and problem-solving approaches.
Thang said she had experienced many failures. However, she kept telling herself to go ahead.
"Just keep going, you will find a way out," she said.
Promoting women in science
Thang said women have the ability to do any job, even jobs that are thought to be suitable for men.
"There're no boundaries for women in science. Women can do any job as long as they have enough love and passion for it," she said.
Thang is the President of the Women's Intellectuals Association of Hanoi University of Science and Technology. She always encourages young female lecturers and students to develop their own careers. There are fewer women in engineering professions, but she believes that women can have the same professional capacity or even better than men.
"I hope female scientists are given more conditions to do their jobs. I hope there will be more policies to promote women's participation in science, so that they can develop their talents to the fullest," she said./. VNS