Ferry prices hit Co To islanders and tourists

The number of tourists to Co To Island in the northern province of Quang Ninh has drastically decreased following higher ferry costs.
Co To Island's tranquil beauty seduces travellers
Foreign tourists allowed to visit Co To island without permit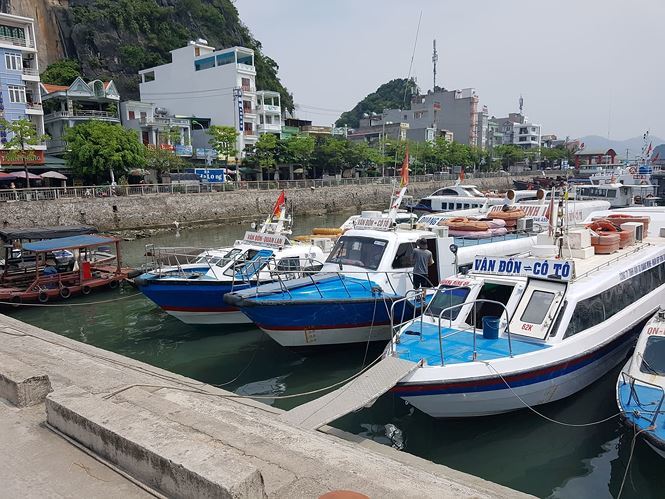 Hi-speed ferries transporting passengers to Co To
Seven firms that operate hi-speed ferries on Van Don-Co To route recently decided to raise fares. A single ticket for local residents has increased to VND250,000 (USD10.86) per person from VND200,000 (USD8.69). Tourist prices are now also VND250,000, compared to a previous VND230,000.
The ship operators blamed the higher fares on fuel price hikes.
According to many islanders, they are now charged with the same price as tourists, which is not sustainable. VND250,000 for a single ticket is regarded as too expensive.
Over recent years, the ship operators have hiked the fees for several times, affecting tourism activities on the island.
Last year, at the peak tourism time, a ferry ticket increased to VND200,000 for local residents from VND150,000 and to VND230,000 for travellers from VND180,000.
To distinguish between islanders and tourists, ship companies asked passengers to show their personal papers. However, since April this year, the same ticket prices have been applied to both travellers and local people.
A local resident said that his son who has a serious disease is taken to the mainland for the treatment several times a month. Each time, he is accompanied by some family members, adding to their financial burden. They are now considering renting a room near the hospital to save costs.
Co To is now home to more than 3,000 hotels and guesthouses. But over the past two years, following the higher ticket prices, the number of tourists to the island has dropped. The five-day Reunification Day and Labour Day holiday is nearing, yet the island still has ample capacity.
Dao Van Vu, vice chairman of Co To Island District, said that local authorities had proposed Quang Ninh Province's Department of Transport to reconsider the increase, but received no reply.
"We have planned to hold a meeting with ship operators about the issue," Vu added.
He often has to visit the mainland for business, and also pays the same ticket prices as other people.
Le Van Tong, director of Ka Long Transportation Ltd. Co., said the ticket price increase was completely legal.
Tien Phong/Dtinews