VietNamNet Bridge – A documentary film titled It Is Not a Life That Doesn't Move featuring late doctor Alexandre Yersin will make a debut in Ha Noi on Thursday.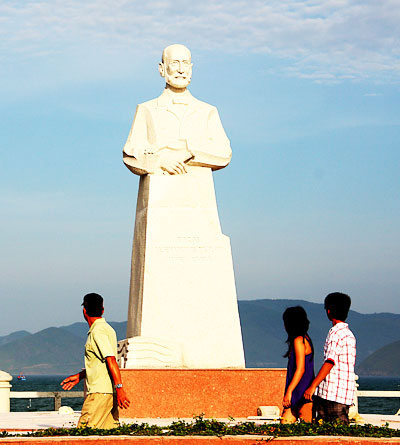 A statue of Dr Yersin in Nha Trang. A documentary film about his life and career – shot in Viet Nam, Switzerland and France – will be released in Viet Nam.-- Photo baokhanhhoa.com
The films world premiere will take place at the amphitheatre Nguyen Van Dao, the Ha Noi National University, and the following day the film will be screened at the University of Natural Sciences of the National University of HCM City.
The 90-minute film, reminding the scientific and social achievements of Dr Yersin (1862 – 1943), will be screened in French with Vietnamese subtitle.
These screenings, in the presence of the Swiss State Secretary of Education, Science and Innovation Mauro Dell'Ambrogio and many Swiss and Vietnamese scientists, are open to students of all the universities in order to stress the importance of scientific research as a prerequisite to any country's success.
Before the screening, the students will have a chance to interact with four eminent Vietnamese scientists – Prof Nguyen Tran Hien, Prof Le Gia Vinh, Prof Dau Ngoc Hao and Prof Nguyen Lan Dung – who have excelled in the disciplines that were also Dr Yersins, namely bacteriology, general medicine, veterinary medicine and botanical sciences.
The scientists will introduce the public to these scientific fields and their most fascinating and challenging aspects.
Directed by Stephan Kleeb, the film will be screened to mark the 120th anniversary of Dr Yersins discovery of the bacillus responsible for the bubonic plague.
In June 1894, the Swiss doctor who also became a French citizen but ultimately lived and died as a Vietnamese in his heart discovered humanitys greatest scourge ever.
This discovery was one of the greatest liberation of the human species in history.
Dr Yersin settled down in the coastal city of Nha Trang in 1891 and became director of Pasteur Institute in Nha Trang in 1895.
Dr Yersin was credited for finding the site for the town of Da Lat (300kmnorthwestof Sai Gon) in 1893.
He also tried his hand at agriculture and was a pioneer in the cultivation of rubber trees in Viet Nam.
The film was shot in Switzerland, France and many regions in Viet Nam where Dr Yersin had spent his life.
The idea of making the film came to Swiss Ambassador to Viet Nam Andrej Motyl who has been an admirer of Dr Yersin's morality and talent for a long time.
He stated that the film will help emphasise the fascinating human curiosity and inventiveness demonstrated by Yersin, which is lingering inside all of us, to awaken it up from inside us, to encourage young Vietnamese generation to learn and enjoy the subjects of scientific discovery and innovation.
"The film is a metaphor of a 'life well lived'. It is an inspiration for children, youngsters and their parents, to learn that hard work and perseverance bring the sweetest fruits," Ambassador Motyl stated, adding: "And no satisfaction is greater than to have made a great effort and to have – sometimes after certain failures – achieved a goal."
The Swiss Embassy expects that the films screenings will celebrate not only human creativity and duty but also the joy of life.
Source: VNS