VietNamNet Bridge – Film director Viet Dang believes that films can help audiences change their lifestyle and way of thinking in a positive manner.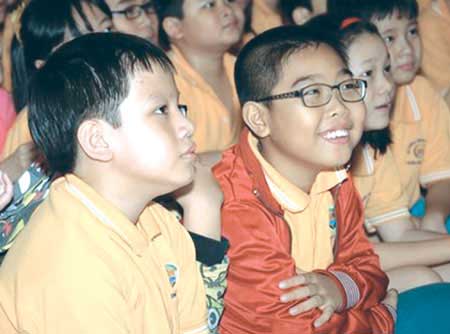 Transfixed: Students at the Vietnamese American primary school in HCM City watch The Children of Heaven. — Photo www.zeroplus.vn
For the last four years, the 44-year-old professor at the HCM College of Theatre and Cinema travelled throughout Viet Nam showing films free of charge to children in primary schools and people who live in remote regions.
His project Zero + Cinema mainly focuses on children and people living in rehabilitation centres. The project also makes a difference as it encourages them to write stories and screenplays about their lives to share with others.
Dang is delighted at the prospect of the project being sponsored by HCM City-based film studio, Son An, where he works as a creative director, initiating film projects.
Discovering film
Dang's project came to life in April 2009 when he concluded that the project would help people discover interesting films that could inspire them to lead better lives and learn more about themselves.
"I thought that people living in rehabilitation centres, after having broken the law or being addicted to drugs, would find it difficult to watch a beautiful film. Perhaps they would feel less lonely after watching a beautiful film that could reunite them with their former selves, after following the destinies of the characters," he said, explaining how the project had motivated him.
Dang also wants children at primary schools to watch educational films.
"In primary schools, children may not have the chance to watch a film and discuss it afterwards with an expert. Everyday, even though they watch lots of television shows, they may not watch films with any real human values," he said.
As part of this project, the films have been shot in remote areas and will be presented at 6.30pm every Wednesday at 91A Dinh Tien Hoang Street, Binh Thanh District in HCM City.
Dang has selected the films from the collection at the HCM City Centre of Cinema Art Research and Film Archives. They include Dong Chay Thoi Gian (The Time Flows), Mua Len Trau (Buffalo Boy) and Toi Loi Cuoi Cung (Last Sin) from Viet Nam and renowned foreign films such as The Children of Heaven (Iran), Beijing Bicycle (China) and Le Havre (Finland).
"I choose the films not for their fame but for the human values they represent. I only choose films which can touch people and help them live life more positively," he said.
Anyone who wants to watch the films can register their names and the number of people who will accompany them on the website www.zeroplus.vn.
At the end of each film, movie experts, including director Dao Ba Son,and scriptwriter Nguyen Huong, discuss the film with the audience.
After watching The Children of Heaven, Tran Thuy Linh, a 5th grade student at Dinh Tien Hoang Primary School in HCM City, wrote on the website zeroplus.vn: "If I could meet Ali, I would offer him and his sister two pairs of shoes, so that they could go to school.
"All around me I see many kind-hearted children who still live in poverty and as I have been lucky in life, I want to help them".
Besides watching films and analysing them with the children, Dang also suggests how they themselves can help other disadvantaged children in remote regions around the country.
The children contribute their old clothes, sweets and study tools which are distributed to needy children in the remote regions that the film project is trying to reach.
Dang hopes that this can narrow the gap between children living in cities and those in the countryside.
Positive feedback
The project offered people living in rehabilitation centres the chance to write a script telling the story of their own life. All the scripts are then sent to the Son An Film Studio.
"At first, we encountered many difficulties talking with the people. They were very reserved and felt unhappy about their circumstances," said Dang.
"However, after watching the film, they were very touched and became very amiable towards us, considering us good friends."
At the end of each film, Dang explains to audiences how to write scripts. He then selects the 25 best. After compiling the stories he wrote the script for the film Nu Hon Cua Ke Dao Tau (Kiss of the Person who Runs Away), which is due to start shooting in the middle of this month.
Earlier, he had travelled to Dak Nong Province to do the casting for the new film.
"The other day, when I told them I was looking for actors, the audiences at the rehabilitation centres were all eager to take on a role.
"I think that if they eventually get a role in the film that depicts their life, they will be very sincere characters," he hopes.
Source: VNS