Financial obstacles need tackling to develop aviation infrastructure: experts

More specific mechanisms and legal frameworks should be created to attract funding to develop the local aviation sector's infrastructure, which has yet to catch up with the sector's overall development.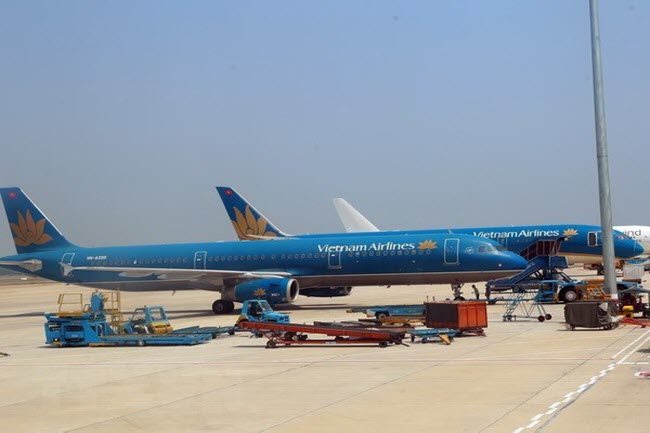 Vietnam Airlines aircraft are parked at Tan Son Nhat International Airport in HCMC. Many carriers have expressed interest in joining the management and operation of airports in Vietnam, but the country has no precedent for such partnerships - PHOTO: VNA
The seminar was part of the on-going Vietnam International Aviation Expo 2019, which is taking place in HCMC between November 26 and 28, reported Nguoi Lao Dong newspaper.
According to experts at the seminar, many carriers have expressed interest in joining the management and operation of airports across the country, but Vietnam has no precedent for such partnerships.
Also, the State and local aviation sector will have to deal with various issues to ensure economic growth and national defense when the operation of an airport is licensed to a private investor, to make the best use of the airport's infrastructure.
Speaking at the event, Do Nguyen Khoat, vice president of the Vietnam Association on Aviation Science and Technology, said that the Government has adopted the correct position in calling upon private investors to take part in national infrastructure projects. This was demonstrated through time-efficient projects executed by private investors, while those implemented by State-run units usually faced cumbersome procedures, he added.
The State-owned Airports Corporation of Vietnam (ACV) manages and operates 21 of the 22 airports in the country. The remaining airport, Van Don airport in the northern province of Quang Ninh, is under the management of a private investor.
Among them, some eight of 21 airports are profitable, while the others prompt ACV to channel revenues from profitable airports to offset their losses, said Khoat.
Accordingly, he suggested other measures be applied in calling on private funding for the airports, since private investors chiefly eye profitable airports to make investments.
Estimates from experts indicated that the country's demand for investing in infrastructure by 2030 is worth approximately VND3,000 trillion, excluding construction of expressway and waterway infrastructure.
Meanwhile, only VND150 trillion, or 5% of the demand, has been allocated from the State budget and approved by the National Assembly, in a midterm public investment plan until 2020.
In the local aviation sector, Vietnam is projected to have 28 operational airports by 2030, with 13 of them being international airports, according to the Ministry of Transport. This plan is expected to attract investment in the sector's infrastructure, particularly from private investors.
Such international airports as Tan Son Nhat, Noi Bai, and Danang will need very large amounts of funding for upgrade and expansion, opening up many opportunities for investors. SGT

Vietnam will catch up with Thailand in the number of domestic air carriers, just second to Indonesia, when all air carriers that have applied for a license begin operation.

The Vietnamese aviation market grew slowly in the first half of 2019, falling far short of the double-digit average growth in 2013-2018.